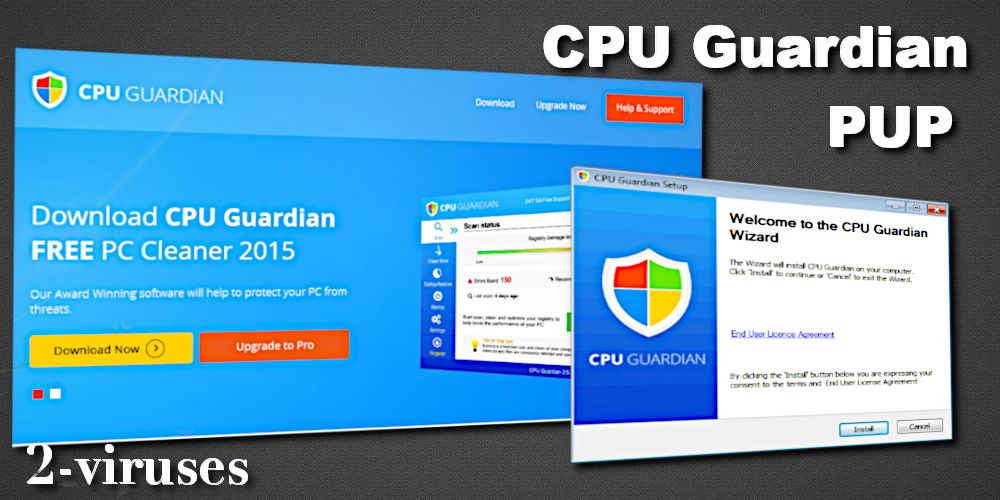 Having a computer nowadays is a must, just like taking care of it. No matter how precautious and organized you are when using your Windows, eventually, the time will come when it will start slowing down and you'll need to somehow clean the junk files, browser data or remove a threat. And for that, the online market offers various products. Some tools claim to speed up the PC by performing deep cleanse, some by organizing its registry or boosting the startup, and not to mention the plethora of antivirus programs. CPU Guardian seems to be good at all of these things, offering multi-help for anyone who is concerned about the efficiency of their computer.
Cpu Guardian quicklinks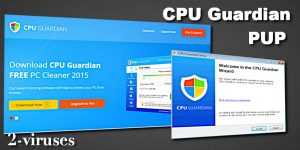 CPU Guardian at first gives an impression of a technical miracle and panacea for almost all Windows errors, however, only those who fall for it can tell what the reality is. Mind you, this program is not as good as you expect. Unfortunately, CPU Guardian belongs to a category of potentially unwanted programs (PUP), which not only seem to be not fully truthful about their true abilities but also have various cunning features, that only a few users can notice. This application is not developed to help you speed up your PC, but to benefit the developers with easy money.
At the moment the official site and download links from Third-party websites are not working, however, CPU Guardian PUP is still spreading compiled in some other program installers and various other redirects. If you happen to be a victim and just noticed that CPU Guardian entered your computer without asking for permission, or you have installed it before hoping for the best, then 2-viruses team have a lot to tell you, including the removal options, so please, continue on reading.
What is CPU Guardian
As we have mentioned in the introduction, CPU Guardian is a potentially unwanted application with rogue tendencies, that deceits users into believing about its great abilities to solve Windows OS issues and speed up the performance. CPU Guardian was in the market for at least a couple of years and have two versions of it, however, it is still active besides not having any working direct download links. There are many ways how this PUP could have appeared on your computer but already from the start, it will make sure that you know about it, and won't leave you alone until you will do everything it suggests, including getting a full paid version. (How PUPs are a greater security threat)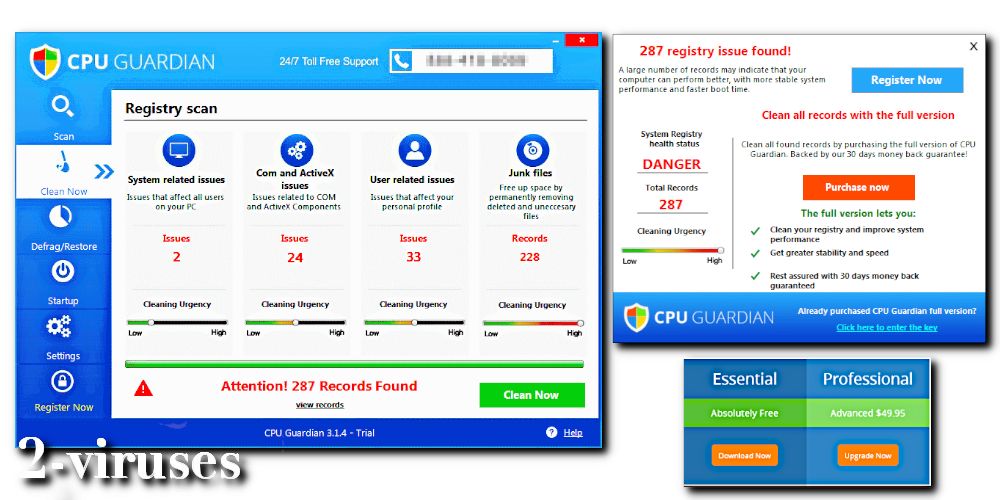 First of all, CPU Guardian claims that it has two versions – free and paid, the only difference being that users who purchase the full product can remove threats and optimize hard drive, yet later it becomes evident that the free version is not able to help in any way and is useless. During our research, immediately after installation, CPU Guardian offered to run a free full scan to evaluate the status of the computer, however, even on a brand new system, it found tons of issues, that were not explained in detail. After clicking on a button to 'Clean Now' it simply opened a pop-up, which explained that Windows is in danger and need urgent fixing, but that is only available if you buy the full version, which costs $49.95.
While this amount of money is not that big for a good product who would actually be helpful, it is ridiculous to pay that much for a program that just made up the numbers of errors without having a legitimate log of them, moreover, doesn't have any proof to be working. The 'free scan but paid service' can be seen in some actually good software, but they do have their positive reviews, name, established by being reliable and activity log, showing which items they mark as malicious and etc. Clearly, CPU Guardian is developed to just present an identically looking design to professional system optimizing tools and lure out payments from victims, just like Similar Photo Cleaner, Mac Cleanup Pro or PC Repair PRO.
As well as this, according to their Privacy Policy, developers are earning revenue from third-party ads and selling gathered personal and non-personal data about you to unknown corporations:
We may collect personal identification information from Users in a variety of ways, including, but not limited to, when Users visit our site, register on the site, place an order, fill out a form, respond to a survey, and in connection with other activities, services, features or resources we make available on our Site.Users may be asked for, as appropriate, name, email address, mailing address, phone number. We may collect non-personal identification information about Users whenever they interact with our Site. Non-personal identification information may include the browser name, the type of computer and technical information about Users means of connection to our Site, such as the operating system and the Internet service providers utilized and other similar information.

CPU Guardian may collect and use Users personal information for the following purposes: To run and operate our Site, To improve customer service, To personalize user experience, To improve our Site, To run a promotion, contest, survey or other Site feature, To send periodic emails

We may share or sell information with third parties for marketing or other purposes.We may use third party service providers to help us operate our business and the Site or administer activities on our behalf, such as sending out newsletters or surveys. We may share your information with these third parties for those limited purposes provided that you have given us your permission.

Users may find advertising or other content on our Site that link to the sites and services of our partners, suppliers, advertisers, sponsors, licencors and other third parties. We do not control the content or links that appear on these sites and are not responsible for the practices employed by websites linked to or from our Site. In addition, these sites or services, including their content and links, may be constantly changing. These sites and services may have their own privacy policies and customer service policies. Browsing and interaction on any other website, including websites which have a link to our Site, is subject to that website's own terms and policies. Ads appearing on our site may be delivered to Users by advertising partners, who may set cookies. This information allows ad networks to, among other things, deliver targeted advertisements that they believe will be of most interest to you.
These evidences, together with Virtustotal.com report that shows high detection as malware of the CPU Guardian installer file (CPUGuardianSetup.exe), is a good enough proof that no user should give this program any benefit of the doubt anymore, and remove it immediately to stop supporting crooks and putting system/personal data into a greater danger. While CPU Guardian PUP may not be the most notorious virus out there, there is a great chance that long term consequences can be significant.
How does CPU Guardian invade the systems
Just like other PUPs, such as ViewMyPDF, QkSee, Infolinks, CPU Guardian had two major ways of spreading – voluntary downloads from convinced users and bundling. Right now, the link in the self-promoting website is not working, nor the freeware vendors have the current installer, but despite that, this optimization program, easily gets disseminated by other programs. Developers pay some websites to compile CPU Guardian with Shareware or popular software on unofficial sites, torrents, which then carry the latter installer in their Setup Wizards. Rarely user gets to choose which applications will get set up and which ones not, but if there is an option, then it is always advised to select Advanced /Custom mode and uncheck all preselected unnecessary apps, CPU Guardian included, or get software from trustworthy sources.
How to uninstall CPU Guardian
Luckily, the removal of CPU Guardian application is easy. All you need to do is simply uninstall it from your Windows just like any other program. Because this tool wants to create an image of real, proper software, it had to include elimination option as well. If you still have doubts how to, then scroll down and take a look at our guide below. If for some reason, you cannot find the uninstall button or the program is really persistent then, you should try the removal with Malwarebytes, Spyhunter anti-spyware tools, which are trustworthy programs. And as for the problems you are having with your PC, try removing Junk files with the help of this guide and select a proper antivirus from a checked reputable list.
Automatic Malware removal tools
How to remove CPU Guardian using Windows Control Panel
Many hijackers and adware like
CPU Guardian
install some of their components as regular Windows programs as well as additional software. This part of malware can be uninstalled from the Control Panel. To access it, do the following.
Start→Control Panel (older Windows) or press Windows Key→Search and enter Control Panel and then press Enter (Windows 8, Windows 10).
Choose Uninstall Program (if you don't see it, click in the upper right next to "View by" and select Category).
Go through the list of programs and select entries related to CPU Guardian . You can click on "Name" or "Installed On" to reorder your programs and make CPU Guardian easier to find.
Click the Uninstall button. If you're asked if you really want to remove the program, click Yes.
In many cases anti-malware programs are better at detecting related parasites, thus I recommend installing Spyhunter to identify other programs that might be a part of this infection.