Apple.com-cleaning-os.live is an online scam peculiar solely to Mac computers and its associated browsers – Safari, Google Chrome, and Mozilla Firefox. The pop-up hijacks the above-mentioned browsers and is even able to switch them into full-screen mode in order to make it difficult for users to close down such alerts. The content of apple.com-cleaning-os.live alerts may be really frustrating especially when you do not realize that they are absolutely fake and not genuine notifications from Apple.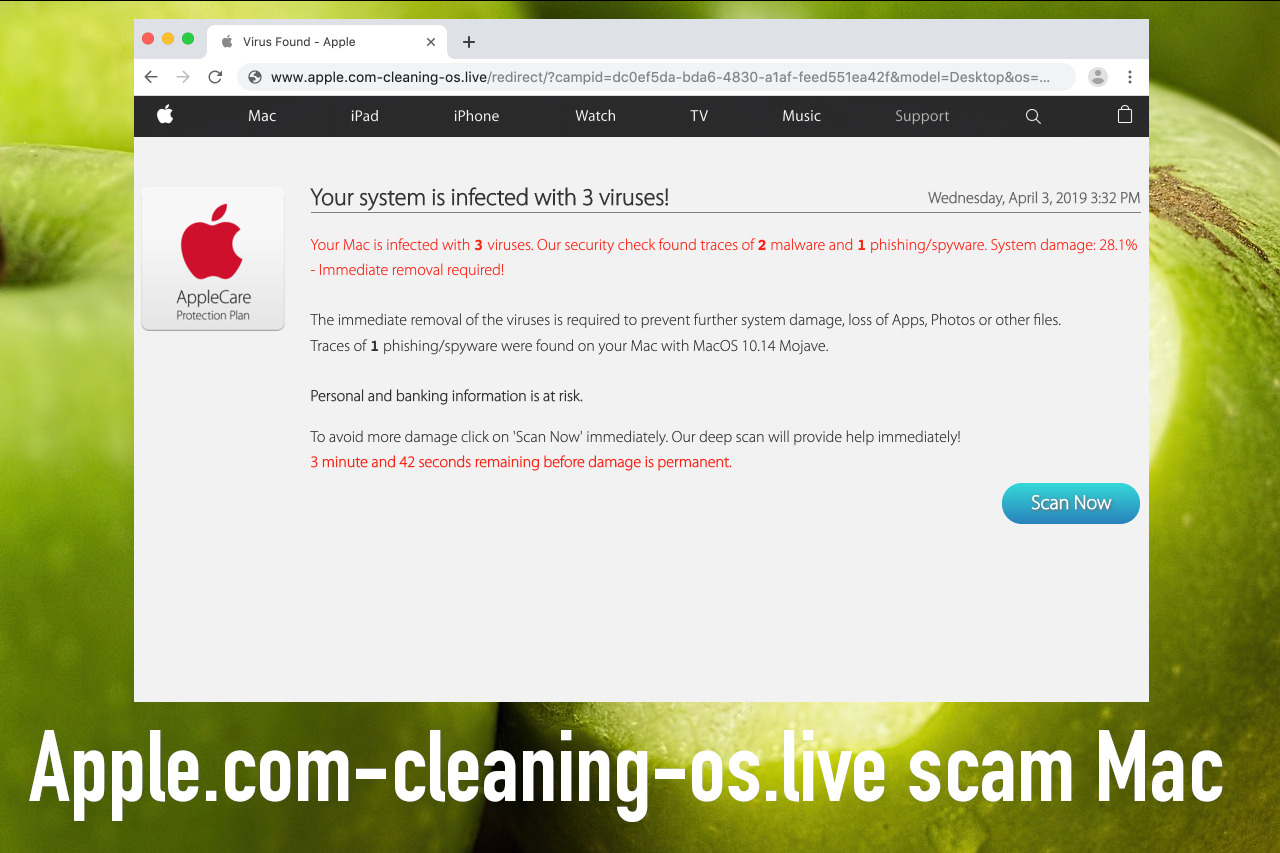 Com Cleaning Os Scam Mac quicklinks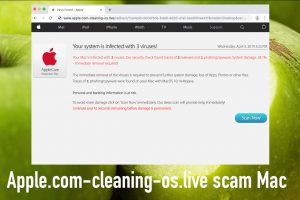 Apple.com-cleaning-os.live may look slightly different depending on the IP address of the computer that produces such pop-ups. The content of these scary messages may be presented in several languages, considering the regional settings of each specific computer experiencing such pop-up issues.
Below please find the text of apple.com-cleaning-os.live scary notifications:
Your system is infected with 3 viruses!
Your Mac is infected with 3 viruses. Our security check found traces of 2 malware and 1 phishing/spyware. System damage: 28.1% – Immediate removal required!
The immediate removal of the viruses is required to prevent further system damage, loss of Apps, Photos or other files.
Traces of 1 phishing/spyware were found on your Mac with MacOS 10.14 Mojave.
Personal and banking information is at risk.
To avoid more damage click on 'Scan Now' immediately. Our deep scan will provide help immediately!
3 minutes and 27 seconds remaining before damage is permanent.
The mission of apple.com-cleaning-os.live alerts.
Apple.com-cleaning-os.live notifications may seem genuine alerts from Apple or AppleCare Protection Plan, but the truth is that they are produced by certain online frauds whose intention is to scare you into downloading some PUP (potentially unwanted program). To really make you do that, apple.com-cleaning-os.live online scam will report several fake viruses supposedly revealed in your computer. The alerts will also demand that you perform online scanning by clicking on the respective integrated "Scan Now" button. Doing so will give you a more detailed list of invented threats absolutely not peculiar to your Mac. Finally, the pop-up will tell you to download some application that is promised to fix the above-mentioned issues.
The trick is that the program recommended by apple.com-cleaning-os.live pop-ups is yet another scareware that was solely designed to force you into wasting your money for nothing. Bogus programs "recommended" by apple.com-cleaning-os.live pop-ups are not able to fix your Mac or protect it from possible leakages in system security.
What causes apple.com-cleaning-os.live pop-ups?
Apple.com-cleaning-os.live alerts do not appear without any reason. The chances are that your Mac has some way or another been recently infected by one or several adware utilities which hijacked your Mac browsers as well. By the way, such pop-ups may not be the only negative side effect related to the presence of adware. You may as well permanently be forwarded to random websites via unexpected browser redirections, experiencing default home page and search engine modifications, installation of other potentially unwanted applications, etc.
The adware may be presented in your Mac through various forms. One of them is the installation of specific utility that can be clearly traced in the "Applications" section. Sometimes it acts and displays apple.com-cleaning-os.live pop-ups simply because of a special browser extension enabled and active whenever you start using your browser.
How to prevent apple.com-cleaning-os.live pop-ups?
"Prevention" is actually the right word, because before we start talking about the removal of apple.com-cleaning-os.live alerts it is important to realize how to avoid their intrusion. The most important piece of advice is that you always exercise extreme caution while surfing the Internet and especially when you install any free applications, which are often interconnected with installers of other extra programs that are absolutely not necessary. Some of them may be very dangerous and cause a lot of stability issues.
It is also of crucial importance to reconsider your current security software that was advertised as the one able to protect your Mac. In case apple.com-cleaning-os.live pop-ups got easily injected this means that your anti-virus did not perform its direct function very well and bypassed detection of the adware.
Removing the adware causing apple.com-cleaning-os.live pop-ups can be done manually through deleting the software from the "Applications" of your Mac and by additionally cleaning the list of unwanted browser extensions. However, remember that this might not fully solve the issue. Some adware programs today are very tricky and leave a lot of remnants in the system which allow the adware to be reinstalled eventually without user's approval. Only an automatic system cleanup will help you to fully fix your Mac and eliminate all negative side effects associated with adware as the cause of headache for many Mac users today. Follow this tutorial explaining all these important steps in all details.
Automatic Malware removal tools
How to remove Apple.com-cleaning-os.live scam Mac using Windows Control Panel
Many hijackers and adware like
com-cleaning-os scam Mac
install some of their components as regular Windows programs as well as additional software. This part of malware can be uninstalled from the Control Panel. To access it, do the following.
Start→Control Panel (older Windows) or press Windows Key→Search and enter Control Panel and then press Enter (Windows 8, Windows 10).
Choose Uninstall Program (if you don't see it, click in the upper right next to "View by" and select Category).
Go through the list of programs and select entries related to Apple.com-cleaning-os.live scam Mac . You can click on "Name" or "Installed On" to reorder your programs and make com-cleaning-os scam Mac easier to find.
Click the Uninstall button. If you're asked if you really want to remove the program, click Yes.
In many cases anti-malware programs are better at detecting related parasites, thus I recommend installing Spyhunter to identify other programs that might be a part of this infection.