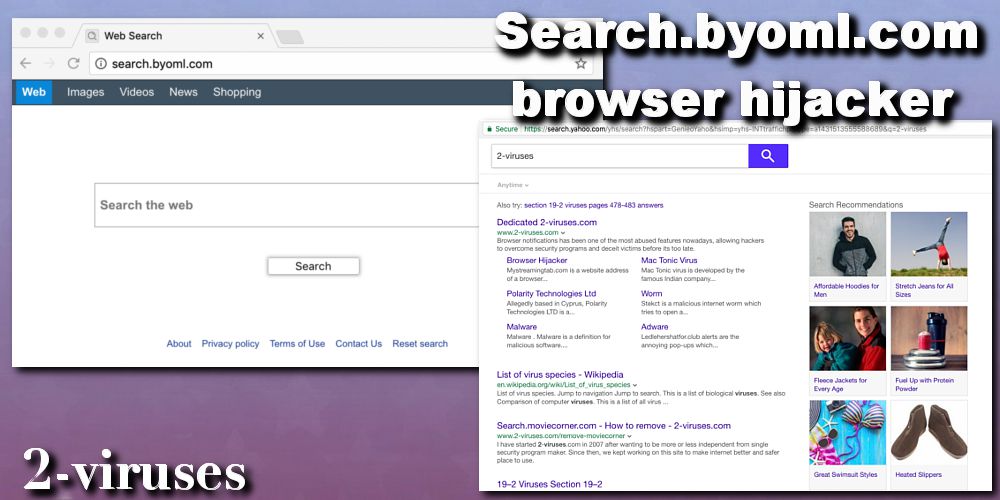 Search.byoml.com is a website that appears on your Chrome's homepage and new tabs if it ends up being compromised by a hijacker. This is one of the first visual features you'll notice after installing the malicious BYOML extension voluntarily or mindlessly allowing for another program to set it up for you instead, as well as the Yahoo search engine, aggressive advertisements, pop-ups, and redirects. While browser threats may not be as scary as ransomware, for example, it definitely leaves your system vulnerable and susceptible to more infections than just Search.byoml.com hijacker.
Byoml Hijacker quicklinks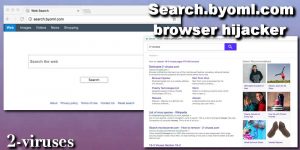 This browser extension is developed by the infamous company from Israel called Genieo Ltd, which has been in the browser malware business for a while now and knows what they are doing well. Genieo Ltd. Search.byoml.com tries to lure in users by convincing that this app will 'boost your drive with everyday quotes and phrases' which are going to appear whenever you open your Chrome. Unfortunately, even the antivirus programs, According to the Virustotal.com, are not able to detect this browser hijacker as malicious, so the only way you can prevent it, is if you practice safe online browsing skills and educate yourself more about it, and this article will help you to with it.  
Is BYOML extension malicious
You can come across BYOML extension when you are browsing Chrome Web Store, but despite being on a legitimate site, this plugin is not worth the trust as others, and it clearly shows you all the red flags before you even add it. BYOML virus mentions that it will read and change all your data on the visited websites, replace homepage and the new tab, show notifications and manage apps, extensions, and themes. Even though browser extensions do require some authorization, this plugin that is simply supposed to send you motivational quotes definitely wants too much. But why does it need such serious rights, you may think. To make a long story short, BYOML Chrome extension is just a way for the Search.byoml.com hijacker to take over the browser and control your content, therefore these requests are for the browser virus activities.
Once you add the plugin to your Chrome, it connects to C2 servers and gets the rest of the Malevolent script codes which help to fully take over the search engine and make other changes. This does not take long and after a few seconds you can see that your typical search engine is changed into Search.byoml.com and Yahoo, and each time you go online, tons of ads pop-up interfering with your regular work, pushing down relevant search queries and redirecting to various shady websites, instead of taking you to the desired page. By controlling what you see from the internet, how much ads are placed on the screen and what engine you use to make searches, Search.byoml.com hijacker is able to build a decent revenue.
On the other hand, not only Third-party ads and redirect make Search.byoml.com hijacker dangerous. If you take a good look at companies Privacy Policy, it clearly states that BYOML, as well as other products like: search.hollyarrow.com, search.memeinc.net, search.genieo.com, searchv.oliverto.com, search.youppes.com, search.quitelex.com, are able to track your browsing history, visited pages and entered queries, later making them into a statistical data and sharing with desired third parties for extra profit. Although this information is typically non-personal and ends up being used to improve targeted advertising, you can never know if your entered passwords, credit card details, logins, messages are not being spread all over the DarkNet. 
These are the reasons why you should be very careful with Search.byoml.com hijacker and infected browser, as well as potentially appearing sibling domains – api.byoml.com, www.byoml.com, report.byoml.com, prod.byoml.com, tab.byoml.com, srch_s.byoml.com, drive.byoml.com.
How does Search.byoml.com hijacker infect computers
The typical Browser hijacker spreading methods are either via deceitful websites, redirects to them or bundled Setup Wizards. Search.byoml.com is not an exception and uses all of them to proliferate. In order to trick unaware users into giving authorization for the virus, Search.byoml.com hijacker has its official page and a legitimate spot on Chrome's Web Store. Although Google is fighting malicious plugins, this hijacker before the installation and in the Privacy Policy clearly mentions all the bad things it is going to perform on a browser after it will be added, therefore it does not break the law since the user officially takes responsibility by using the extension despite knowing the consequences. This sneaky method is used by many shady apps since no one reads EULA, yet it is not the main source of traffic to Search.byoml.com.
The most success Search.byoml.com hijacker gets once it finds programs that it can spread with. Typically developers just pay some distributing vendors to compile their application with some other popular software but hide it as a recommended tool, which gets installed by the default, unless the user changes the setup preferences. Such compiled Setup Assistants come from Freeware distributors, torrents and other unofficial sites, so if you really want to avoid it, you have to either get programs from their official sources or run the setup in Advanced/Custom mode and deselect all the PUPs.
How to remove Search.byoml.com virus
Search.byoml.com virus definitely brings limiting, risky and inconvenient changes of a browser, therefore should be removed as quickly as possible to avoid major irreversible consequences. The best way to eliminate this hijacker is to combine manual and automatic removal techniques to ensure the full system's safety. We suggest deleting the malicious BYOML extension from Chrome first, restoring old settings back and only then running a full system scan with an anti-spyware software to detect other potential viruses.
Automatic malware detectors are necessary even if you have antivirus because programs like Spyhunter are specifically developed to treat already existing infections, instead of focusing on preventing the new ones. That is why their virus databases are very broad, they have sophisticated hunting and eliminating skills, which you can use if some threats besides Search.byoml.com hijacker will be found.
Automatic Malware removal tools
How to uninstall Search.byoml.com hijacker from Chrome
Just like the majority extensions, Search.byoml.com hijacker is not that difficult to get rid of from the browser. All you need to do is to access the plugin section either by pasting 'chrome://extensions' into Chrome's URL bar or following the instructions below. If you successfully end up where all the installed extensions are listed, you shall find BYOML add-on. After that, the elimination is very easy because at the same place you'll find Removal option. If for some reason that still seems not working, take a look at our prepared guidelines or continue with automatic security tools.
TopHow To remove Search.byoml.com hijacker from Google Chrome:
Click on the 3 horizontal lines icon on a browser toolbar and Select More Tools→Extensions

Select all malicious extensions and delete them.

Click on the 3 horizontal lines icon on a browser toolbar and Select Settings

Select Manage Search engines

Remove unnecessary search engines from the list

Go back to settings. On Startup choose Open blank page (you can remove undesired pages from the set pages link too).
If your homepage was changed, click on Chrome menu on the top right corner, select Settings. Select Open a specific page or set of pages and click on Set pages.

Delete malicious search websites at a new Startup pages window by clicking "X" next to them.

(Optional) Reset your browser's settings
If you are still experiencing any issues related to Search.byoml.com hijacker, reset the settings of your browser to its default settings.
Click on a Chrome's menu button (three horizontal lines) and select Settings.
Scroll to the end of the page and click on theReset browser settings button.

Click on the Reset button on the confirmation box.

If you cannot reset your browser settings and the problem persists, scan your system with an anti-malware program.
TopHow to remove Search.byoml.com hijacker from Google Chrome on Mac:
Open Chrome browser.
Enter in the url field "chrome://extensions" address and hit Enter.
Find byoml hijacker on the extensions list and click on the recycle bin icon next to it.
Click on 'Chrome' button at the top left corner. Select 'Preferences' on a drop-down menu box.
Find 'Search' options on Settings tab. If your search engine is changed, click 'Manage Search Engines' and set your preferred search engine.
On the same page find 'Show home button' checkbox and change your homepage.
(Optional) Reset your browser's settings
If you are still experiencing any issues related to
Search.byoml.com hijacker
, reset the settings of your browser to its default settings.
On the 'Preferences' menu window, scroll down to the bottom and find 'Reset settings' button. Click it.
Confirm your selection and click 'Reset' on the following window.
If you cannot reset your browser settings and the problem persists, scan your system with an anti-malware program.