Bubble Dock is an adware that can be added to any of Internet browsers. It is available in French, Swiss, Italian, and Spanish. The application offers access to news, games, Facebook, email, web TV, Youtube videos, shortcuts, apps, RSS, podcasts and many more by clicking on your desktop. As the toolbar is free of charge, the company that owns it, Nosibay, earns money from advertisements displayed. These might be popup ads, in text promotions, various coupons and deals.
Bubble Dock quicklinks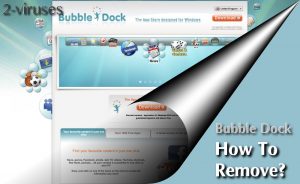 That is the main reason why Bubble Dock is categorized as an adware. Continous advertisements and redirects to other affiliated websites are the only things they care about, thus you won't get any benefits from this tool being installed on your computer. Vice versa, it can actually hurt you and cause all sorts of problems. Additional malware might be installed on your computer and you can even lose your personal information, not to mention all of the time you are going to waste closing those pop-up advertisements.
Luckily, it's really not that hard to tell whether your computer is infected with Bubble Dock or not – a new toolbar will appear directly on your desktop and those pop-up ads displayed by this infection might be marked with a slogan "Ads by Bubble Dock" or "Brought to You by Bubble Dock". So if you are aware of the fact that this virus is operating on your computer but can't get rid of it – keep reading the article and we will teach you how to do that efficiently. We will also provide you with instructions on how to protect your computer better, so similar infections won't be attacking you in the future.
Why Bubble Dock is Malicious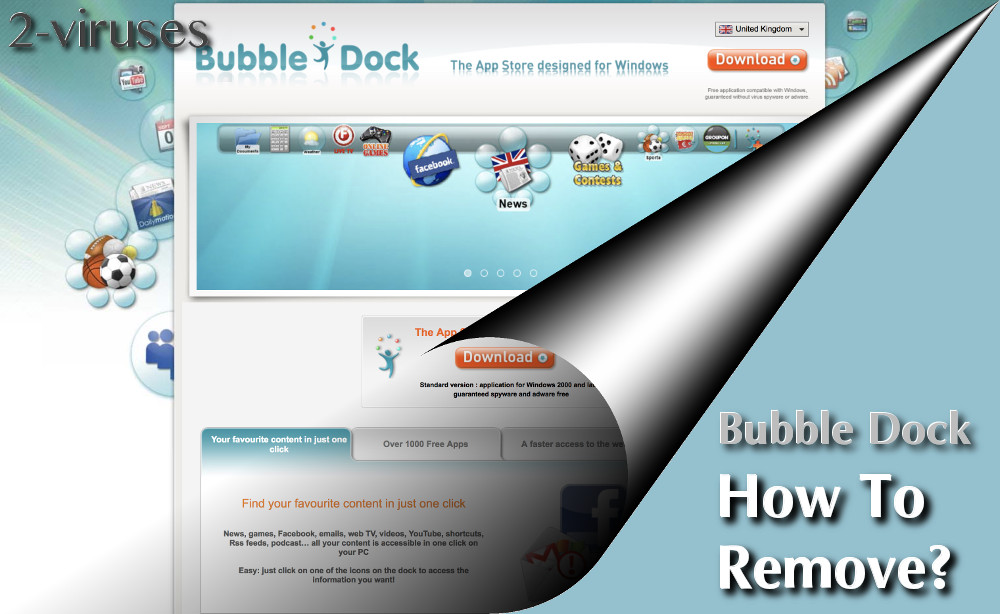 This program is supposed to be free and useful – provide users with the ability to reach various media channels online and watch TV, sports, etc. Unfortunately, you won't get what's promised – this application is fishy and not functioning as it should be.
Instead of that, Bubble Dock will definitely bring all kinds of ads to your computer – pop-up, pop-under, in-text and banner ads. All of those advertisements are excessive and might be very disturbing.
Not only those advertisements delivered by Bubble Dock will annoy you, but they might also lead to more severe. If it happens so if you accidentally (or on purpose) click on one of those ads, you might get redirected to a website that is dangerous, owned by cybercriminals.
Moving on – adware infections, like QkSee, National Consumer Center, DNS Unlocker and others tend to collect personal information on infected computers. They collect data such as your IP and email addresses, your search history, information from cookies and so on. It can be transferred to third parties, so if Bubble Dock is installed on your computer, you can easily experience loss of your sensitive data – that's the most dangerous trait of this tool.
How You Can Get Infected With Bubble Dock
Obviously, the most common method to distribute malware is bundling and developers of Bubble Dock take advantage of it just perfectly.
Bundling can be described as a deceptive method to infiltrate unwanted software into computers. When you aim to install some free legitimate software from the Internet, there might be additional tools that can come bundled with them and be installed secretly, without even bothering to notify you about that.
Also, you can get infected with Bubble Dock simply by clicking on an excessive advertisement, which would lead you to their website and convince you that this tool is useful and you should get it.
Finally, there is a possibility that your computer was already infected with some kind of malware and it infiltrated Bubble Dock into your system. That means you definitely have to scan your computer with reliable anti-malware software.
How to Remove Bubble Dock Efficiently
This malicious application might be installed on your hard drive, yet removing it is not that easy as to remove other regular, legitimate application. Creators of malware like this do all that they can to prevent users from removing malicious software, thus there might be some hidden files that can be used for restoring the infection after it is removed.
It might be tricky to get rid of this unwanted program manually, thus you should get some help from professional anti-malware tools, such as Spyhunter. All it takes is several minutes of scanning and all malicious files will be detected and removed automatically.
Also, we have developed a step-by-step tutorial to assist you through this removal process, so be sure to check it out, right below the article.

Automatic Malware removal tools
How to remove Bubble Dock using Windows Control Panel
Many hijackers and adware like Bubble Dock install some of their components as regular Windows programs as well as additional software. This part of malware can be uninstalled from the Control Panel. To access it, do the following.
Start→Control Panel (older Windows) or press Windows Key→Search and enter Control Panel and then press Enter (Windows 8, Windows 10).
Choose Uninstall Program (if you don't see it, click in the upper right next to "View by" and select Category).
Go through the list of programs and select entries related to Bubble Dock . You can click on "Name" or "Installed On" to reorder your programs and make Bubble Dock easier to find.
Click the Uninstall button. If you're asked if you really want to remove the program, click Yes.
In many cases anti-malware programs are better at detecting related parasites, thus I recommend installing Spyhunter to identify other programs that might be a part of this infection.
Manual removal