BrowseFox is an adware that can be added to Internet Explorer, Mozilla Firefox or Google Chrome. The program displays various pop up messages that contain ads with coupons, discounts and various other offers. BrowseFox ads appear mainly when users are visiting shopping websites. This way the program has more chances that a user will click on a message attracted by an offer given on it.
About BrowseFox
In fact BrowseFox was designed to make money. The program promotes various websites and this way generates profit to their creators. It also boosts traffic of certain pages. If you click on any of its ads you will be immediately redirected which is very annoying and time consuming. For this reason many users consider BrowseFox a virus. However, it is actually categorized as a potentially unwanted program.
It works its magic on almost every webpage that does not use SSL. How exactly are these domains going to get affected? Simple: since this application is free but founders want to cover the expanses and even get some income, they incorporate third-party advertisements in order to survive in the jungles of the Internet. It can proceed to function with Windows XP, Windows 7, Vista, Windows 8 operating systems. If you favor different system than Windows, you should see this as a positive news since it is unlikely that your device is going to be caught in this web of deception.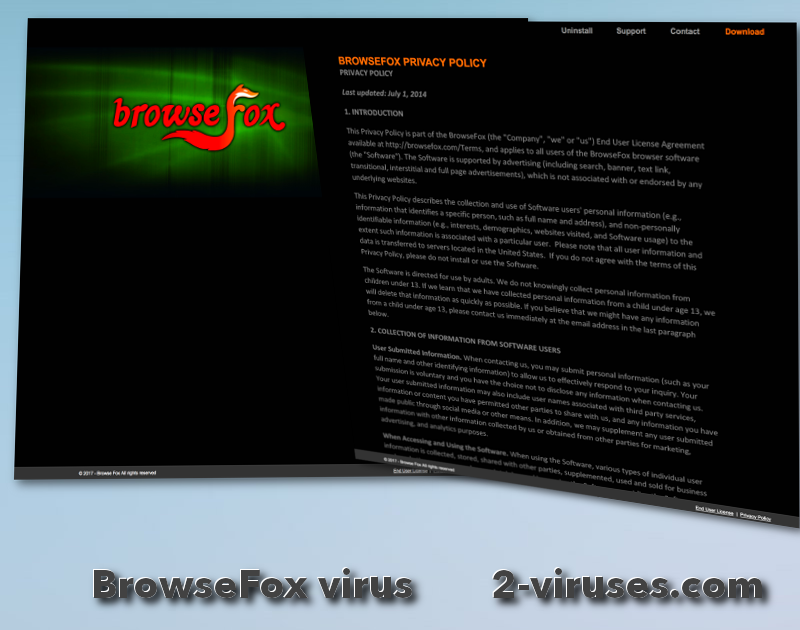 If you do not wish to be responsible for every move you make while interacting with the Ads that get introduced to you via BrowseFox, you should obviate this application like a big bad wolf. The software is supported financially by various vendors and advertisers that wish their material to be distributed more widely. Displays on your browser of search-related ads, banners, video ads, in-text ads, external links, transitional, interstitial and full page ads are going to be daily battle to live through. By installing BrowseFox, you give it permission to randomly open browser windows and tabs, temporatily redirect your online destination and modify or manipulate webpage content in order to display advertisements.
As for the information, regarding your habits and identity, this material is going to be maintained, stored, shared with third-parties or even sold for business and marketing goals. The gathered can include but is not limited to: computer system, IP address, browser, applications, usage patterns, capability and etc. Your online habits are also a thing of interest for BrowseFox as it manages to review your visited sites, search queries entered and other information that might seem useful to the creators of this shady application. We hope these enumerated features will successfully convince you to remove BrowseFox from your device. If you are having any trouble with the instructions for manual removal (found below), please clearly express your concerns in the comment section below for further assistance.
Distribution Methods of BrowseFox
The application can be added to your browser while you are downloading some software. If you follow the steps of installation every time you are getting a new program, you should see if the software has any additional applications bundled with it. You should always refuse installing any programs that you are not aware of.
If BrowseFox is already on your browser, remove it immediately after noticing it there. Go to Control Panel -> Add and Remove programs list and uninstall it from there. You should also check browser extensions for Internet Explorer, Mozilla Firefox and Google Chrome and remove it from there. If you do not see it listed, you should use antimalware tools like SpyHunter and scan your computer with it. If you had redirecting issues, you might need to reset your home page and search engine to the one you used before:
On Internet explorer:
Click arrow on the right of search box;
Do the following: on IE8-9 choose Manage Search providers, on ie7 click change search defaults;
Remove BrowseFox from the list.
On Firefox :
Enter "about:config" in url bar. This will open settings page;
Type "Keyword.url" in the search box. Right click it & reset it;
Type "browser.search.defaultengine" in the search box. Right click it & reset it;
Type "browser.search.selectedengine" in the search box. Right click it & reset it;
Search for 'browser.newtab.url'. Right-click and reset. This will make sure that the search page won't launch on each new tab.
On Google Chrome:
Click 3 horizontal lines icon on browser toolbar;
Select Settings;
Select Basics ->Manage Search engines;
Remove unnecessary search engines from list;
Go back to settings. On Startup choose open blank page ( you can remove undesired pages from the set pages link too).
Please note, it is very important to scan your computer with a reliable antimalware program after BrowseFox is removed as it might be your system got infected with viruses while having it.
Automatic Malware removal tools
Manual removal