What is Borontok/Rontok ransomware
Borontok/Rontok virus is a ransomware, just like PewCrypt, AYE ransomware or Seed Locker, which means that it initiates specific changes in the victims' files data making them impossible to open unless they have the unlocking key, which is unique for everyone and only hackers know it. That decrypting code can be bought for a ransom, which in this case is incredibly high – $76k (20BTC). While it isn't clear whether this amount was chosen because the Rontok virus developers are new in the malware world and are unaware of the current average ransomware prices or this threat was developed to attack companies, not individuals, although that still is a lot. However, before Borontok ransomware can even ask for anything, it Has to do a lot in the system to make it work to the crooks and not the user.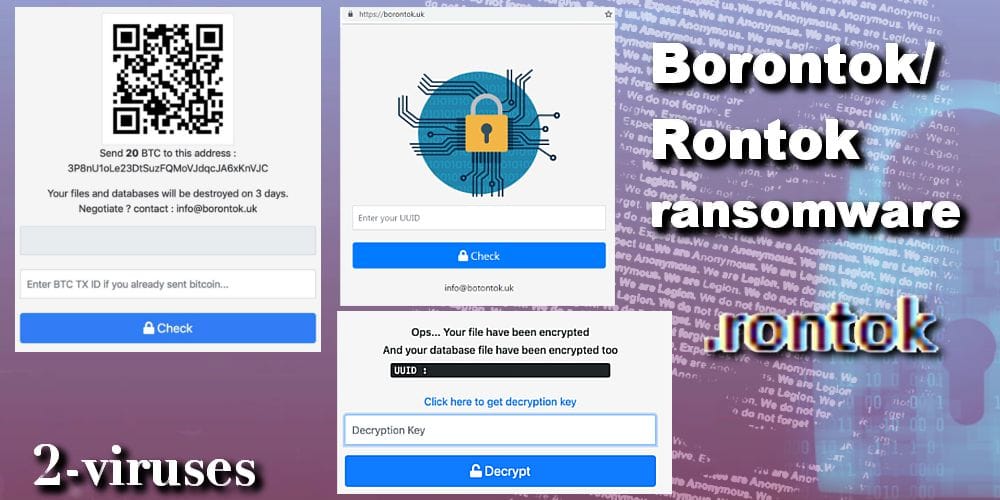 When B0r0nt0K ransomware begins its maliciousness by altering registry and adding itself to various System directories in order to prevent antivirus from detecting it, ensuring the persistence even if the user shuts down the machine and also finding potential files it can encrypt. Since Linux and Windows have completely different mechanisms, it is impressive that Rontok cryptovirus can work on both systems. Once the main functions are set up ransomware begins the encryption, which is also unusual – Borontok ransomware locks the name with probably AES cipher, then encodes with Base64, URL encodes it and then adds .rontok extension to the file's name. In the end, the primary title of a file gets replaced by a random string of letters and numbers. 
So that the user would know what happened to their computer because the other processes were executed in the background secretly, Borontok virus drops the ransom note and links to the payment website saying this:
Ops … Your file have encrypted Been
And your database file have encrypted Been of too
the UUID: [unique ID]
the Click to found here the get decryption key
Decrypt
And also this:
Send 20 BTC to this address:
3P8nU1oLe23DtSuzFQMoVJdqcJA6xKnVJC
Your files and databases will be destroyed on 3 days.
Negotiate? contact: [email protected]
[unique ID]
Enter the TX ID BTC Already the if you sent bitcoin …
Check
Right now, there are a few websites, which work as an online ransom note but they all say the exact same thing, that files are going to be destroyed in 3 days if you won't pay and that you can negotiate via email ([email protected], [email protected], [email protected]) with the hackers. Even if you decide to Contact them, there is a very little chance that so-called 'Vietnamese Hacker' will give back your files or lower the ransom to a reasonable amount.
Right now, there isn't much information on how exactly Borontok ransomware is able to infect the systems, yet the probability is that the crooks are using the typical virus proliferation methods such as malspam, P2P networks, Trojans, exploit kits, camouflaged malicious links, fake updates, RaaS service and etc. The primary comment on BleepingComputer claimed that the files in the system were attacked after the virus encrypted client's website and then moved on to the computer. While this technique is possible, knowing how much Borontok virus demands, it would be naive to expect that it only uses one way to proliferate, therefore full security measures need to be taken and Rontok ransomware should be removed from all the infected places in order not to escalate the further distribution.
How to eliminate Rontok virus and get files back
There is no easy solution when it comes to fixing all the damage from Borontok (Rontok) virus. This is one of the most unfortunate malware infections because even if you remove the ransomware, it does not guarantee that your now .rontok marked files will be back. Of course, users that have all the backups of their necessary files can feel relieved and restore data as shown below in the instructions. But beforehand, no matter if you have the snapshots or not, you must remove the Rontok cryptovirus, because it will continue on damaging your computer and locking newly added data, re-encrypting recovered files. In order to do so, we simply suggest trusting the B0r0nt0k ransomware issue to special anti-spyware programs, which know what they are doing and won't leave space for faults.
If your compromised machine is running on MacOS then we suggest Combo Cleaner, and if the affected data is on Windows you should go for Spyhunter. You are not obliged to stick to these security applications and can choose any, yet make sure that they are not rogue antivirus tools, which can make the situation even worse. Here's our list of malware removal programs with their ratings, that can help you decide. Only when the machine is completely free from ransomware and other threats you can begin either the recovery processes or using the computer normally again. If you haven't gotten a chance to make backups or they were deleted by the Rontok virus, there isn't much you can do get them back at the moment. However, since malware experts are working on the decryptor, we suggest storing the .rontok files in the computer and checking online for decryption updates on Nomoreransom.org, 2-viruses.com or security forums.