Books-online.club is a fake ebook download site that can expose you to scams and malware. If you find yourself on Books-online.club, it's best to close the page.
Although Books-online.club looks like it has a selection of ebooks, it only shows covers and descriptions; it doesn't actually carry the books. It promises a free book in order to convince you to reveal your personal information or download suspicious software.
Books Online Club Scam Site quicklinks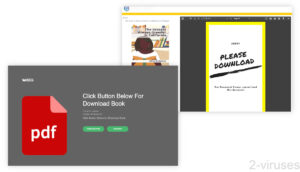 Books-online.club in short:
Threat type
Adware,

scam.

How Books-online.club spreads
It's promoted by other fake ebook sites,

it appears in web search results.

Danger posed by the scam
Wasted time,

lost money,

unwanted software installed.

How to avoid being scammed by Books-online.club
Block malicious websites,

use legal sites to get books,

use anti-malware apps (Combo Cleaner for Mac, Spyhunter for PC, others) to remove unwanted programs,

cancel unwanted subscriptions.
How does Books-online.club spread?
Besides a couple of negative reviews on Trustpilot, there's no discussion online about Books-online.club. It's as if nobody talks about this website. And yet, the site is estimated to get almost 2 mission visits per month (mostly from the United States, India, and Spain).
Most likely, this is because Books-online.club is not a real ebook pirating site. It's more like an advertising hub for useless apps, VPNs, and scammy subscription services.
If you visit Books-online.club directly, it looks as if it has a library of books. However, trying to read any of them leads to other deceptive websites.
However, most people probably visit Books-online.club after being redirected from other fake ebook sites, such as Greatebook.club and Wakuwaku2021.online. Like Books-online.club, these sites also have libraries of ebooks that they pretend to let you download. Below are a couple of pages that open Books-online.club.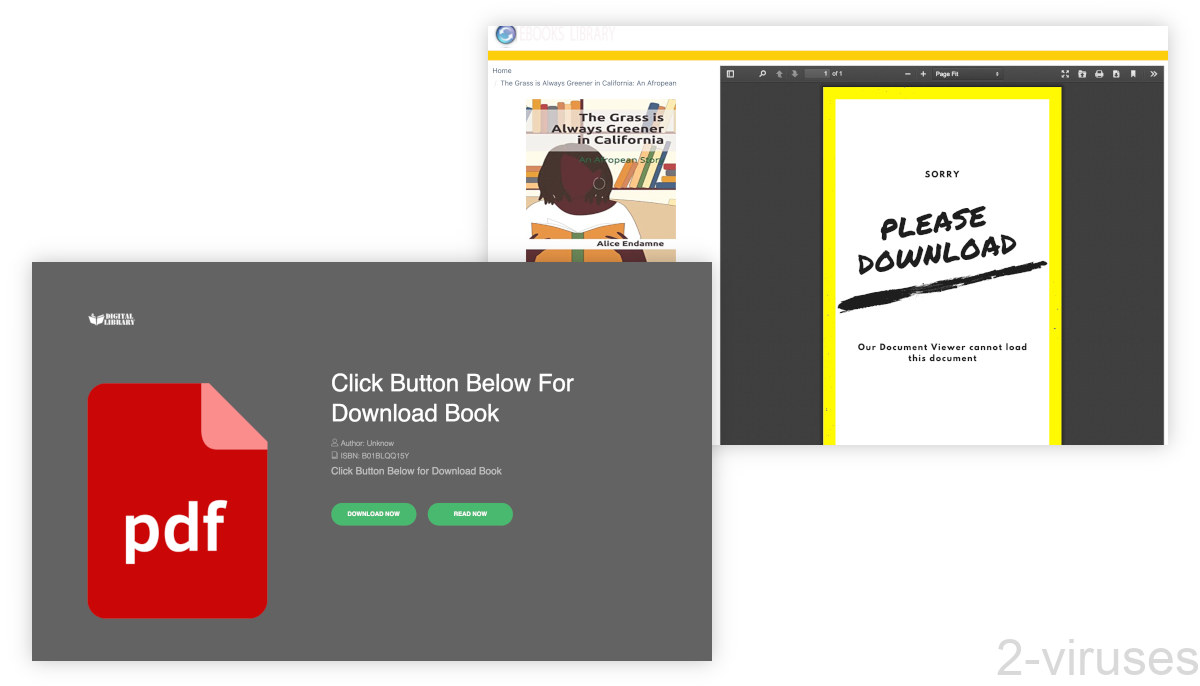 These pages lead to a Books-online.club site which asks you to type in your email and password (and if you typed in your email's password by mistake, change is ASAP). Here, Books-online.club says that, in order to read the online book, you need to sign in. It also implies that this service is free to use.
What websites Books-online.club opens next changes depending on your location and the websites that you visited earlier.
In one case, Books-online.club lead to My-ebooks.club which opened Hitssite.com/Financebooks.online/Newfibe.com/etc. – not entirely a scam site, but one that makes it way too easy to lose your money without meaning to.
Another time, it opened Faztplay.com – a site that collects your personal details, including your payment info, and signs you up for a subscription that costs tens of dollars per month. These sites might also ask you to download software to use them.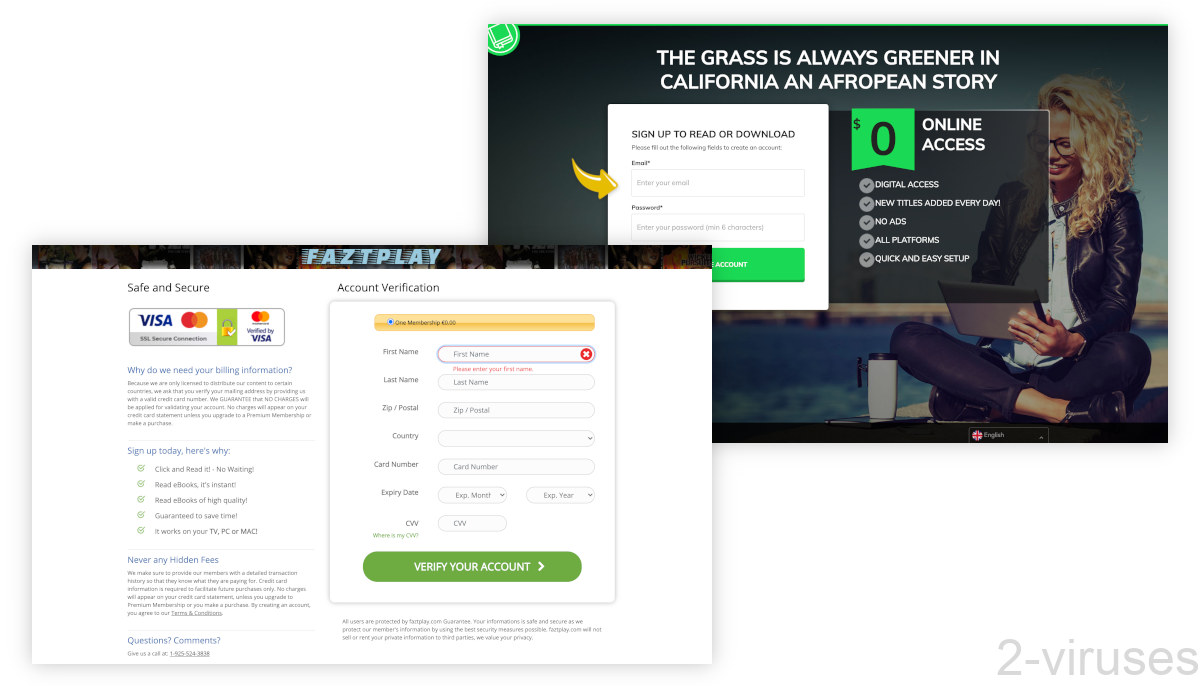 How to avoid Books-online.club scams
Avoid malicious websites
Pirating is risky, and I'm not talking about it being illegal (which it often is). Scammers promise free games and movies, only to deliver malware and lead people to malicious scam sites. In fact, sites like Books-online.club are called pirating spam sites (The Problem with Ebook Piracy Spam).
To avoid Books-online.club and other fake sites, try to use legal websites to get your books (How to Get Free (or Cheap) New Ebooks).
Also, remember that you can use anti-malware tools and ad blockers to block malicious websites. Good ad blockers let you choose what kinds of websites and ads you want to block.
Stop scam subscriptions and remove malware
Looking at Books-online.club reminded me just how many dubious and scam-like media subscription websites exist out there. If Books-online.club led you to a site where you filled out a form with your personal details, especially your credit card info, then check your email for subscription notices and your bank account for unknown payments. Make sure to cancel any unwanted subscriptions.
And if Books-online.club sites adjacent to it had you install some software, it's best to remove it. You can use anti-malware apps like Combo Cleaner for macOS, Spyhunter for Windows, etc.
Automatic Malware removal tools
Uninstall unwanted software
How to remove Books-online.club Scam Site using Windows Control Panel
Many hijackers and adware like
Books-online.club Scam Site
install some of their components as regular Windows programs as well as additional software. This part of malware can be uninstalled from the Control Panel. To access it, do the following.
Start→Control Panel (older Windows) or press Windows Key→Search and enter Control Panel and then press Enter (Windows 8, Windows 10).
Choose Uninstall Program (if you don't see it, click in the upper right next to "View by" and select Category).
Go through the list of programs and select entries related to Books-online.club Scam Site . You can click on "Name" or "Installed On" to reorder your programs and make Books-online.club Scam Site easier to find.
Click the Uninstall button. If you're asked if you really want to remove the program, click Yes.
In many cases anti-malware programs are better at detecting related parasites, thus I recommend installing Spyhunter to identify other programs that might be a part of this infection.
How to remove Books-online.club Scam Site from macOS
Delete
Books-online.club Scam Site
from your applications.
Open Finder.
In the menu bar, click Go.
Select Applications from the dropdown.
Find the Books-online.club Scam Site app.
Select it and right-click it (or hold the Ctrl and click the left mouse button).
In the dropdown, click Move to Bin/Trash. You might be asked to provide your login password.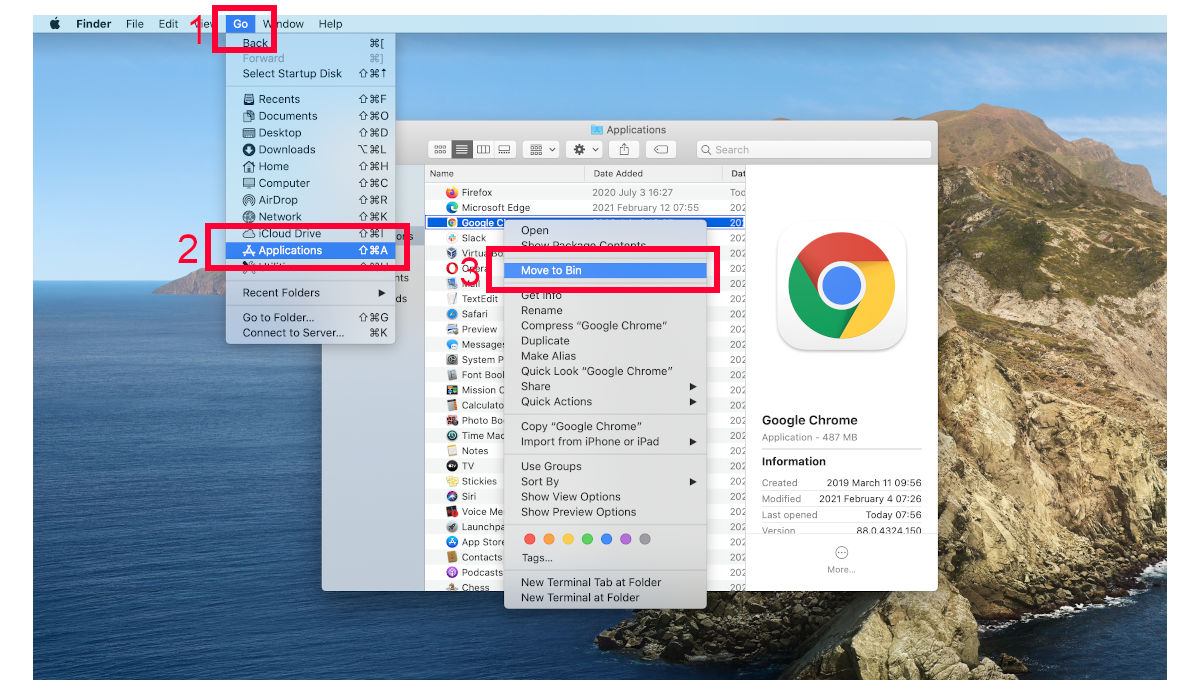 (Optional) Delete related settings
Some malicious apps make themselves difficult to delete by changing various settings and leaving behind malicious files. Remove settings related to
Books-online.club Scam Site
.
Click the Apple logo in the menu bar. Open System Preferences.
Some malicious applications set profiles to enforce unwanted settings. Remove unwanted configuration profiles.
In System Preferences, click the Profiles icon. This icon is only visible if there are profiles on your Mac.
Select unwanted profiles and remove them by pressing the minus '-'  button at the bottom.
Some adware applications set SOCKS proxy to manipulate your internet traffic. Remove unwanted proxies:
In System Preferences, click Network, Advanced, Proxies.
If a proxy is set without your permission, uncheck it and click OK.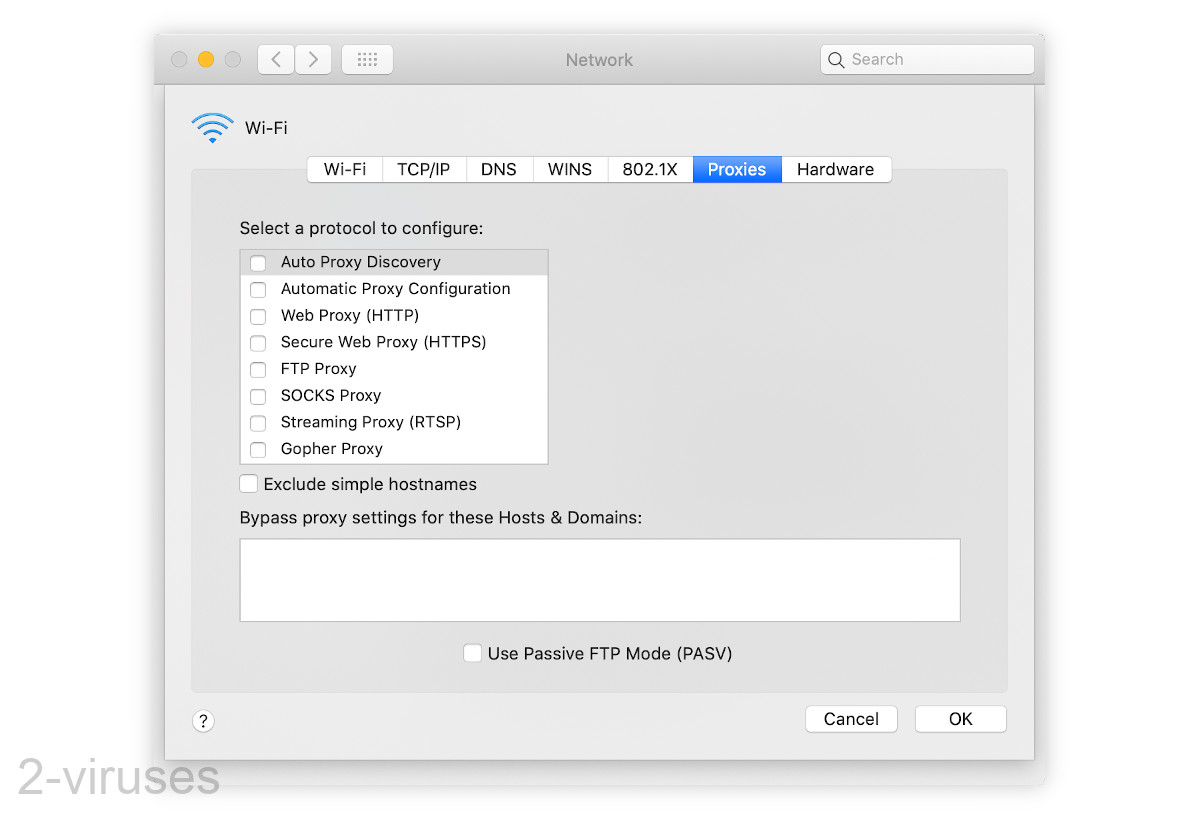 (Optional) Delete malicious files
Some malicious apps leave behind dangerous files in your Library folders. Delete files related to
Books-online.club Scam Site
.
Open Finder.
In the menu bar, click Go -> Computer.
In the search box, type in Books-online.club Scam Site and variations of it.
Delete the files that are found and that seem to be related to Books-online.club Scam Site.