Blasteroids is another annoying adware that once installed will display a lot of ads on your web browser when surfing the Internet. It is a browser add-on that can be added to all most popular web browsers, such as Internet Explorer, Mozilla Firefox, Google Chrome or even Safari.
Update of Blasteroids adware
A dozen of owners of Microsoft 8 and 8.1 operating systems have emphasized that after Blasteroids adware parasite had managed to slither inside, their browsing was not the same. This virus is related to Safeweb adware as the same developing company allegedly created both of these threats: Acute Angle Solutions. However, in the Terms and Conditions of Use, owners are suddenly indicated to be Small Island Development.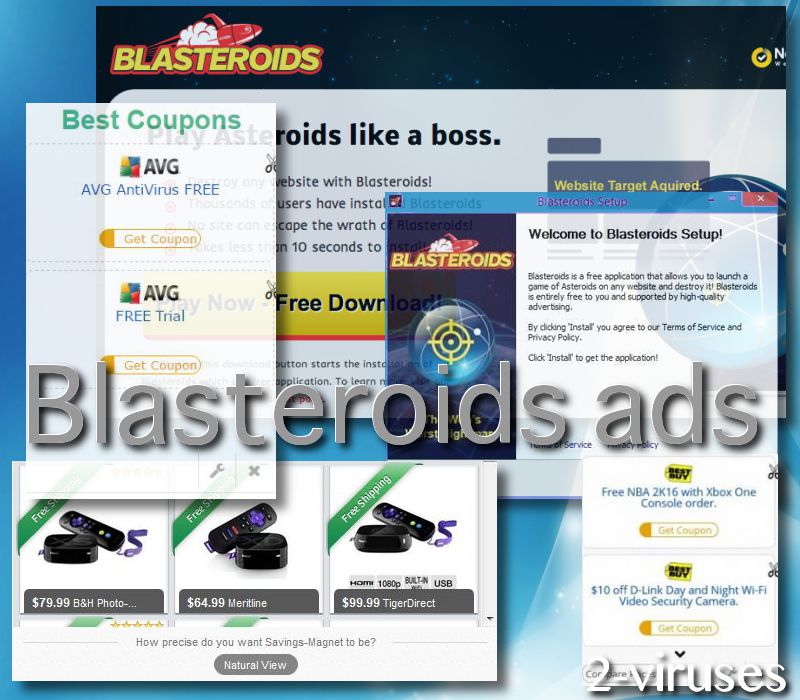 Their product has been explained to be a potentially unwanted program: while not necessarily malicious, the scanned file presents certain characteristic which, depending on the user policies and environment may represent a threat. We ran Setup.exe file of Blasteroids through a number of security software. The results (VirusTotal) of this investigation revealed that 38 out of 64 scanners labeled this installer as Win-PUP/PullUpdate, Adware.Yontoo.82, AdWare/MSIL.byy, Riskware.Win32.SaMon.dorddh or a different type of malware.
The software is described as "the web's worst nightmare" and the creators are not lying. In fact, they are being rather honest about the experience that users of Blasteroid virus are going to have. Many clients that required support because of this adware infection suggested that the pop-ups were driving them crazy. Ad-based parasites can certainly present tons of suspicious, often malware-laden, pop-ups (TrendMicro). No wonder such harsh statements can be found in the Terms and Conditions document:
"Applications may be supported by advertising, which may include display ads (banner ads), text ads, in-text ads (e.g., keyword highlighting), interstitial ads, pop up ads, pop under ads, or other types of ads. Users may see additional ads when using their Internet browser or other software applications."
Shockingly, the service clearly admits to show propositions to install additional software applications and install them automatically (TechRadar). Frequently, various types of software applications would be inserted automatically. This means that people had no say in the matter. We rarely see that shifty owners would be so open about their malicious activity:
"Additional, optional offers may be presented to You for download. Any new Applications selected in these offers by you may be downloaded and installed automatically and are governed by these Terms of Use, our Privacy Policy and any other agreements between us and You provided with such new Applications. "
This aggravating display of promotions is common to all adware parasites, like Always Weather and Interstat. Blasteroids malware has also been noticed to install certain add-ons within users' web browsers. The application itself will be installed onto users' desktops, but it clearly emphasizes that more software applications might be offered during the installation process of Blasteroids adware. Take a look at the these terms:
"We make various applications and services available through our Site, including providing downloadable desktop software applications, Windows service software applications, and browser add-on software applications. These Applications have various user interfaces for how to control or monitor their operation including, but not limited to, Windows application interfaces viewable in the Windows application tray or system tray, via browser extensions or browser add-ons viewable through a web browser's control panel, or Windows applications or services running in the background and only viewable via a process manager or other utility."
Older information about this infection
Ads by Blasteroids can come in various forms, including image, in-search, pop-up, pop-under, and in-text ads. This adware is listed as a PUP (potentially unwanted program) due to several malicious activities that it performs. Please note that eve though Blasteroids is not a virus itself, it can cause getting your PC infected after redirecting you to dangerous pages.
Because it is an ad-suporter platform, you will see ads that come from the third parties. If you decide to click on one of them, you will be immediately redirected to the third parties websites that may be infected by cyber criminals and do harm to your computer or even breach your privacy. That's why it's not recommended to either click on those ads or keep Blasteroids installed on your system.
Furthermore, it will collect your personal information like search queries or browsing history. This data will be transferred to the third parties. The information is usually used to adjust ads according to it and make them more engaging to you, therefore the chances that you will decide to click on promotions grow.
Blasteroids is distributed the same way as most adware – bundled with other free software. That being said, you need to be extremely careful when installing something downloaded from a suspicious looking website if you don't want to get Blasteroids as well. Do not skip any steps and opt out for a custom or advanced install mode. Read all terms and conditions and make sure that no unwanted application is being installed. If you see that something you are not familiar with is being added alongside – do not allow it. If your computer is already infected with Blasteroids, simply scan it with a trustworthy anti-malware like Spyhunter or malwarebytes and it will remove the threat automatically. In case you prefer to perform this manually, follow our step-by-step Blasteroids removal guide.
Using Control Panel to remove the main Blasteroids components and installers
Go to Control Panel. On Windows XP/Vista/7 open Start -> Control Panel , Add/Remove Programs or Uninstall . On Windows 8 enter Control Panel in the search box, then look for Uninstall a program. You may need to confirm that you are the administrator on this PC, in both cases.
Look for Blasteroids and /or similar looking items on the list of programs. By default, I recommend removing Yontoo, WebCake, anything "savings" or "coupon" related. Scanning with Anti-Malware programs like Spyhunter or Stopzilla might give a good idea of what programs you should remove from there as well.
Close Control Panel.
Removing Blasteroids from Internet Explorer
Press on the Wench icon->Manage Add-ons.
Go through Toolbars and extensions. Remove everything related to Blasteroids and items you do not know that are made not by Google, Microsoft, Yahoo, Oracle or Adobe.
Close the Options.
Removing Blasteroids from Firefox
Enter about:addons in URL field.
Go through Extensions and Addons list, remove everything Blasteroids related and items you do not recognise. If you do not know the extension and it is not made by Mozilla, Google, Microsoft, Oracle or Adobe probably you do not need it.
Optionally, reset Firefox: go to Firefox ->Help (Help in menu for OSX users) -> Troubleshooting Information. Then Reset Firefox.
Removing Blasteroids from Chrome
Enter chrome://extensions in url field.
Go through extensions list and remove programs you do not need, especially similar to Blasteroids. If unsure, you can disable them temporarily.
Restart Chrome.
Optionally, you can enter chrome://settings in URL bar, press Advanced settings, scroll to the bottom of the list and press Reset browser settings.
Automatic Malware removal tools