Always Weather is a deceptive tool that can not be trusted. This tool is operating as a browser add-on by the full name "Always Weather 1.0.2", specifically designed to fit Google Chrome web browser. Other web browsers (such as Mozilla Firefox or Internet Explorer) can not be affected.
Developers of this application made sure that it would look attractive and trustworthy – a reliable source of local weather forecast. However, we have managed to prove that Always Weather is a computer virus, listed as an adware. It executes various unwanted processes and for that particular reason, it shouldn't be kept installed on your web browser. By the end of this article you will learn how to efficiently deal with it and protect your computer.
Features of Always Weather
Users of Always Weather are promised to get a fast and convenient way to check latest weather forecast. One of the main features – small icon on the right side of Chrome toolbar.

The tools comes with a vast functionality as users are allowed to add multiple locations, see a forecast for 5 upcoming days and adjust the tool according to their own preferences. We do not questioning functionality of the tool – it might be working as described. However, there are additional features that are not highlighted in their promotional slogans that you should be aware of.
Much like Ads by Weather Inspect or Dentesk extension virus, Always Weather will push various advertisements and disturb your web browsing this way. This is why it falls into the category of adware. Advertisements delivered by Always Weather plugin can appear in all kinds of forms – pop-up, new tab, implemented banner ads and so on. Clicking on those advertisements might be dangerous because you never know where you are going to end up.
You can also experience a slower work of your computer due to this malware. New window or tab ads will require additional computing power and that will definitely have an impact on how smooth your web browser is operating.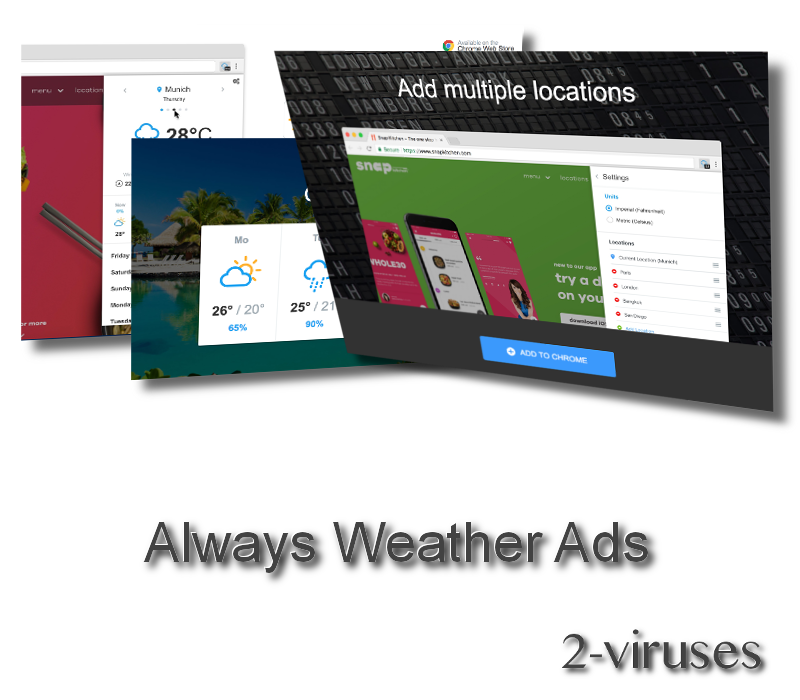 Unlike other malware infections, Always Weather seems to be distributed in a legal way – you can download it from their official website at alwaysweather.net or simply add the add-on to your web browser on Google Chrome Webstore. Users gets tempted with the functionality of this tool and an attractive presentation of features and installs it on a free will, without realising actual downsides.
Complicated removal of Always Weather ads
When it comes to removing malware infections from a web browsers, it's rather simple as you only have to disable the particular add-on. However, this time things won't be so easy. That's because Always Weather 1.0.2 employs Windows Group Policy to complicate the removal. This way they make this plugin "Installed by enterprise policy" – as it was a default Windows tool and you can't easily eliminate it from your system. This obviously does not apply if you are running Chrome web browser on a iOS system.
IMPORTANT: before moving to the next steps of Always Weather removal, you have to remove those group policy files first. To do that, navigate to %WINDIR%\System32\GroupPolicy  directory by pasting this line into the address box on Windows file explorer. Delete everything what's inside of that folder. The same has to be done with %WINDIR%\System32\GroupPolicyUsers  folder as well. Once you have done that, please restart your computer to validate those changes.
Now you can go either way – remove Always Weather manually or automatically. Manual removal will take more time, but if you are interested in learning how to eliminate computer viruses – go for it. To see detailed instructions on manual Always Weather removal, fast forward to the bottom of this post. Otherwise, you should get anti-malware program and let it do the job. We suggest to use Spyhunter – this program has proved to be really efficient eliminating computer viruses like this. It will also protect you with ultimate protection against viruses, so you might want to consider it keeping it.
TopRemoving Always Weather Ads from Chrome
Click on the menu button on the top right corner of a Google Chrome window. Select "Settings".

Click "Extensions" on the left menu bar.
Go through the extensions list and remove programs you do not need, especially similar to Alwaysweather.net. Click on the trash bin icon next to Always Weather 1.0.2 or other add-ons you want to remove.

Press on the "Remove" button on the Confirmation window.

If unsure, you can disable them temporarily.

Restart Chrome.
(Optional) Reset your browser's settings
If you are still experiencing any issues related to Always Weather Ads, reset the settings of your browser to its default settings.
Click on Chrome's menu button (three horizontal lines) and select Settings.

Scroll to the end of the page and click on the Reset settings button.

Click on the Reset button on the confirmation box.

If you cannot reset your browser settings and the problem persists, scan your system with an anti-malware program.
Automatic Malware removal tools
Manual removal