Bigsrch.xyz is a new website related to the Searchgg Custom Search browser hijacker. It is basically identical to wajm.icu, vxo.world and ao0c.club. Bigsrch.xyz attacks Google Chrome, Mozilla Firefox and other popular browsers. The search results delivered by means of the Seachgg Custom Search are generally not relevant to the user's initial search requests. Furthermore, the hijacker is spread through several misleading campaigns that may be run as a part of some adware currently already enabled in your computer.

Bigsrch Xyz Hijacker quicklinks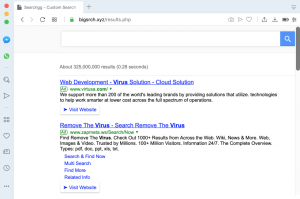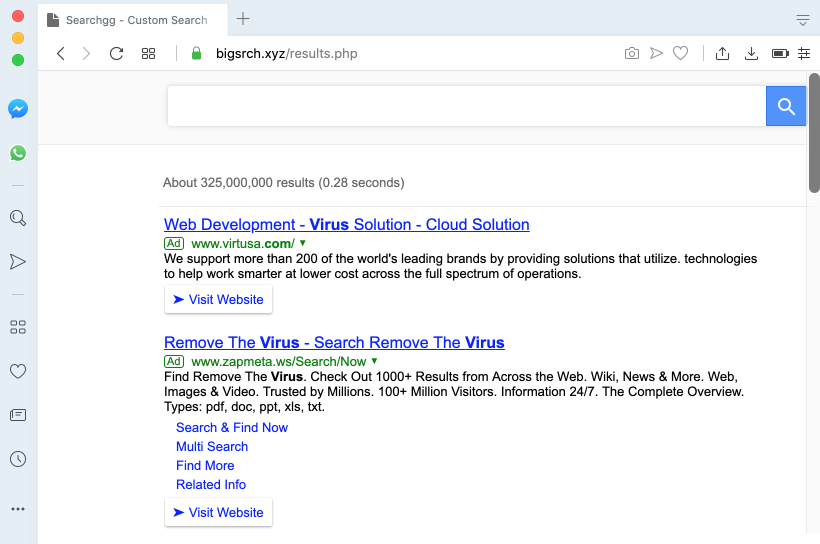 Many people find it very hard to remove bigsrch.xyz and get back to Google Search as their default search provider. For this reason, sometimes the users apply the term of bigsrch.xyz virus, even though it is correct to report it as a browser hijacker that amends important browser parameters without the user's direct approval. If you find it hard to get rid of this browser-modifying application from your browser, follow this guide for a detailed step-by-step tutorial.
Bigsrch.xyz browser modifications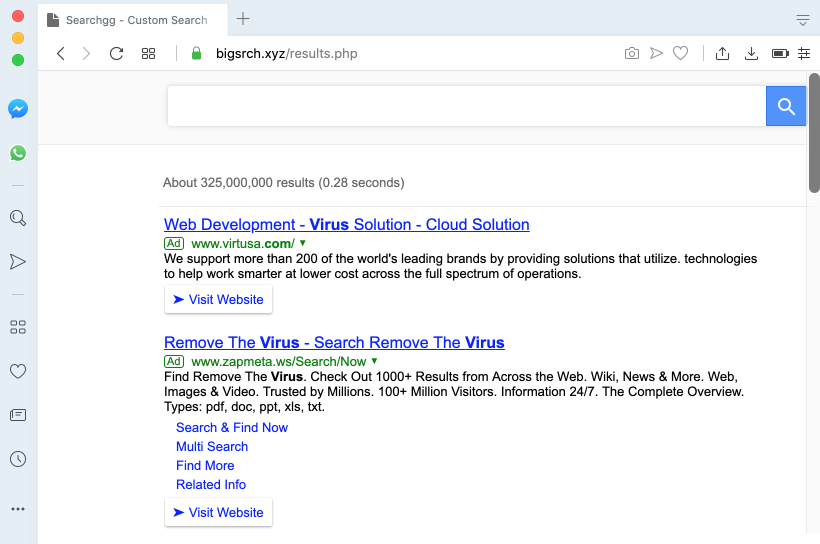 Once the attack of bigsrch.xyz is successful, the following unusual activities may be noticed:
amendment of the default search engine;
random new browser tabs periodically open and redirects to third-party pages;
injection of advertisement banners and sponsored links not related to the websites visited by the users.
Bigsrch.xyz and its Searchgg Custom Search is actually a pseudo search engine. It is simply not able to provide you with any decent search results. At first glance, it does not look like your browser is hijacked at all. For example, its' home page may remain unchangeable. When you provide specific search queries into the respective search box, it will also be related to Google Search, however, as soon as the query is submitted, bigsrch.xyz hijacks it and delivers the results through Searchgg Custom Search. When you go to the google.com page and attempt to look for the information directly through it, bigsrch.xyz will still be in control of your default search engine. You will not be able to get back to your default search provider until you fully remove this notorious hijacker.
Additionally, bigsrch.xyz permanently injects a lot of its own advertisement banners and sponsored links on top of the search results. This is done for the sole purpose of promoting some third-party content. The more clicks you make on the ads or sponsored links, the more revenue the developers of the hijacker obtain on the pay-per-click basis.
Finally, bigsrch.xyz regularly tracks your browsing activities. When you submit specific search queries through the hijacked browser, this sensitive information is permanently tracked and collected. The following information is gathered and analyzed:
submitted search queries;
IP addresses;
URLs of the visited websites;
personal or even financial details submitted through online forms.
Bigsrch.xyz distribution techniques
Bigsrch.xyz attacks the browser through injecting its unique extension (add-on). Installation of the add-on occurs through displaying the wide range of faulty alerts, for example, the necessity to perform the installation of Flash SD App or other dubious software. As a matter of fact, these alerts may be produced as a result of some nasty adware already installed and running on your device. It is clear that the developers of the hijacker refer to a lot of deceptive methods to make people install the appropriate extension without the real necessity.
Installation of bigsrch.xyz is actually the evidence of poor protection of your computer by the powerful anti-virus software. You probably thought that your system is protected very well by your current security program. However, it actually failed to perform its protective function and allowed unauthorized browser amendments to occur.
How to remove bigsrch.xyz for good
Considering the negativity reviewed about regarding bigsrch.xyz, getting rid of the extension is the only correct decision. The hijacker not only prevents you from finding the relevant information online but additionally represents serious privacy issues. There is no complication to delete the extension from Google Chrome or other affected browsers. Simply access the browser settings, look for the list of available extensions and delete the ones that you don't remember installing directly. Currently, the following extensions may be causing the problem:
ESearch 1.6;
ImSearch 2.9;
Search 6.5;
MSrch 1.9.
We additionally recommend you to scan your computer with the reliable anti-malware software that will help to analyze other computer-related problems, such as the availability of other adware samples on your device. The fact that you successfully delete the unwanted extension does not guarantee that the system is free of other malware. Therefore, complex research with the help of Spyhunter is essentially important.

Automatic Malware removal tools