Have you recently started experiencing more pop-ups and ads than usual, stating that they are sponsored by the BetterWorld? Are they interfering with your online browsing by slowing down the computer, leading to various inappropriate websites or promoting services/items that you've discussed with someone, searched before? If that's the case, most likely you got yourself a Better World virus. But don't worry, because 2-viruses.com team will help you understand and remove this threat in a few very easy steps.
Betterworld Virus quicklinks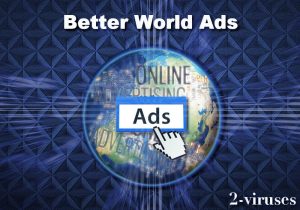 BetterWorld is a potentially unwanted program (PUP), that installs into the computer and injects the compromised system with plenty of ads, toolbars, generate pop-ups and add redirecting hyperlinks to any website you land on. Moreover, your every step online is being tracked allowing the crooks to collect personal information, preferences, system data and share it with third parties. Although it sounds terrifying, BetterWorld parasite is one of the easiest to remove and more annoying than dangerous, but only if you get rid of it soon enough.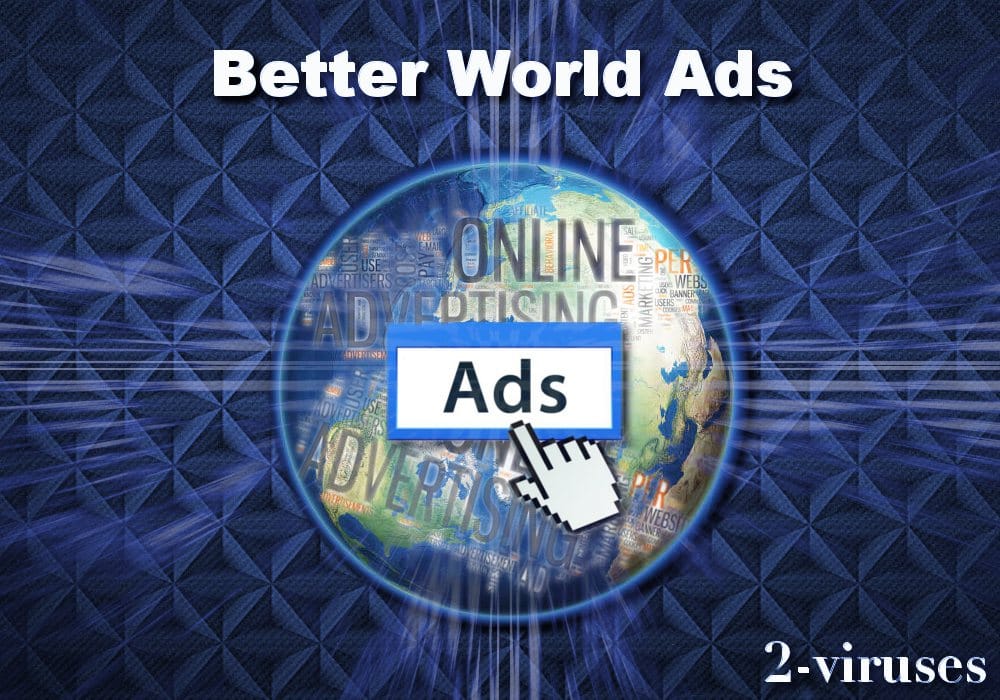 How to recognize BetterWorld virus
The cunning features of the BetterWorld parasite allow it to sneak into your computer and settle in unnoticed before you can do anything, especially if you don't have any of the antivirus or anti-spyware tool. The virus starts running in the background it's evil processes and modifies the system files and Windows registry so each time you restart your PC, BetterWorld would rise together with it. 
There are several signs that give out the BetterWorld virus infection. Your computer and browser start struggling and take a way longer to respond, crash and freeze all the time. Whenever you visit any website you are welcomed with tons of ads with text saying that they are Sponsored by… Brought by…. Ads by…. Better World. Also surfing the net becomes really inconvenient because BetterWorld malware generates pop-ups every other click, and constantly redirects you to some products, services that you don't want to see.
If you do notice any of these signs, don't wait until the situation gets worse, because there are plenty of reasons why Better World threat should get removed from your computer as soon as you see it:
Displayed ads/links may contain viruses

Posts lots of promotions by sponsoring companies, trying to influence you to make a purchase

Collects personal data: name, address, number, location, age, contacts, health records, credit card info

Tracks online activity: visited websites, search queries, entered passwords

Closely collaborates with third parties: shares your personal information, allows them to display whatever they want

Breaks the system's security giving access to more malware

Slows down the system, browser
Clearly, these drawbacks describe how malicious BetterWorld can be and that no matter what crooks will promise you it is not worth it to sacrifice your own privacy and security for 'enhanced browsing experience'.
How to prevent BetterWorld malware infection
As a typical, classic potentially unwanted program Better World virus spreads with software packs from the unofficial shareware websites. Pages such as Download.com, FileHippo.com, ZDNet downloads and others distribute bundles of compiled programs that are not only useful and free to use, but also include PUPs like BetterWorld, because they don't have a license to distribute alone.
Although bundling can be a very good method to get a few software in one download and without a payment, yet you can easily bring the unnecessary, intrusive viruses that will compromise your machine like no other, and you will spend more money on fixing it than you could've paid for a real version of a certain tool.  Even Google has reported that bundled.
In order to prevent BetterWorld virus infection, you should always be careful and alert when installing any new program. In one of the setup up pages, there should be an Additional/Optional application section, where you can choose which ones you want to add together with the main software. These sneaky PUPs, adware, browser hijackers are marked as a desired installation by the default, therefore you must go there are uncheck them.
Apart from that BetterWorld can be a result of the previous virus infection, therefore, the malware scan is inevitable since you don't know which program has caused the problem.
What's the best way to stop Better World ads
If you start taking action against BetterWorld malicious software early then you will be able to remove it successfully without much trouble. Although if you will abandon the issue, this adware – like virus can easily turn from irritating to very malicious. It messes up with your OS security, therefore it leaves an open path to other malware to enter your computer. What is more, some of these displayed ads without a doubt hide a malevolent virus inside, so you become an easy target for parasites like ransomware, trojans, worms and etc.
The best way to delete BetterWorld PUP is to uninstall it from the Control Panel as shown below, and then run a scan with one of many anti-malware removal tools. Best ones so far are Spyhunter, Malwarebytes. They have the widest database updates and are very sophisticated with their detection and elimination features.
Automatic Malware removal tools
Anti-spyware software is a brilliant idea for those who tend to be less careful when browsing and actively click on suspicious links because it terminates the threats before they get to do anything malicious. However, knowing how to delete the problem causing files is also a necessary skill to assure the clean system. 
How to uninstall BetterWorld manually
How to remove BetterWorld virus using Windows Control Panel
Many hijackers and adware like BetterWorld install some of their components as regular Windows programs as well as additional software. This part of malware can be uninstalled from the Control Panel. To access it, do the following.
Start→Control Panel (older Windows) or press Windows Key→Search and enter Control Panel and then press Enter (Windows 8, Windows 10).
Choose Uninstall Program (if you don't see it, click in the upper right next to "View by" and select Category).
Go through the list of programs and select entries related to Better World . You can click on "Name" or "Installed On" to reorder your programs and make BetterWorld virus easier to find.
Click the Uninstall button. If you're asked if you really want to remove the program, click Yes.
In many cases anti-malware programs are better at detecting related parasites, thus I recommend installing Spyhunter to identify other programs that might be a part of this infection.