Antivirus 360 - How To Remove?
Antivirus 360 is a  rogue anti-spyware program – a fake spyware remover, which tries to trick the user into purchasing it's "licensed version" by intimidating him with fake threats. The name "Antivirus 360" is obviously an attempt to look similar to Norton 360, which is a known and respected all-in-one security tool by Symantec. Antivirus 360 typically makes it's way into the user's system by using the infamous trojan Zlob or by manual download. It goes under several names, including Antivirus360, and antivirus 360 protection as well.
Once inside, Antivirus 360 will try to intimidate the user by flooding him with popups and fake system notifications, which present him with a false message of infection. The parasite will try to reassure this claim by providing falsified system scan reports, which mark such files as explorer.exe and alg.exe as serious threats. After scaring the user, Antivirus 360 will prompt him to pay for the full version, which would supposedly remove the threats from the system. The only problem is that it doesn't work at all.
You would be surprised that such rogue anti-malware applications were introduced to Internet users all the way back in 2008. We are sure that at that time, people were not aware about the dangers that might come from such applications being inside their devices. One of the most noticeable features is that such applications manage to run in the background and initiate security scans when it sees fit. The most common outcome of such scanning is going to be that applications like Antivirus 360 is going to strongly advise you to purchase a full version of their software. This is indicated as the only solution to the problems that are detected. This trickery surely can confuse some people and make them question their device's state.
If you ever feel puzzled, utilize tools that have a good reputation among security researchers and the users themselves. Make sure that negative feedback is not overflowing and that your selected app is not going to take you for a fool. We always try to keep an eye out for such applications and inform users about the ones that are going to do more harm than good. Especially since in 2016 every new day begins with new infections that are threatening to bother unsuspecting users. We attempt to stand in the way of this injustice and keep you updated with the most recent rogue anti-virus applications.
Antivirus 360 is a scam and should be treated as such. Never pay for this scam software and remove it from your PC as soon as possible. You should block related sites using hosts files as well:
antivirus-rapid-scanner.com
antivirus-pro-scanner.com
virus-alert-center.com
antivirusonlinescanner.com
onlineantivirus-scanner.com
antiviruspowerfulscan.com
onlinemalwarescanner.com
onlinesecurity-scan.com
antivirus-powerful-scanner.com
scanner-antivirus360.com
online-antivirusscanner.com
protectionfastscanner.com
liteantivirusproscan.com
premiumantiviruspcscan.com
advancedantivirusproscan.com
liveantimalwareproscan.com
Automatic Antivirus 360 removal tools
We might be affiliated with some of these programs. Full information is available in disclosure
Manual removal
Important Note: Although it is possible to manually remove Antivirus 360, such activity can permanently damage your system if any mistakes are made in the process, as advanced spyware parasites are able to automatically repair themselves if not completely removed. Thus, manual spyware removal is recommended for experienced users only, such as IT specialists or highly qualified system administrators. For other users, we recommend using Reimage or other tools found on 2-viruses.com.
Processes:
Files:
Registers:
Antivirus 360 screenshots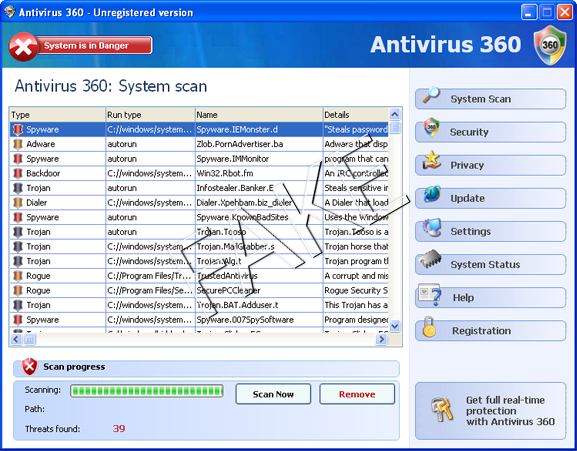 About the author