AmazingTab.com is not a good tool that you should keep installed on your computer – that's clear. It is obviously malicious and due to its' qualities, the best category to put it is browser hijackers. In case you are not familiar with this type of malware, it can completely change the way you browse the web by modifying your personal settings, steal sensitive information, implement other infections and cause various unwanted symptoms.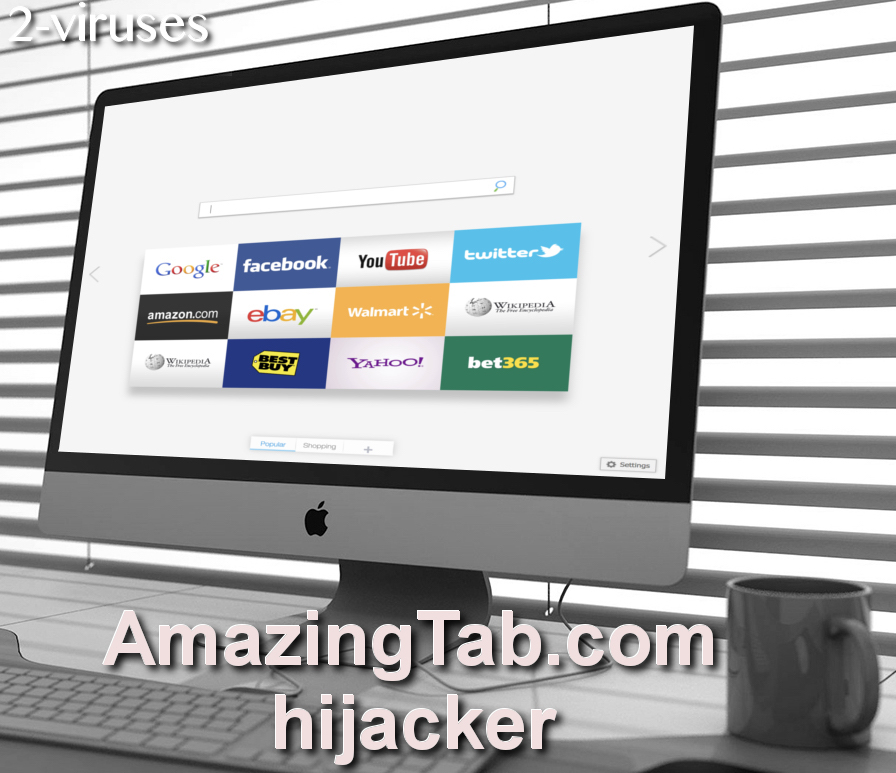 Some browser hijackers are semi-legitimate and can be even useful in some particular situations, while others are totally useless and unwanted. Unfortunately, it seems like AmazingTab.com belongs to the second category.
Amazingtab Com Hijacker quicklinks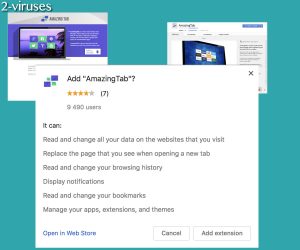 If you are interested in learning more about this particular infection or it is already operating on your web browser and you would like to remove it – you have come to the right place. In this tutorial, we will teach you how to do that yourself and protect your computer from similar infections in the future.
AmazingTab – aggressive new tab hijacker
Browser hijackers might vary. Some of them modify the way you search the web, some of them change the homepage and others simply change the new tab page. AmazingTab belongs to the last category of Hijackers , as once installed on a web browser it will set new tab page to search.amaingtab.com.
You might ask why someone should have a problem with a tool like this? Well, we don't particularly like the way it is distributed and how it acts once installed. Users are not properly informed that this malicious and unwanted tool (PUP) will be installed on their system and that is a problem.
Due to the fact that AmazingTab operates as a browser add-on, it is installed directly on a web browser. Nonetheless, malicious files are also placed on various folders on a computer. As far as we know, this extension is only compatible with Google Chrome web browser, so until the virus is removed from your computer, we suggest to use an alternative browser.
Why AmazingTab website is malicious
You already know that AmazingTab will set your new tab page to www.search.amazingtab.com. This website is described as "a metro style Chrome new tab page, which organizes all your favorite links in one place. Customize wallpaper, arrange your favorite links in groups and enjoy our recommended apps."
Even though it sounds nice, you should know that there are some side effects. This web page looks just like a regular search engine with an additional feature that allows adding new tabs on this website. Those tabs will remain saved and will be accessible every time you open a new tab, so they serve as quick links to websites that you visit the most.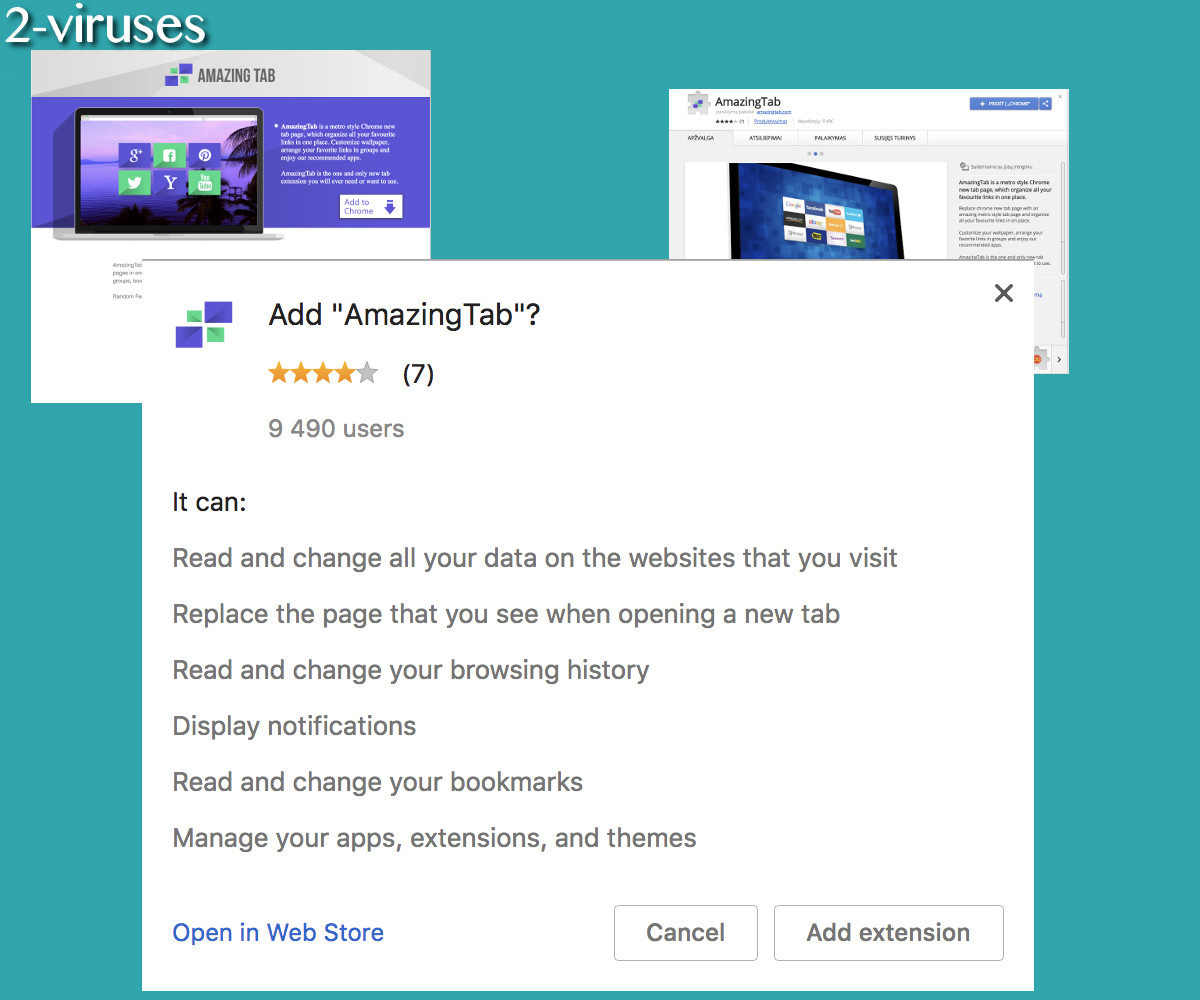 This is the only valuable feature of this tool. Next, you have a search feature. In fact, most of the browser hijackers pretend to be some kind of improved web search engines, yet they fail to deliver what's promised. Infections like z-results.com or Search.powersearch.online also claim to have powerful search engines, but in reality, they only redirect users to other, well-known search engines.
In this particular case, AmazingTab will redirect all submitted searches to www.yahoo.com search. You might think that it's ok, but there are two reasons why it is not ok, First of all, AmazingTab will definitely collect all your search queries and use that information for marketing purposes. Some of your personal information might slip in there too, so it can be leaked to third parties. Another reason – those results displayed on Yahoo results page might be modified. AmazingTab is capable of customizing search results, so they can display links that are completely not relevant to what you are searching for and lead to malicious websites.
How this virus is distributed
In order to infect a computer, AmazingTab.com has to install its' extension to a web browser. As Data provided by SimilarWeb reveals, this website is getting over 150,000 monthly visits and they are continuously rising, so you can guess that there are a lot of infected computers.

To insert this malicious extension to a computer, AmazingTab.com bundles the extension with other free software that can be downloaded from the Internet, so it gets installed when you install some PDF generator or flash player update.
This happens secretly, so you have to be very attentive during the installation of freeware. It would be even better if you keep your computer secured with a real-time anti-malware program all the time.
Automatic Malware removal tools
Remove AmazingTab from Google Chrome
TopHow To remove AmazingTab.com hijacker from Google Chrome:
Click on the 3 horizontal lines icon on a browser toolbar and Select More Tools→Extensions

Select all malicious extensions and delete them.

Click on the 3 horizontal lines icon on a browser toolbar and Select Settings

Select Manage Search engines

Remove unnecessary search engines from the list

Go back to settings. On Startup choose Open blank page (you can remove undesired pages from the set pages link too).
If your homepage was changed, click on Chrome menu on the top right corner, select Settings. Select Open a specific page or set of pages and click on Set pages.

Delete malicious search websites at a new Startup pages window by clicking "X" next to them.

(Optional) Reset your browser's settings
If you are still experiencing any issues related to AmazingTab.com hijacker, reset the settings of your browser to its default settings.
Click on a Chrome's menu button (three horizontal lines) and select Settings.
Scroll to the end of the page and click on theReset browser settings button.

Click on the Reset button on the confirmation box.

If you cannot reset your browser settings and the problem persists, scan your system with an anti-malware program.