z-results.com hijacker is a tool that you should definitely not use nor keep installed on your computer. Categorised as browser hijacker it can lead you to various unwanted consequences. Probably the most notorious symptoms are changed personal settings, malicious distribution methods, disturbing advertisements and random redirects.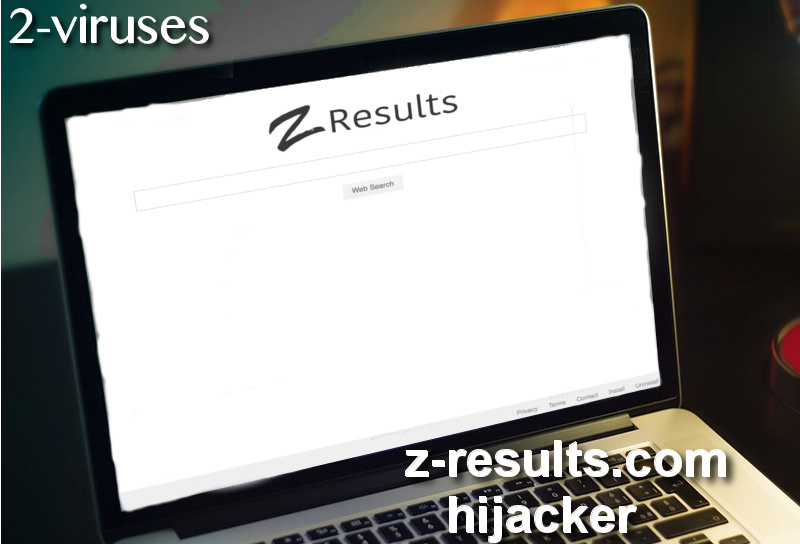 Also, the presence of z-results.com on your computer might result in your data being stolen or simply leaked to third parties. The developers of z-results.com did their best to create a website that looks just like a legitimate search engine, but you will soon learn that it can't be trusted. It will definitely waste your time and display misleading results that you should now follow.
Obviously, to avoid this, you should remove z-results.com from your computer. In case you do not know how to do that – please continue reading the article. We will provide you with the instructions on how to get rid of z-results.com.
Why z-results.com is dangerous
As most of the browser hijackers, z-results.com virus is based on a browser add-on. You can even download it directly from Google Chrome extensions store. Even though there are only over a 1,000, it can be installed on your web browser even though you don't do it on purpose.
That's because this infection is distributed as a bundle to other free software. It can get installed directly on your computer and Google Chrome web browser when you install some free application downloaded from the Internet. Let's say you have decided to get yourself a free media player. It doesn't look like a dangerous thing to do, yet you should be careful about the website you download this player from and pay close attention to the installation process. As supposed by Google, unwanted.
When the extension is added to your web browser, it will immediately get to work and set your homepage to www.z-results.com. That is the reason why this infection is listed as a browser hijacker. It will take over your homepage, thus you will be visiting this pale website every time a web browser is opened.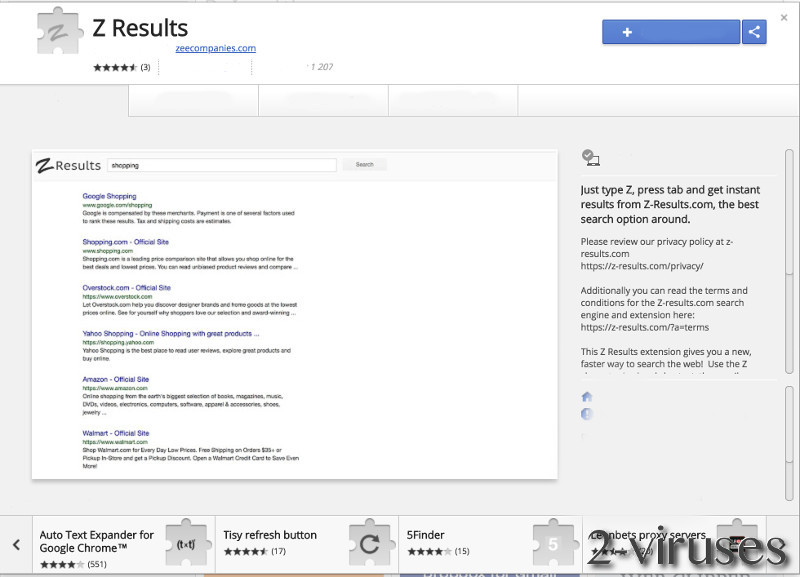 Those are two main reasons why z-results.com is dangerous – it will modify your personal preferences without your authorization and will also get installed without you intentionally doing that. By the way, if z-results.com was installed on your computer, it's an obvious indicator that your system is weakly protected and other viruses could easily attack you too.
To avoid this happening, protect your data and system with trustworthy anti-malware application. Most of them feature real-time protection and can stop viruses that are trying to get inside on the go. If you don't have such application yet, take a look at our reviews section and get familiar with most powerful security tools out there.
Why you shouldn't use z-results.com website
There is nothing much to talk about when it comes to z-results.com webpage. It has one main feature – web search. By the definition, it should allow you to "get instant results from Z-Results.com, the best search option around". Literally, the only option this website gives you is to make a web search.
Even though results displayed by z-results.com might look legitimate to you, they shouldn't be trusted. Big players like Google also fails all the time too, but a malicious tool like z-sults.com do it on a regular basis. Links displayed on this website might lead you to dangerous destinations or display content that is completely not relevant to your search queries.
Actually, that's a common trait shared by many browser hijackers like this one – Search.powersearch.online or search.hontheradio.co also employs this technique. You might think why would someone do that and the answer is very clear – because of the money. They display links to affiliated websites regardless of your search queries. So that means you will be wasting your time and risking to end up on a dangerous website by using z-results.com for your searches, thus you should eliminate this tool as soon as possible.
Remove z-results.com add-on in order to get rid of the virus
We already told you that z-results infection is operating as a browser add-on, thus you need to get rid of malicious extension in order to solve the problem. You have two main options in this situation – it can be done either manually or automatically and it's completely up to you which method to choose.
If you go for manual removal, we highly recommend to scroll down below this article and take a look at manual removal instructions. It is a step-by-step guide designed specifically to remove z-results.com infection from your computer. This method is not as easy as automatic removal, yet users with sufficient knowledge in this field should be able to successfully complete it.
Much more convenient way to do that is automathic removal. All you have to do is download reliable anti-malware application, such as Spyhunter and scan your computer – the rest will be automatically done by the program. It will detect all malicious files of z-results.com and instantly remove them for good.
TopHow To remove z-results.com hijacker from Google Chrome:
Click on the 3 horizontal lines icon on a browser toolbar and Select More Tools→Extensions

Select all malicious extensions and delete them.

Click on the 3 horizontal lines icon on a browser toolbar and Select Settings

Select Manage Search engines

Remove unnecessary search engines from the list

Go back to settings. On Startup choose Open blank page (you can remove undesired pages from the set pages link too).
If your homepage was changed, click on Chrome menu on the top right corner, select Settings. Select Open a specific page or set of pages and click on Set pages.

Delete malicious search websites at a new Startup pages window by clicking "X" next to them.

(Optional) Reset your browser's settings
If you are still experiencing any issues related to z-results.com hijacker, reset the settings of your browser to its default settings.
Click on a Chrome's menu button (three horizontal lines) and select Settings.
Scroll to the end of the page and click on theReset browser settings button.

Click on the Reset button on the confirmation box.

If you cannot reset your browser settings and the problem persists, scan your system with an anti-malware program.
Automatic Malware removal tools