Search.allinoneoffice.net is a website of All-in-One Office browser add-on that promises to provide users with the access to web office suite. Even though it seems nice to have a quick access or shortcuts to essential Office tools provided by Google, it is totally not worth to install this add-on because of various side effects.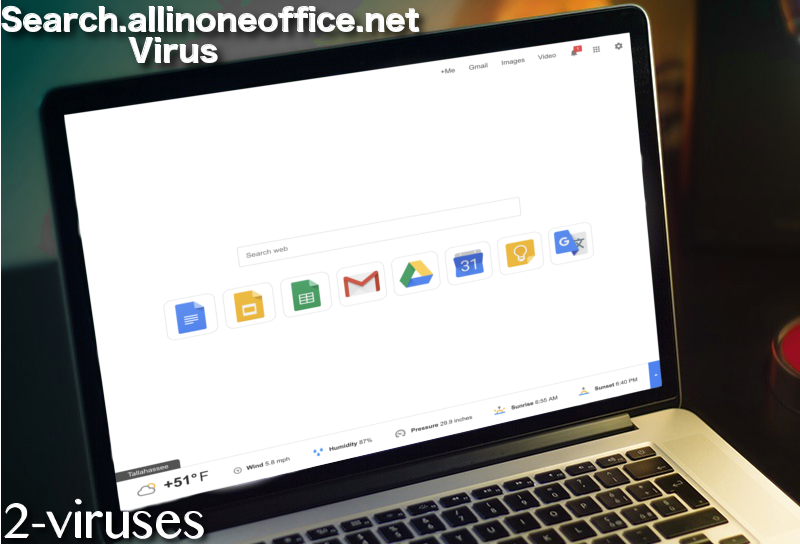 Due to the way it is distributed, we consider it to be browser hijacker. However, there are various browser hijackers out there – one can hijack homepage and search engine, other can hijack new tab page while some of them can even install other programs and mine cryptocurrencies using the power of your computer, such as FF Safe Checker extension for Mozilla Firefox web browser.
That is why we feel the need to specify the symptoms of Search.allinoneoffice.net and possible consequences that can be caused by this virus. 3 main symptoms of All-in-One Office extension for Google Chrome web browser are:
Deceptive installation. It comes to the computer as a bundle to other software that is completely unrelated and unnecessary. Yes, this extension is also available on Google Chrome extensions store, but the main distribution method is to stick it to other free software and complete installation behind the back of the user. It can be frustrating to find out that you have a new tool running on your web browser out of a blue. What's more, it will change your personal settings and let you know about it, so it is basically impossible not to notice it.
Hijacked new tab page. This extension is promoted as a free tool that will allow you to have all G suit tools right on your web browser all the time. That's rather strange, because you can access those tools pretty easy anyways. Once the extension is installed and running, it will automatically set your new tab page to www.earch.allinoneoffice.net. That's a blank page with links to Google Docs, Google Sheets, Google Calendar, Gmail and other well-known tools. The website also features a search field that is fully functioning and will deliver you results from Google search engine.
Access to your private information. A company behind this extensions "Axel Division LP" states following: "The requested information typically includes contact information (such as name, e-mail address, shipping address, and zip code), and demographic information (such as age, gender, occupation, and household income)". And that's not even it – they might also collect information about you by gathering it from various third parties and conducting surveys or contests. That is a major security concern, as you private and sensitive information can be easily leaked.
A lot of users are complaining about this tool and it's not a surprise at all: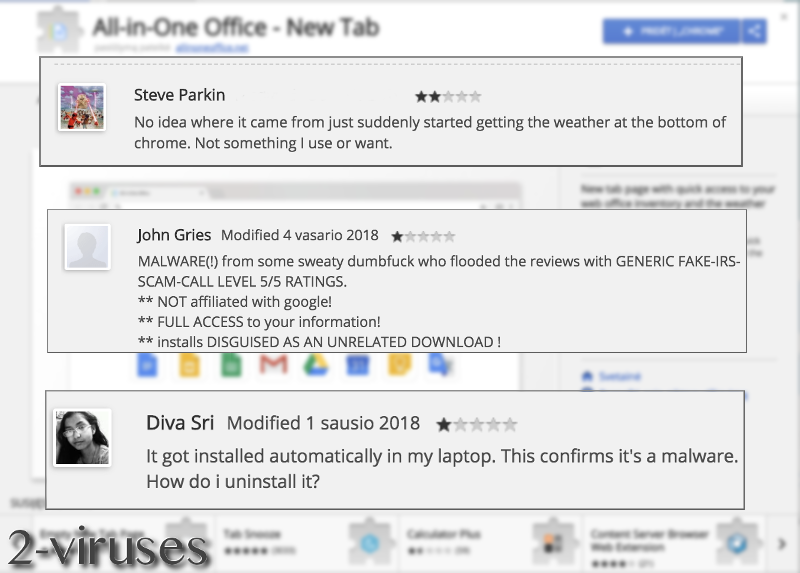 Also, we have examined this website with SimilarWeb analysis tool and it seems like Search.allinoneoffice.net is on the rise – it first launched back in November of 2017 and the traffic to this website is steadily increasing since then.

Remove All-In-One Office from Google Chrome
Now, you probably want to get rid of this malware as soon as possible. Luckily, removal of this infection is not very complicated – we will accompany you through this process.
First, make sure to remove it directly from web browser – right-click on the Search.allinoneoffice.net icon on the toolbar and select option "Remove from Chrome…", then select "remove" on the following pop-up window. After that a new tab with the message "All in One Office successfully removed from your Chrome" will be opened automatically.
After that, you should run a scan of your computer with anti-malware application. We suggest to use Spyhunter for this task. Since Search.allinoneoffice.net is not just a simple add-on, it can infiltrate malicious files or registry entries to your computer and that needs to be fixed. Anti-malware software will do just that – all malicious or broken/suspicious files will be removed from your system.
Automatic Malware removal tools