AesLocker is presented as a file encryptor for keeping your data private. However, AesLocker also installs a miner that makes money for its operators. AesLocker calls this miner "update service".
Although AesLocker does encrypt files, the miner is a bit controversial. You might want to remove it from your computer, as it brings you no benefit.
Aeslocker Update Miner quicklinks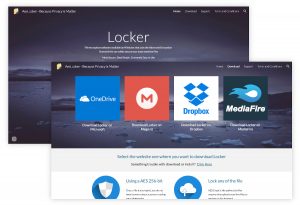 About AesLocker:
Classification
Potentially unwanted program,

miner.

Installation of AesLocker and the miner
AesLocker is advertised online as a free tool for encrypting your files,

it offers the miner as "update service" and installs it if you agree.

Problems with AesLocker
Users might install the miner accidentally,

the miner consumes computer resources.

How to remove AesLocker
Uninstall it manually,

find and remove other malware (with , Malwarebytes, others).
What is AesLocker
File encryptor
AesLocker, which can be downloaded on Aeslocker.com, is presented as a file encryption tool. Encryption can indeed be used to hide the content of your files from those who don't have the decryption key. It's useful if you have to share your computer with others and want to hide some of your files. It's a sort of password protection for your files.
And sure, AesLocker works. You choose a file to encrypt, then you can type in your password to decrypt it. People who don't know the password can't open the file.
But you don't have to use AesLocker. On Windows Professional editions, you can do it through file or folder properties. You can also use archiving tools like 7-zip.
There's nothing wrong with using reliable third-party programs to manage your files. But AesLocker isn't really reliable.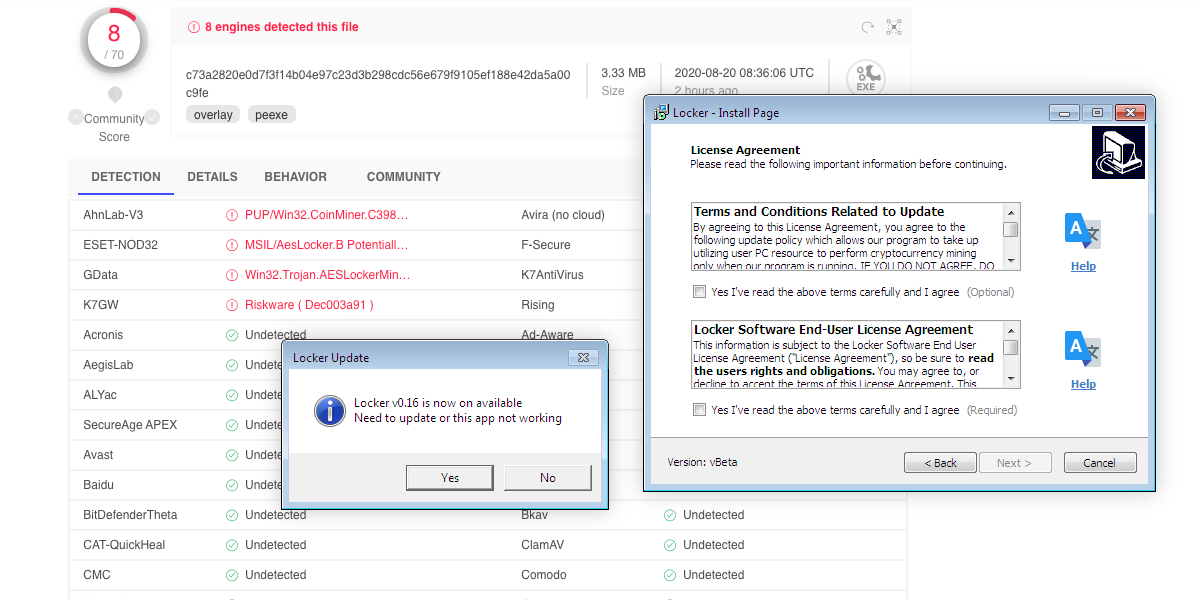 Crypto miner
AesLocker contains a miner component, misleadingly titled "update service" or "update". According to AesLocker, it's installed in exchange for updating AesLocker and maintaining it. Because AesLocker is free to use, the miner is there to make up for that.
To be fair, AesLocker's miner is not required to be installed. But thanks to the way the setup is laid out, people who install AesLocker are likely to agree to the miner, especially if they don't read terms and conditions (and really, who does?). This can easily lead to unintentional installations.
AesLocker's installer is detected by antivirus scanners, as you can see on this Virustotal.com page. AesLocker is detected as Riskware, Miner, and as Potentially Unwanted (PUP). It's detected to warn you, the user, that AesLocker's "update service" may not be wanted on your computer.
So, what's the problem with miners?
Miners are programs that use your computer to do calculations to generate cryptocurrency. It's hard. To maintain value, cryptocurrencies like Bitcoin obey arbitrary rules for how new coins can be made (as well as verify transactions). Making new coins requires so much effort that no single computer owner can make money – it's just not practical.
But what if you could harness hundreds or even thousands of computers? Maybe by embedding your miner in a free utility program and getting people to download and install it?
Crypto mining needs a lot of resources. It can be so intense that it severely slows down all other programs and may even overheat your computer. This causes problems:
your computer becomes noisy (as the fan has to work at full power to cool your computer),
it may unexpectedly shut down (to avoid overheating),
it may wear and even break some of your components (because heat damages computer parts),
your electricity bills may rise.
To be fair, the miner only runs when your computer is idle. But still, the people behind AesLocker don't have to pay for your electricity, your computer parts, or your time. They just receive the fruits of your computer's labor.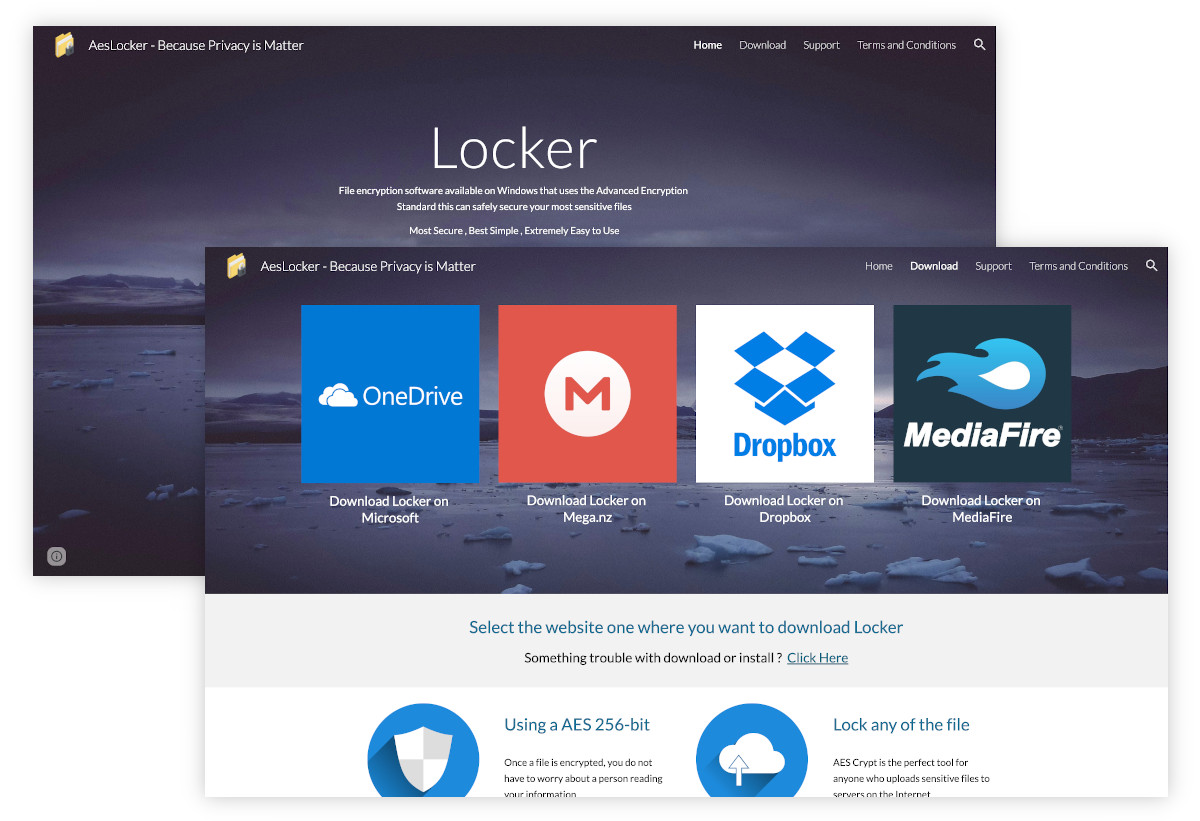 How to remove AesLocker
Like I said earlier, there are ways to encrypt your files without installing a shady miner-infected tool like AesLocker. Luckily, you can uninstall AesLocker like any other program.
You may also want to scan your computer with an antivirus program (Spyhunter, Malwarebytes, others). There are two reasons for that:
you can check that all of AesLocker's components were removed,
because potentially unwanted programs tend to spread in the same ways, so if there's one on your device, there may be others, too.
AesLocker is similar to other trojans, like Bird Miner – it hides the miner inside so that the victim doesn't know what they're really installing.
Don't forget that if you used AesLocker to encrypt your files, you need it to decrypt them, also. If you like AesLocker, you can just remove the "update service" (the miner) and keep using the program. Though, I'm not sure how much I would trust developers who try to push a miner on their users.
Automatic Malware removal tools
How to remove AesLocker "Update" Miner using Windows Control Panel
Many hijackers and adware like AesLocker "Update" Miner install some of their components as regular Windows programs as well as additional software. This part of malware can be uninstalled from the Control Panel. To access it, do the following.
Start→Control Panel (older Windows) or press Windows Key→Search and enter Control Panel and then press Enter (Windows 8, Windows 10).
Choose Uninstall Program (if you don't see it, click in the upper right next to "View by" and select Category).
Go through the list of programs and select entries related to AesLocker "Update" Miner . You can click on "Name" or "Installed On" to reorder your programs and make AesLocker "Update" Miner easier to find.
Click the Uninstall button. If you're asked if you really want to remove the program, click Yes.
In many cases anti-malware programs are better at detecting related parasites, thus I recommend installing Spyhunter to identify other programs that might be a part of this infection.