Advanced Cleaner Pro is an optimizer for your computer. It promises to cleanse and sharpen your PC for great performance and to make Windows run better by freeing up space. While Advanced Cleaner Pro markets itself as an immensely useful tool, its impact is unlikely to be be neficial. Freeing up space, cleaning and repairing the registry will probably not help optimise your PC.
Advanced Cleaner Pro is not a virus, but it could be considered scareware and a potentially unwanted program (PUP), as its main goal seems to be to make money by scaring people into buying the program, rather than offering a good quality product.
Advanced Cleaner Pro quicklinks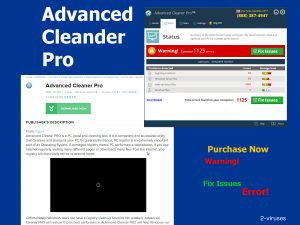 Is Advanced Cleaner Pro dangerous?
The application is alarmist. Advanced Cleaner Pro scans your system and finds hundreds or even thousands of errors — even if you only installed your operating system last week, the "System Status" is somehow already "BAD". Advanced Cleaner Pro tries to scare you to buy the full version to fix all the "errors". But these errors that it detected are mostly temporary files and internet cookies.
Cookies are needed if you wish websites to save your preferences and personalisation options. Temporary files can also be useful, for example, to find an old download that you didn't save. Categorising these files as errors is just dishonest. And the files are so small that deleting them probably will not have a perceptible effect on your machine's performance.
Other, somewhat more reputable system analysis and optimisation tools than Advanced Cleaner Pro scan the exact same machine and don't bombard me with bright red warnings about hundreds of errors. They only list the files that could be deleted and show me how many kilobytes I will save by removing them. I might save more memory by deleting a single picture.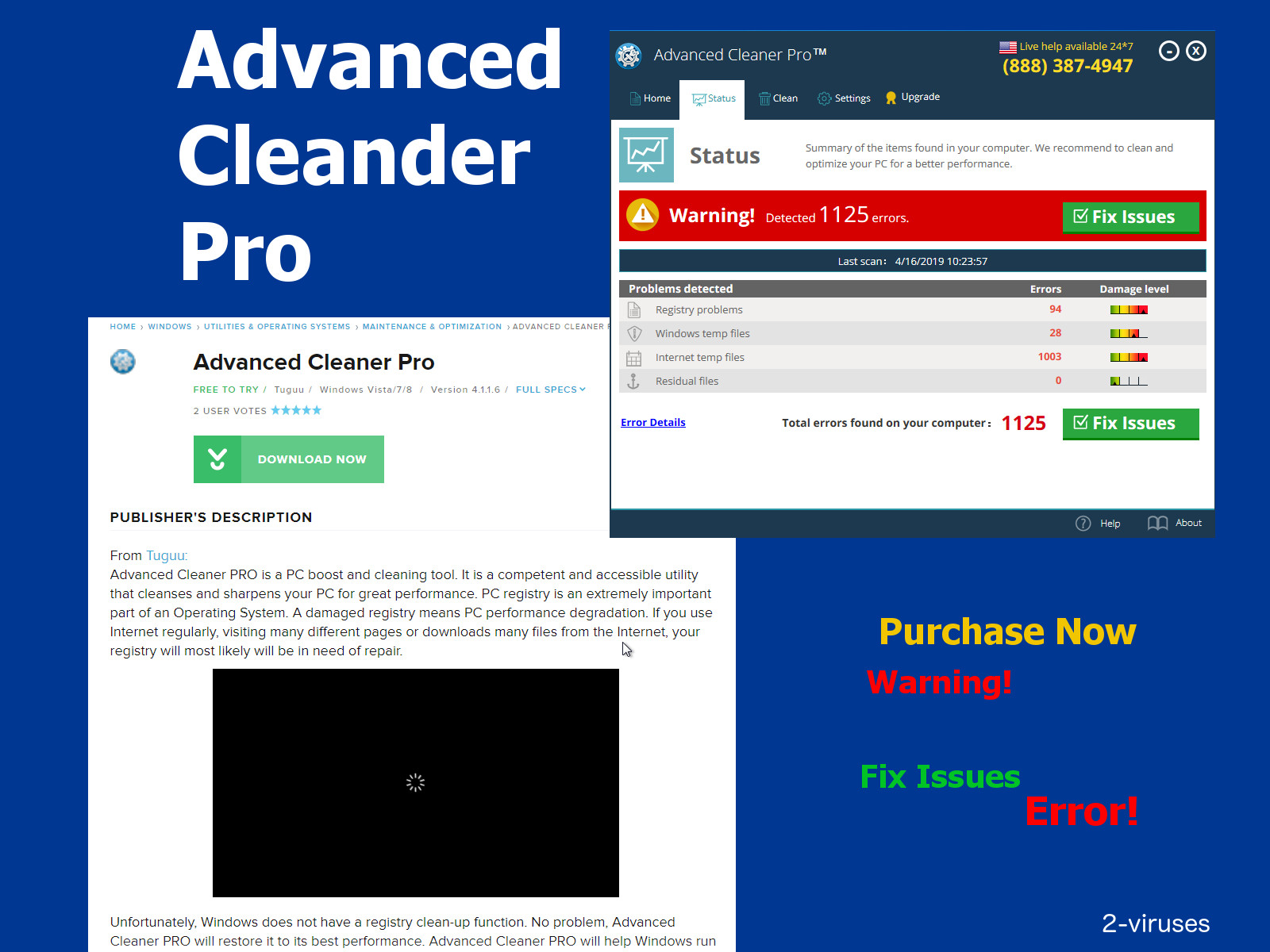 Advanced Cleaner Pro tells you to upgrade to the paid version if you wish to "Fix Issues" — nothing wrong with that, except that there aren't actually any issues that need fixing. But Advanced Cleaner Pro really wants to convince you to buy it. It even displays the upgrade window when you're trying to exit the app.
The description of Advanced Cleaner Pro says:
If you use Internet regularly, visiting many different pages or downloads many files from the Internet, your registry will likely be in need of repair.
This program offers to clean the registry, but it is doubtful if it's even needed. In fact, registry cleaners and system optimisers are traditionaly associated with malware because so many of these programs have already tried to scam people in the past. A third party system optimiser messing with your registry probably won't improve your computer's performance, but it might hurt it.
Registry size and free disk space used to matter to PC performance decades ago, before Windows XP. Nowadays a better way to make your system run better is to manage your startup apps and uninstall unneeded programs.
How does scareware spread?
Advanced Cleaner Pro advertises itself as a system cleaning utility for Windows operating systems. It can be downloaded from a legitimate site.
Other ways that potentially unwanted programs like Advanced Cleaner Pro spread is by bundling them with other freeware and hiding their installation options on the side of a window, or in advanced options. The checkbox for installing these bundled programs is always marked by default, meaning it's very easy to accidentally or even unknowingly install another program.
Some more sinister ways are malicious internet ads made to look like security warnings or advertisements that automatically download a program.
How to remove Advanced Cleaner Pro
It's important to have a professional and reputable antivirus program installed and always updated. Some antivirus applications detect and warn about potentially unwanted and low-reputation programs.
You can use Spyhunter or other applications — make sure to research them to be certain that they are legitimate. Scan your machine and remove the unwanted programs and files. Alternatively, remove unwanted programs manually from the Control Panel, though it is still a good idea to scan the system after you are done.
You should also make sure that your system files are not missing or corrupted — third party optimisers don't always work correctly and could inadvertently harm a system. You can use the  System File Checker to manually fix the files, or have your antivirus do it if it has this function.
Automatic Malware removal tools
How to remove Advanced Cleaner Pro using Windows Control Panel
Many hijackers and adware like
Advanced Cleaner Pro
install some of their components as regular Windows programs as well as additional software. This part of malware can be uninstalled from the Control Panel. To access it, do the following.
Start→Control Panel (older Windows) or press Windows Key→Search and enter Control Panel and then press Enter (Windows 8, Windows 10).
Choose Uninstall Program (if you don't see it, click in the upper right next to "View by" and select Category).
Go through the list of programs and select entries related to Advanced Cleaner Pro . You can click on "Name" or "Installed On" to reorder your programs and make Advanced Cleaner Pro easier to find.
Click the Uninstall button. If you're asked if you really want to remove the program, click Yes.
In many cases anti-malware programs are better at detecting related parasites, thus I recommend installing Spyhunter to identify other programs that might be a part of this infection.