"Error: 0x8007042C" technical support scam is a message, stating that a FireWall breach has been detected. Therefore, Windows Firewall status is disabled. Many Windows users have indicated to be bothered by this rogue notification. We have also spotted some similar fake notifications, like "This User Is Disabled"  pop-up.
The new message claims that the reason for Firewall being disabled is a ransomware attack. Therefore, the "Error: 0x8007042C" fake alert indicates that people can suffer from possible data loss, identity theft, loss of passwords and digital files. For assistance, they are urged to contact +1-844-699-8351 phone number.
"Error: 0x8007042C" pop-up is a lie: your computer is not infected with ransomware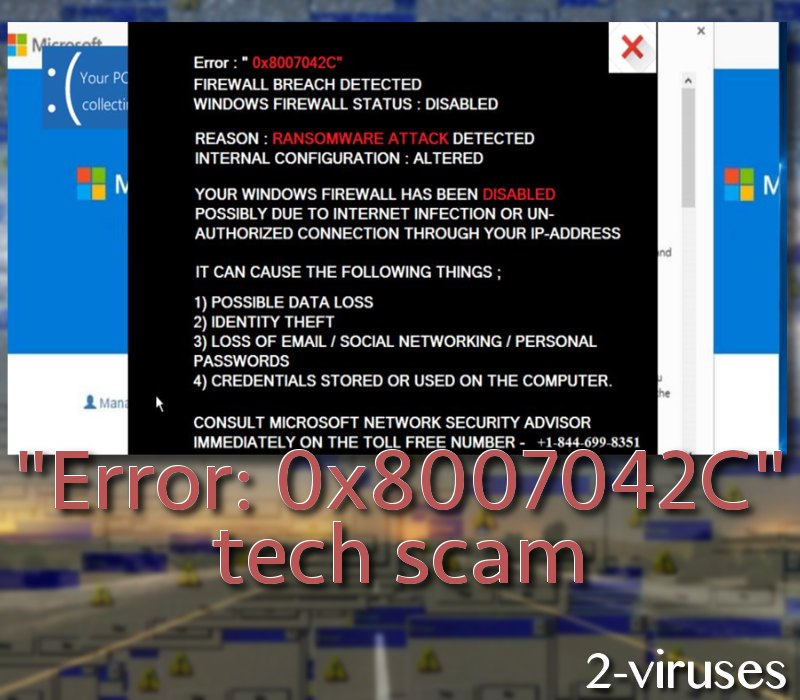 Scammers try to convince Internet surfers that calling the allegedly certified technicians will save them time. However, the people, controlling +1-844-699-8351 number, are nothing but rogue telemarketers that try to sell you software programs. On the other hand, it could also be that these technicians will ask users to provide them with remote access to computers (http://www.smh.com.au/business/consumer-affairs/remote-access-scams-on-the-rise-netting-41000-in-consumer-losses-in-2017-accc-says-20170409-gvhek7.html). After access is given, they could secretly install malware, steal credentials or lock your computer and ask for a ransom.
Never trust random pop-ups, claiming that your operating system is in great danger. For instance, fake alerts like "Unauthorized access detected" or "Chrome security warning" are only a few more scams that surfers have to be cautious of. "Error: 0x8007042C" tech scam is especially frightening as users are informed of an active https://www.imperva.com/solutions/ransomware/ in their computers. However, this is not genuine statement.
Even if you see "Error: 0x8007042C" tech scam, do not panic. It is very likely that your operating system is facing some cyber issues, but it not a ransomware infection. A more likely scenario is that an adware or a Trojan has managed to get access into your device. Users should not interact with this deceptive pop-up, but should take it as a symptom. There is almost no doubt that the this rogue message is displayed for a reason, and that reason is a Malware parasite in your computer.
We also should clearly state that controllers of "Error: 0x8007042C" fake alert have no association with Microsoft. People that claim to be Microsoft technicians are nothing but scammers, aiming to trick people into installing rogue security software or hoping to get remote access to operating systems. The best option would be exit the fake message and run a scan with an anti-malware tool.
For this objective, we recommend getting Spyhunter anti-malware programs. Many security researchers agree upon their efficiency and reliability. Both of these tools will appropriately remove all cyber threats and make sure that your computer device would function without any issues. Therefore, we have no doubt that installing these tools could not go wrong.
How to prevent this "Error: 0x8007042C" tech scam from appearing on your screen?
As soon as you get rid of the malware, generating "Error: 0x8007042C" fake alert, it should not longer bother you. We have already discussed the removal process in the paragraph above. However, we did not explain the manual elimination process. This means that a suspicious tool could also be removed from the Control Panel. For this option, we included the guidelines at the end of this article.
If you never wish to experience similar situations, we recommend being extremely careful during browsing. Do not install suspiciously-looking programs and always make sure that their developers would be indicated as trustworthy. In addition to this, select advanced/custom modes for installation processes. Then, refuse to get any additional software applications. This is a very popular strategy for hackers to install potentially unwanted programs or other disturbing programs, including malware parasites.
How to remove "Error: 0x8007042C" tech scam using Windows Control Panel
Many hijackers and adware like
"Error: 0x8007042C" tech scam
install some of their components as regular Windows programs as well as additional software. This part of malware can be uninstalled from the Control Panel. To access it, do the following.
Start→Control Panel (older Windows) or press Windows Key→Search and enter Control Panel and then press Enter (Windows 8, Windows 10).
Choose Uninstall Program (if you don't see it, click in the upper right next to "View by" and select Category).
Go through the list of programs and select entries related to "Error: 0x8007042C" tech scam . You can click on "Name" or "Installed On" to reorder your programs and make "Error: 0x8007042C" tech scam  easier to find.
Click the Uninstall button. If you're asked if you really want to remove the program, click Yes.
In many cases anti-malware programs are better at detecting related parasites, thus I recommend installing Spyhunter to identify other programs that might be a part of this infection.
Automatic Malware removal tools