Websearch.searchbomb.info Virus - How To Remove?
Websearch.searchbomb.info virus is a browser hijacker that changes search engines in the most popular browsers to their own site. This website will promote various advertisements, supported search engines that will pay commission to the malware distributors for the visitors redirected. Such search engines can't compete with the most popular ones in terms of quality therefore in order to get visitors they use search hijacking. Alas it is annoying and even dangerous for the end users.
You can get infected with Websearch.searchbomb.info virus by downloading software bundles or fake movie files. Typically, to install the application or "download" the movie you will have to add other programs too. It is not explained what such software does and in most of the cases you get adware, hijackers and other malware together with `the program you were installing in the first place. And in the case of movie downloaders, you get nothing useful at all, just the searchbomb  malware.
Additionally, most antivirus programs are pretty much useless against hijackers like websearch.searchbomb.info. They have hard time to distinguish between legitimate search engines and malicious ones. They also do not remove the support software that complicates the manual removal process of these hijackers. Antimalware software works better against them, for example Spyhunter, adwcleaner and some others remove this scam.
If you want to get rid of Websearch.searchbomb.info  manually from your PC, follow the instructions given in this article. First, go to control panel and uninstall everything related to safesaver or searchbomb. Then depending on the browser that was affected, follow the tips below:
Special removal instructions of Websearch.searchbomb.info virus
Video removal instructions for Websearch.searchbomb.info virus
Automatic Websearch.searchbomb.info virus removal tools
We might be affiliated with some of these programs. Full information is available in disclosure
Websearch.searchbomb.info virus screenshots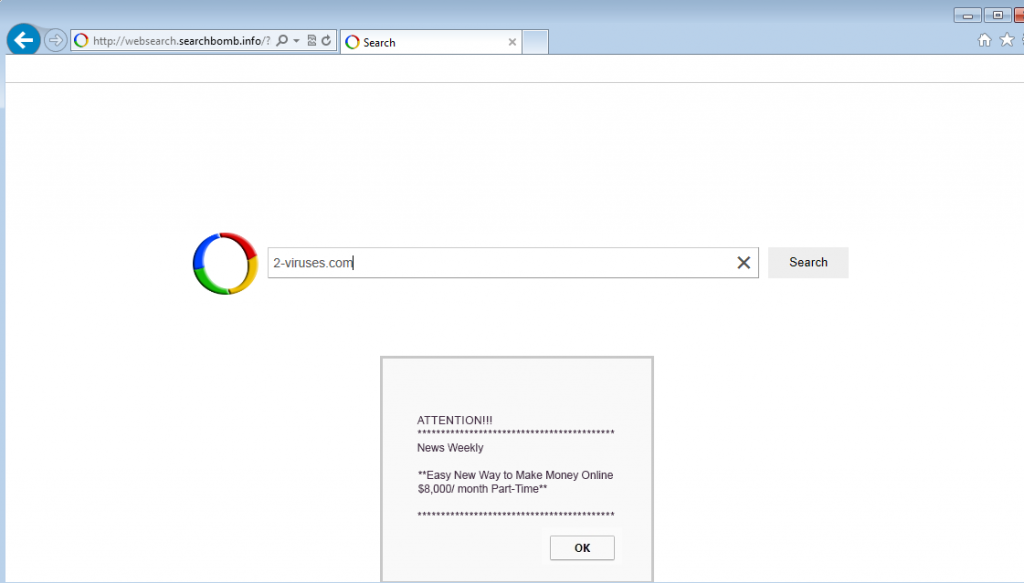 About the author