You can recognize Yubby virus by the sudden slower working browser and system, excessive amounts of ads saying that they are sponsored by Yubby, pop-ups, redirects, and promotions offering items/services that you have just searched/ talked about with someone online. These signs are the typical features of an adware virus, which not only does malvertising, but can also track the victim and add more dangerous malware causing the loss of personal data, identity theft, hacked accounts, breached information and etc. Yubby is very similar to Instagram2go, CoreTempApp, Amazon Assistant, by the way, it operates.
Yubby Virus quicklinks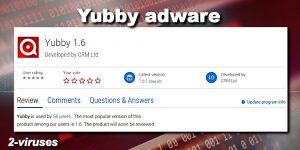 If you want to protect your machine and privacy the best thing to do if you come across Yubby virus in your system is to delete it, although at first, it can seem like a challenge. After dealing with adware and other types of malware, 2-viruses.com team has designed special removal guide and suggestions of an automatic product that will be the best for the case of Yubby adware infection. That is why, without further ado, scroll down to learn more about the Yubby virus and how to fix it.
What does Yubby virus do
Yubby virus, as mentioned above, is an advertising virus officially developed by CRM Ltd. Its main duties are to generate promotions in banners, Pop-ups, hyperlinks, redirects and collect money from sponsoring third-parties. Pay-per-click, pay-per-view, referencing, tracking search queries and displaying related items, selling gathered browsing activity statistics are just a couple of most common features that Yubby does. It is known that this adware closely works with marketing corporations and other companies that pay well to push their services or get automatic reports of what is popular amongst virus victims to improve their marketing techniques. In a nutshell, Yubby malware uses you to generate revenue.
Usually, users don't notice Yubby virus until they check their Installed Programs section, because it tries to stay unnoticed as long as possible, hoping that you will end up buying aggressively suggested products or clicking on ads. However, there is a small indication that more perceptive users discover and find out about the annoying virus existence in their PC – it is small words above or below Online promotions saying that it was 'Sponsored by Yubby', 'Ads by Yubby', 'Promoted by Yubby', 'Brought by Yubby'.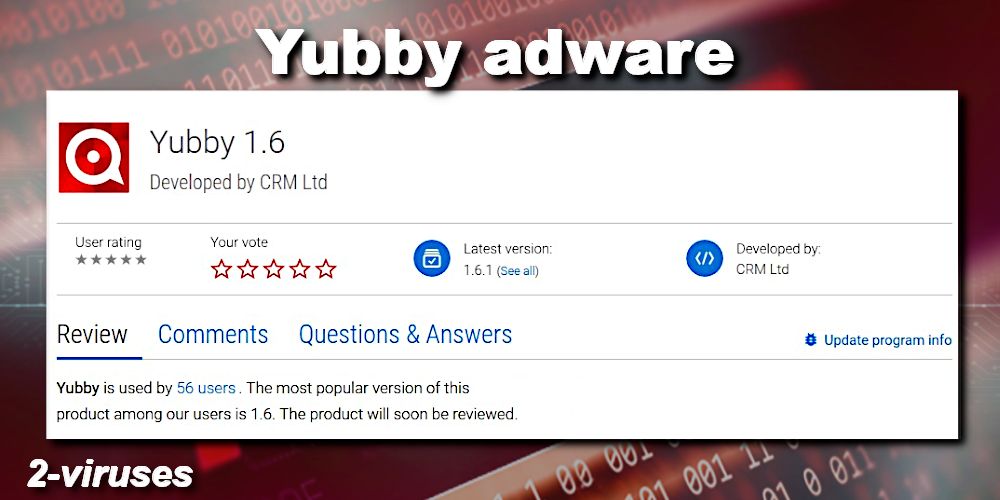 Lastly, because the system's protection is already down, Yubby adware can easily bring other viruses to your system without noticing, because malware can spread other malware, but you can also end up with ransomware, Trojan or etc by clicking on these generated hyperlinks or ads that will appear in the most random places distorting the layout of the original websites. Third-parties pay Yubby well to get the access to the customer, therefore their activity is not monitored by anyone, which results in tons of malicious viruses hiding behind the Colorful ads.
How does Yubby adware spread
Its known that Yubby has been spreading In bundles of other software, that is distributed by third-party vendors/pages. At the same time, you can also download it separately on the same sites as well, but as you can see from the main picture, only 56 users have installed Yubby directly. Knowing that we are guessing that you are not the latter and noticed Yubby virus in your system accidentally, after a recent update or unrelated program install.
Distributing packed together with other programs or fake updates is beneficial for adware and PUPs like Yubby, because they don't have to ask for the separate permission from the user to get installed. They are added automatically as a default program to install with the rest in the SetupWizard. If the user does not select Custom installation mode it will not see these programs and basically, will agree with getting malware since he/she did not deselect the offered tools.
How to terminate Yubby adware fast
Yubby adware is best removed with a malware removal tool like Spyhunter. Such anti-spyware software can identify any type of malware based on the malicious behavior, therefore, no matter how persistent is the virus variant it will still be hunted and terminated from the PC. This comes in handy with infections like Yubby, because you cannot know if you just installed it with a bundle of other freeware or it was sent by other malware.
Malwarebytes and Spyhunter are very simple to use, so even the user with a minimal knowledge can successfully scan and clean their computers. While manual removal requires time and effort, automatic programs can be a true savior, because it takes only a couple minutes to check the whole system and safely get rid of threats that are causing problems.
Automatic Malware removal tools
How to uninstall Yubby virus for free
Yubby virus at the early stage of infection can be removed by simply uninstalling it from the Control Panel. This is a crucial step towards fixing the rest of the Yubby adware caused damage. After removing the program you can take a look if your browser doesn't have any suspicious extensions or plugins brought by Yubby as well and remove them if necessary.
How to remove Yubby virus using Windows Control Panel
Many hijackers and adware like
Yubby
install some of their components as regular Windows programs as well as additional software. This part of malware can be uninstalled from the Control Panel. To access it, do the following.
Start→Control Panel (older Windows) or press Windows Key→Search and enter Control Panel and then press Enter (Windows 8, Windows 10).
Choose Uninstall Program (if you don't see it, click in the upper right next to "View by" and select Category).
Go through the list of programs and select entries related to Yubby virus . You can click on "Name" or "Installed On" to reorder your programs and make Yubby easier to find.
Click the Uninstall button. If you're asked if you really want to remove the program, click Yes.
In many cases anti-malware programs are better at detecting related parasites, thus I recommend installing Spyhunter to identify other programs that might be a part of this infection.