yourhotfeed.com is a domain used to miss-use push notifications for spamming cellphones and computers with push notifications. Such messages are used by many legitimate sites to inform about updates. However, they are easy to exploit for advertising as well. This is done by scamming people in subscribing to messages on scam pages, similar to yourhotfeed.com by giving a fake offer for the ones that allow the notifications in their browser. Typically, one is offered free movie, or some "browser legitimacy" check is performed, however almost never such offer is true. For example, this website uses fake movie pages that stop displaying movie after several seconds and redirects to subscription page. If the user clicks allow, they are redirected to a fail page and still won't be able to see movie. But now, Yourhotfeed scammers will be able to show you plenty of ads.
Type of threat
Adware, Push Notification, Scam
What yourhotfeed.com ads look like
Links to potentially unwanted sites,

ads for scams and unsafe content.

What causes yourhotfeed.com pop-ups
Ads on home screen, ads in notifications
How to stop yourhotfeed.com ads
Block ads and malicious sites,

avoid sites that show aggressive ads,

protect your device with security programs (like Spyhunter for PC, Spyhunter for Mac, Combo Cleaner for Mac, others).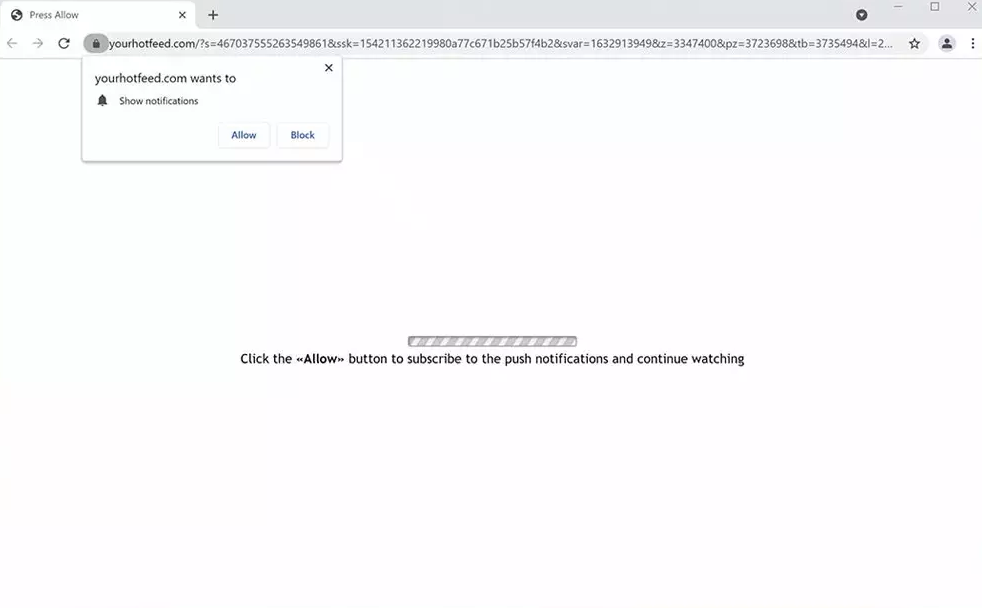 When push notifications are enabled, a program on your device or browser starts regularly checking if some updates exists and show notification popups. While one might expect updates from the sites their visit, yourhotfeed.com starts showing ads from various advertising networks. As they are not directly connected to yourhotfeed.com website, it is hard to comprehend how one should stop them from appearing. When such website is blocked, 10 new ones are launched as it cost very little to start the website by just copying old one. 
The worst of this yourhotfeed.com  does not screen advertisings. They do not really care about products they offer or if their visitors get infected with malware. Sure, push notification sites don't get decent advertising networks working with them, so anyone paying can get promoted using websites like yourhotfeed.com .
How to get rid of
yourhotfeed.com

Ads

 

Luckily, It is quite easy to prevent yourhotfeed.com ads from appearing. This is done by removing the site from browser lists where all the sites allowed to push notifications to you are found. Here is a guide with removal instructions

Personally, I would recommend scanning with antivirus like spyhunter to check if there were no infected or malicious advertisings. 
Automatic Malware removal tools