Watchallsports.co promises you the ability to watch various sports instantly right on your new tab page. That sure sounds nice, right? Unfortunately, things are not that pretty. Watchallsports.co and its' extension "Watch All Sports" is officially listed as browser hijacker – any advanced anti-malware application will successfully detect this application as a computer virus.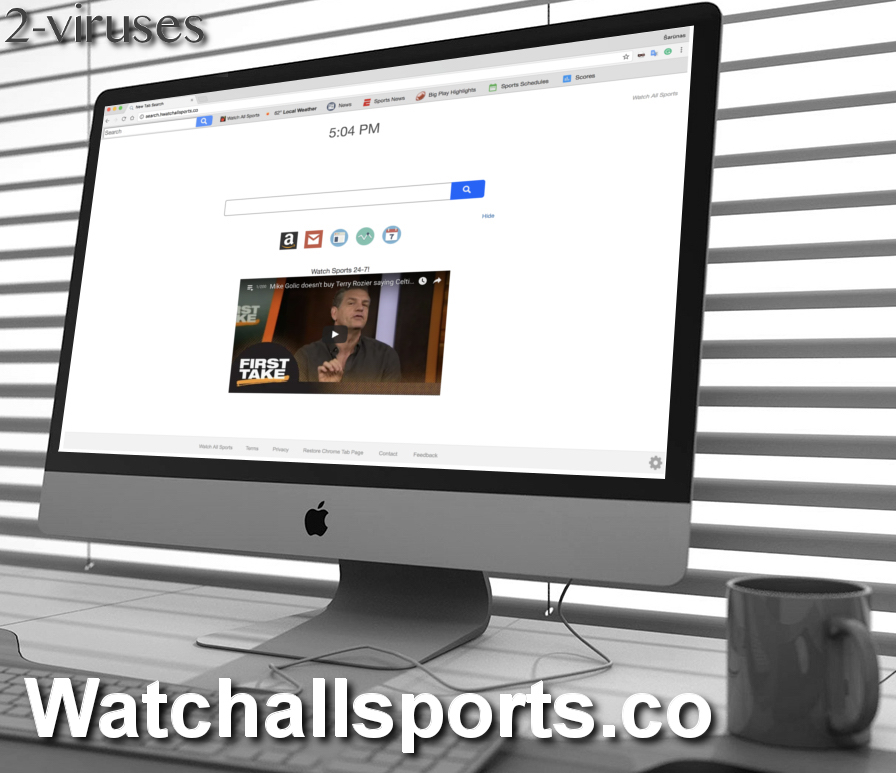 Infections like browser hijackers are not very threatful, yet can cause you all sorts of problems. There is no doubt that you should remove it from your computer and we will help you to do that. By the end of this article, you will be able to remove Watchallsports.co manually by yourself or operate a professional anti-malware program to do that for you.
Watch all Sports extension virus
Watch All Sports extension is promoted as a helpful and free tool, yet not a lot of installations come organically – most of the time this virus comes as a bundle to other free software that can be downloaded from the Internet and gets installed secretly.
Let's say you have decided to get yourself some kind of free media player. You download it from some questionable website, install it on your computer and after the installation, you see that your web browser settings were changed.

That's because Watch All Sports extension was automatically added to your browser and it changed a new tab page to www.search.hwatchallsports.co. This is how you should reach various sport broadcasts. Unfortunately, you won't be able to do that, as this extension only features links to sport news websites, such as ESPN or NFL. Besides that, there are some links that will direct you to websites that are not about sports and they might feature some malicious traits, so clicking on any link displayed by search.hwatchallsports.co is a risk.
The same goes for the search function featured on the website. Even though searches submitted there will be executed via Yahoo, you can't trust the results because they can be modified by developers of this infection.
Speaking of which, it's a well-known developer of browser hijackers – Polarity Technologies LTD. Most of them look the same and act the same. There are numerous browser hijackers related to sports, such as Search.hgetsports.net or Search.watchsportslive.co.
Last but not least, there are other symptoms that you will be suffering due to the presence of Watchallsports.co. It might display additional advertisements while you are browsing the Internet, it might randomly redirect you to various websites and it can also implement other viruses into your system, so better take care of it before it's too late.
Fastest removal of Watchallsports.co virus
If you want to vanish search.hwatchallsports.co from your web browser once and for all, make sure to get rid of Watch All Sports extension first.
On the right side menu on Google Chrome web browser select "More Tools" -> "Extensions";
Find Watch All Sports Extension;
Click "Remove" and confirm your selection on following pop-up windows.
Now, the virus is removed from the web browser, but some marks of it can be still on your computer. To completely remove them, scan your hard drive with SpyHunter Obviously, you can use other applications of your choice as well.
Automatic Malware removal tools