Boost.ur-search.com virus might infect your web browser if you are using Google Chrome. Since it is operating as browser add-on, it is only compatible with this particular web browser and can't infect other ones.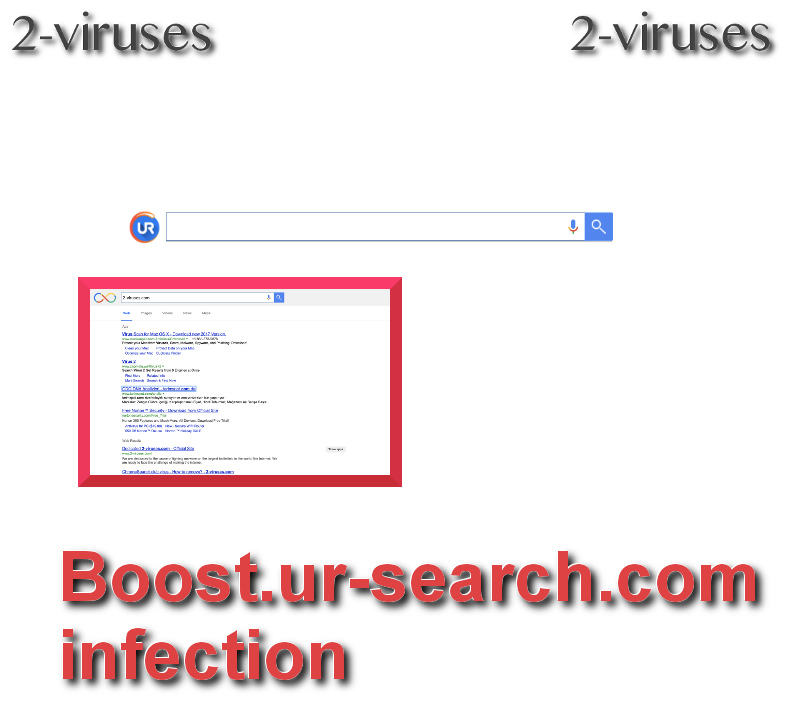 The reason why it is listed as browser hijacker is plain simple – once installed this add-on will automatically change settings on your web browser and set home page to www.boost.ur-search.com. This might be irritating and a lot of users struggles to get rid of it. That's why we are here – to assist you through this process of removing the virus and provide you with valuable tips how to enhance protection of the computer so this won't happen ever again.
Infection methods of Boost.ur-search.com virus
Various browser hijackers, such as moviesearchcenter.com or searchfunctions.com virus are distributed as a bundle to some other software that can be downloaded from the Internet and Boost.ur-search.com is not an exception. It can even be distributed with some well-known programs, such as uTorrent or VLC player, so you should remain aware of that all the time.
Always be very attentive while installing free software because during the installation you might notice that additional tools are going to be installed if you don't say otherwise. That's how malicious add-ons lands on computers.
In case it is too late and Boost.ur-search.com virus is already installed on your Google Chrome web browser, you should take it seriously. Firstly, it will set your homepage to www.boost.ur-search.com and you won't be able to change it.
Even though Boost.ur-search.com looks like just a regular search engine, it is not true and we do not recommend to use it. It appears that this website is using customised Google search to deliver results and most of the time you will get an additional dose of advertisements on search results page.
Regardless of what you are looking for, almost always you will get Zapmeta and tarimspot.com results between sponsored results. Those websites are clearly affiliated with Boost.ur-search.com and this is how they make money – by redirecting web traffic to third parties websites.
What does that mean? It means you will receive a lot of results that are not even relevant to your search queries and waste your time this way. In addition to that, some of those results might lead to unreliable websites that are owned by cyber criminals, therefore you can even get hacked or scammed just by using Boost.ur-search.com as your search provider.
Lastly, this browser hijacker is probably collecting information about you. They are using your search queries to improve their results and display content that is more relevant to you. However, it can also be transferred to other parties, so if some of your personal information was used in search, it might be easily leaked.
Best method to remove Boost.ur-search.com from a computer
You can remove Boost.ur-search.com hijacker from your web browser either manually or automatically. Manual removal is rather complicated, you would have to disable the add-on first and then search for the files associated to this virus that are stored on your computer and delete them.
Luckily, it is way easier to do that automatically and everyone is capable of doing that. Just download Spyhunter anti-malware application, install it on your computer and then run a full scan of all files stored on your hard drive. Either one of them will be able to detect and remove malicious files.
We recommend to keep anti-malware program installed after the removal of Boost.ur-search.com infection because it will make sure that your computer is protected.
Automatic Malware removal tools