Twist ransomware also known as .twist files virus is a malicious computer infection that seeks to compromise systems, encrypt files stored on a hard drive and then as for a ransom to be paid. This post is dedicated to help you get rid of the virus effectively and restore your files without paying the ransom.
Ransomware infections are really dangerous because they can both steal your money and block your files. We have analysed viruses like DataKeeper ransomware or Annabelle virus in the past, so we definitely have the knowledge how to deal with those infections.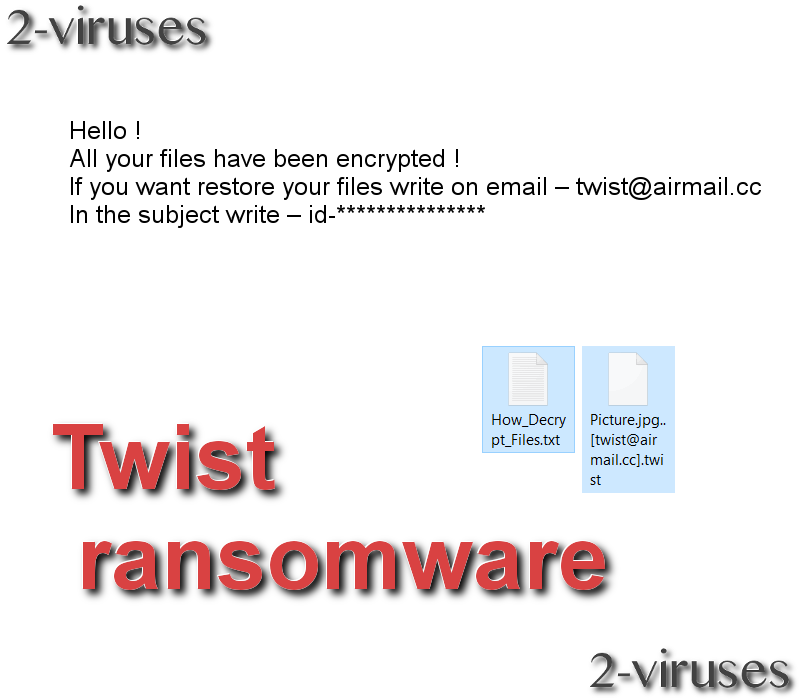 Even though they all are similar to each other, at the same time some unique features can be spotted in every single one of them. Cyber security researchers from Heimdal Pro says that "In this very moment, someone is clicking a link in a spam email or activating macros in a malicious document" and that's true.
Distributing ransomware trough attachments to malicious email letters is the most common method of distribution and it seems like Twist ransomware is being distributed the same way. We can't tell how such letter will look exactly, yet the pattern is clear – targeted user receives email letter (which most of the time falls into the SPAM folder) with an attachment to it. Cyber criminals design those letters to look like important message is hidden in attached file – this way they maximise the chances that users will open them.
Opening such malicious attachment is enough to get infected – once that is done, all files of Twist virus will be automatically uploaded to the computer and malicious processes will start immediately after that.
Malicious processes of Twist virus
After the successful infiltration, Twist virus will start dropping malicious files to various folders on your computer. For instance, it can be Local, Temp, AppData and other folders on Windows OS.
In order to encrypt your files, the virus employs strong encryption that is not easy to decrypt. In this particular case, Twist virus will add .[[email protected]].twist extension to the end of every of your personal files. So if you had a file named "image.jpg", now it will look like"image.jpg.[[email protected]].twist" and you won't be able to open it.
Once encryption process is done, you will notice a new file named "How_Decrypt_Files.txt" on your desktop. It is a ransom note – instructions about paying the ransom. Original text from the file:
Hello !
All your files have been encrypted !
If you want restore your files write on email – [email protected]
In the subject write – id-***************
Cyber criminals assign unique ID to every infected computer and generate decryption key according to the ID. So in order to restore your files, you are asked to to send a letter to [email protected] with your unique ID.
We do not recommend to contact cyber criminals – this might be dangerous. Even though it is not clear how much you will have to pay, There are no guarantees that you won't be simply ignored after paying the ransom.
In this case we suggest to select alternative methods to solve this problem. First of all, you have to remove all malicious files from your computer and the best method to do that is to scan it with Spyhunter anti-malware program. Either one of those programs should have no problems in detecting and eliminating the infection from your system in no time.
Unfortunately, there is no free decryptor for Twist ransomware available right now, so the only way to retrieve your files is to restore them from a back-up image. If you have a valid backup copy of your hard drive that was made before the date of infection – follow this guide and restore your files from there.
Automatic Malware removal tools