The Tidy Network Malware - How To Remove?
The Tidy Network malware also known as TidyNetwork.com is virtual layer advertising software that causes displaying of instant coupons, web and image links, and other advertisements. Although it might be downloaded from software's official website, usually computer users do not know how they got it until they start seeing ads out of nowhere. Another issue related to having the Tidy Network malware is redirection. It might take an infected computer's user to its ad sites or even replace a default search engine, a home page and a new tab page with its own. Not many know that the Tidy Network malware also collects information about your Internet browsing habits and use it for targeted advertising campaigns.
One might get infected with this adware after downloading freeware. It might be bundled with the wanted application and installed by default. Another way of Tidy Network malware distribution is so called social engineering when you download it thinking it is some useful application. After adding the software unintentionally you also agree with its Terms of Use:
By accessing the Sites and downloading the Software, you hereby grant the Company permission to display promotional information, advertisements, and offers for third-party products, offers or services (collectively "Advertisements") from Company's advertising partners (collectively "Partners"). The Advertisements may include, without limitation, content, offers for products or services, data, links, articles, graphic or video messages, text, software, music, sound, graphics or other materials or services.
Please note that the company owning Tidy Network does not take any responsibility for the ads content it displays. It means that some of the promotions might be malicious or take you to compromised websites and infect your computer with viruses and Trojans. Subsequently there is more than one reason to remove Tidy Network malware as soon as possible.
We recommend using antimalware tools that eliminate adware and browser hijackers, such as Spyhunter. The latter program will delete Tidy Network malware and any other infections that might have come together with it. Only if you are computer savvy enough not to damage the system, you should use a manual removal. Deleting files without knowing if they are not system files might cause more damage. Below it is explained how to remove Tidy Network manually and restore your browser settings.
Manual removal instructions of Tidy Network
Using Control Panel to remove the main Tidy Network components and installers
Go to Control Panel. On Windows XP/Vista/7 go to Start -> Control Panel, Add/Remove Programs. On Windows 8. enter Control Panel in the search box. You may need to confirm that you are the administrator on this PC, in both cases.
Look for Tidy Network, Tidy Network Links, TidyNetwork.com o and /or other related programs on the list of programs. By default, I recommend removing Yontoo, WebCake, anything "savings" or "coupon" related. Scanning with Anti-Malware programs like Spyhunter or Stopzilla might give a good idea of what programs you should remove from there as well.
Close Control Panel.
Removing Tidy Network from Internet Explorer
Click on gear icon->Manage Add-ons.
Check 'Toolbars and extensions'. Remove everything related to Tidy Network and other plugins you do not know that are made not by Google, Microsoft, Yahoo, Oracle or Adobe.
Close 'The options'.
Removing Tidy Network from Firefox
Enter about:addons in URL field.
Go through 'Extensions and Addons' list, remove everything related to Tidy Network and the ones you do not recognise. If the extension is not familiar to you and it is not made by Mozilla, Google, Microsoft, Oracle or Adobe probably you do not need it.
Optionally, reset Firefox: go to Firefox ->Help (Help in menu for OSX users) -> Troubleshooting Information. Then Reset Firefox.
Removing Tidy Network from Chrome
Enter chrome://extensions in url field.
Go through extensions list and remove programs related to Tidy Network. If unsure, you can disable them temporally.
Restart Chrome.
Optionally, you can go to chrome://settings , press Advanced settings, scroll to the bottom of the list and press Reset browser settings.
Automatic The Tidy Network Malware removal tools
We might be affiliated with some of these programs. Full information is available in disclosure
Manual removal
Important Note: Although it is possible to manually remove Tidy Network Malware, such activity can permanently damage your system if any mistakes are made in the process, as advanced spyware parasites are able to automatically repair themselves if not completely removed. Thus, manual spyware removal is recommended for experienced users only, such as IT specialists or highly qualified system administrators. For other users, we recommend using Reimage or other tools found on 2-viruses.com.
Processes:
Files:
The Tidy Network Malware screenshots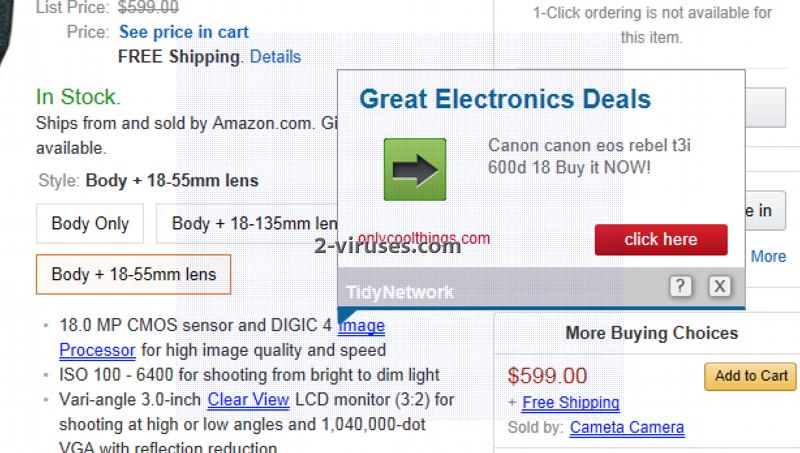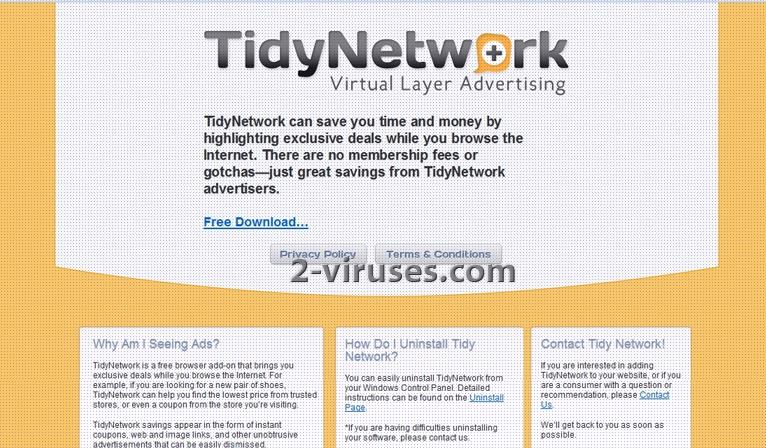 About the author