TheSilentSearch.com (or The Silent Search) is a privacy search engine that presents itself as being more beneficial than it really is. This search engine promises to encrypt your traffic, protect it from trackers, and not log your searches. At the same time, TheSilentSearch.com is ad-supported and works with partners to promote certain sites through its service.
Thesilentsearch Com Privacy Extension quicklinks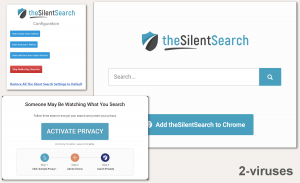 Issues with TheSilentSearch search engine:
Classification
PUP (potentially unwanted program).
Problems with TheSilentSearch
Seems related to browser hijackers and adware,

is not as useful as its description might imply,

interferes with browsing and might prevent some websites from being used normally.

TheSilentSearch installation
Downloaded from the TheSilentSearch.com site,

recommended by adware sites and document-converting extensions.

Remove TheSilentSearch
Get rid of adware (SpyHunter for PC, Combo Cleaner for Mac),

block notifications from adware sites,

uninstall TheSilentSearch and related browser extensions.
Why TheSilentSearch.com is suspicious
TheSilentSearch.com does not look malicious, however, I am suspicious of it for a list of reasons:
The TheSilentSearch extension asks to be able to see your actions on all websites. It's not using that access to block ads, so I'm not sure why it does that. Were that access ever misused, the consequences would be pretty bad: pop-up ads, stolen passwords, etc.
TheSilentSearch is incredibly similar to DiscreteSearch, EncryptedSearch, SearchIncognito, and similar extensions that are distributed by adware. TheSilentSearch doesn't seem directly related to them, but its design is almost identical to theirs. No way it's a coincidence.
TheSilentSearch is distributed by adware sites and pop-up ads. That's mostly how browser hijackers spread.
The line between a browser hijacker and a normal ad-supported extension can be blurry, and TheSilentSearch is not obviously malicious from what I've seen. It's might be totally safe. Still, it is suspicious enough that I would not advise anyone to use it. Besides, TheSilentSearch not that useful anyway.
TheSilentSearch is not very useful
Besides those reasons, the usefulness of TheSilentSearch.com is dubious. For such a privacy-focused extension, TheSilentSearch fails to even have encryption on their own site. According to TheSilentSearch's description, the extension encrypts search terms to protect your privacy – but that's what encrypted sites, like Google, Bing, and DuckDuckGo, already do!
TheSilentSearch doesn't use cookies or record personal information about you, which is nice, though hardly unique – all major browsers have privacy options. Also, the Silent Search privacy engine is supported by ads, which is fine, but it still exposes you to third-party tracking. Overall, TheSilentSearch is not a good solution for those who want complete privacy online.
I mentioned that TheSilentSearch has the ability to see what you do on all the websites you visit (and it can see what extensions you have installed). TheSilentSearch's privacy policy claims that no information about you is being collected and we can see that no ads are being blocked, so this permission is confusing. It seems as if TheSilentSearch is trying to prevent you from using the wrong search engines. But this function clearly needs more work. In my experience, TheSilentSearch interferes with me using some websites by redirecting search queries away from those sites. One example is the online antivirus scanner aggregator VirusTotal – even after I configured TheSilentSearch to stop redirecting searches, it still wouldn't let me use the site.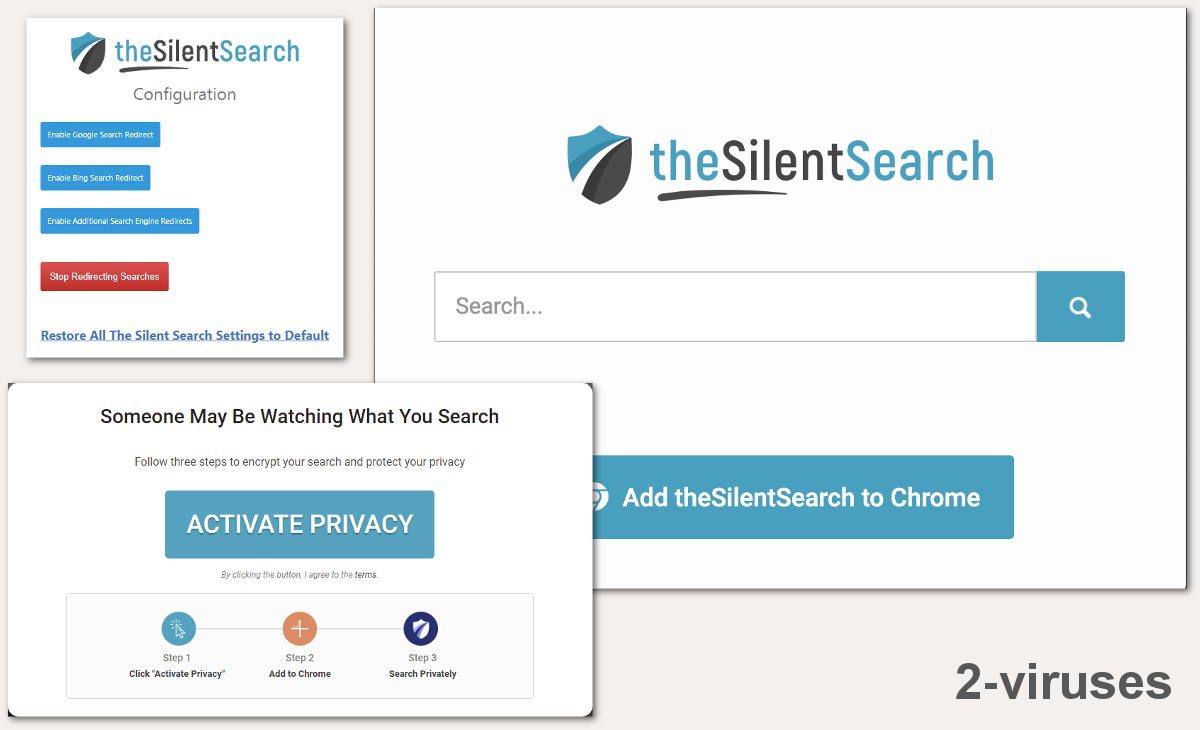 How to avoid browser hijackers
TheSilentSearch might not be a browser hijacker, but it does look a lot like one. It can be an example of how browser hijackers spread and how to avoid installing one.
First, browser hijackers tend to use very aggressive ads and even spread in adware bundles. Most normal extensions rely more on people finding them because of a particularly useful feature. But if you look at TheSilentSearch, most of its traffic doesn't come from search. It comes from the installation pages of low-quality browser extensions like EasyFileConvert and from notification spammers. You're more likely to encounter TheSilentSearch through adware and pop-up ads than by searching for it, and that's a bad sign.
Normal and safe browser extensions tend to have organic and candid reviews. On the other hand, most browser hijackers either have no reviews or only fake ones. TheSilentSearch does have reviews, although they're a bit suspicious to me:
I would love to recommend this chrome extension if you are looking for search privacy. It protects you from unwanted Ads and keep your searches safe.
This extension really helps to protect my privacy. It will encrypt my search keywords and I feel safe for what I'm searching.
A lot of reviews claim that TheSilentSearch protects them from Ads (many reviewers capitalized this word for some reason) and protects their keywords. But TheSilentSearch doesn't prevent targeted ads. And search keywords are not protected by TheSilentSearch any more than they were on any normal search engine. I don't want to accuse TheSilentSearch's reviews of being fake, but they definitely don't look organic. I hope I'm wrong about that. Anyway, watch out for fake reviews – they're never a good sign.
How to remove TheSilentSearch
As I mentioned, TheSilentSearch's distribution methods rely on adware. Thus, it's recommended that you scan your computer with an anti-malware program that can catch PUPs and adware (SpyHunter for Windows or Combo Cleaner for MacOS could work). PUPs and adware are considered the least harmful types of malware, but they can still cause issues if they're not removed. Hopefully, though, your computer is not infected in the first place.
It's also a good idea to check your notifications settings to make sure that no adware site, like checkisreal.com, is able to send you pop-up ads.
You can uninstall TheSilentSearch manually, as most antivirus programs might not consider it malicious enough to detect it. It's also fine to keep using it, but just be aware that it's not a very good privacy tool.
Automatic Malware removal tools
TopRemoving TheSilentSearch.com Privacy Extension from Chrome
Click on the menu button on the top right corner of a Google Chrome window. Select "Settings".

Click "Extensions" on the left menu bar.
Go through the extensions list and remove programs you do not need, especially similar to TheSilentSearch.com. Click on the trash bin icon next to TheSilentSearch.com Privacy Extension or other add-ons you want to remove.

Press on the "Remove" button on the Confirmation window.

If unsure, you can disable them temporarily.

Restart Chrome.
(Optional) Reset your browser's settings
If you are still experiencing any issues related to TheSilentSearch.com, reset the settings of your browser to its default settings.
Click on Chrome's menu button (three horizontal lines) and select Settings.

Scroll to the end of the page and click on the Reset settings button.

Click on the Reset button on the confirmation box.

If you cannot reset your browser settings and the problem persists, scan your system with an anti-malware program.