SystemSpot is Mac malware that injects ads into the sites that you visit. It may make your Mac really slow and, in the background, it can steal your information and flood your browser with ads. Removing SystemSpot requires you to delete related files from your Mac or to scan your computer with a thorough anti-malware tool.
Systemspot Malware quicklinks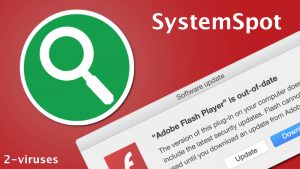 Problems with SystemSpot and its removal:
Type of threat
Adware,

browser hijacker.

How it infects computers
Downloaded with fake software updates.
Dangers of SystemSpot
Your browsing habits are recorded,

ads are injected to the sites that you visit,

work is interrupted or lost when your Mac freezes and requires a reboot.

Remove SystemSpot
Remove SystemSpot and other malware with an anti-malware program, such as Combo Cleaner,

delete its files in Library folders,

remove it from Applications and browser extensions.
SystemSpot infection symptoms
SystemSpot may appear on your Mac without you ever installing it on purpose. Its icon should be a green circle with a white magnifying glass. SystemSpot gets started together with a browser, most likely with Safari.
You can find SystemSpot as a browser extension. Like most browser hijackers, it has the ability to read your data on all the websites that you visit, which does include the passwords that you type. It's best to stay away from the infected browser for now.
Here's what SystemSpot can do while it's on your Mac:
Slow down your computer.
Severely slow down your internet.
Make your apps unstable – the browser, the email app, and other apps freeze and crash, your mouse cursor gets stuck.
Pop-ups asking you to type in your password appear. They might say "Apple wants to make changes" or something similar.
Proxy settings are changed to send online traffic to a Socks server.
Trying to delete SystemSpot doesn't work – it returns the next time you start your Mac.
How SystemSpot infects Macs
SystemSpot tries to stay under the radar – that's why it has such a bland name, icon, and description. It gets downloaded and installed with adware bundles that are spread online as fake Mac OS or Flash Player updates. Fake updates got very popular in recent months. They are advertised on shady free streaming sites, pirating sites, and similar websites. An adware infection, such as another bad browser extension, could have also injected a fake update ad into your browser. Either way, running the fake update results in SystemSpot being installed.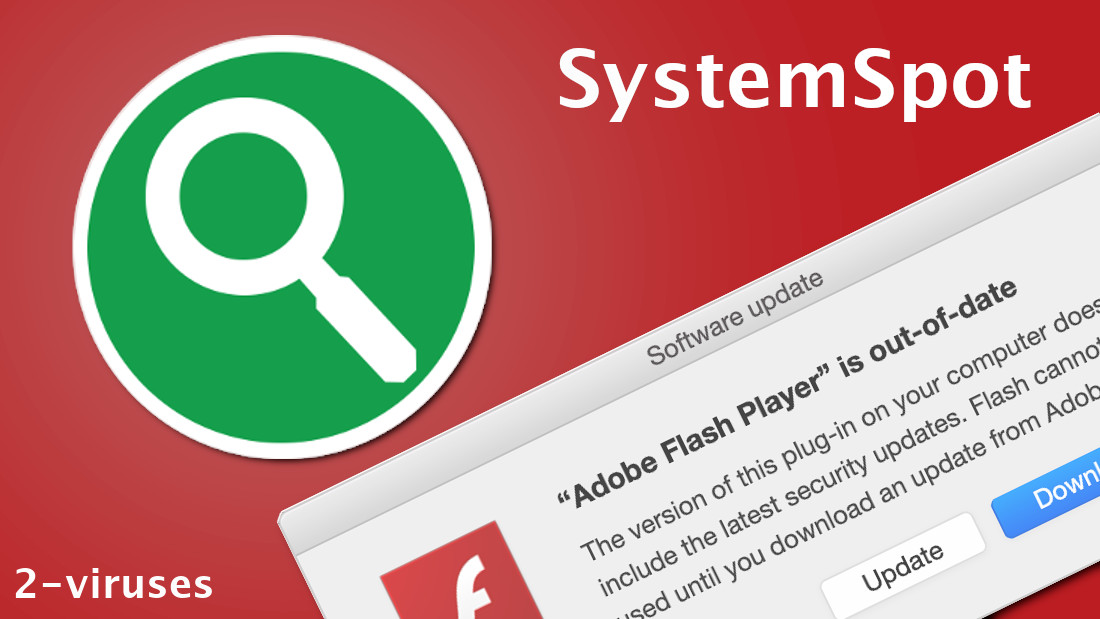 SystemSpot doesn't just get installed like a normal app – it hides startup files in your Library folders and creates a Profile to make itself undeletable. Profiles are used on Macs to let administrators manage your Mac and keep certain software installed, so they're pretty powerful – and really bad when abused.
SystemSpot can change its name if you try to delete it: it could become ExploreSearchResults, UpgradeStart, ActionHow, DiscoveryEngine, etc.
How to get rid of SystemSpot
Uninstalling SystemSpot may require you to delete some files from important and sensitive folders, so be careful.
You can get rid of SystemSpot manually or automatically. Automatic removal can be done by scanning your Mac with a reliable anti-malware program, such as Combo Cleaner, which is pretty good at finding adware and potentially unwanted apps on computers. Also, you should see if any other malware besides SystemSpot got installed with that fake software update. And don't forget to delete the original installer – it might be called AdobeFlashPl, FPlayer, or something similar.
But, to be honest, even the best security programs seem to have issues finding specific files associated with SystemSpot and its sibling infections. So, if the problem persists, time to get your hands dirty.
Open Finder and the Go to Folder dialog (it's in the Go menu). Type or paste in these folders:
~/Library/LaunchAgents
/Library/LaunchAgents
~/Library/Application Support
/Library/Application Support
/Library/LaunchDaemons
Look for files that have "SystemSpot" in their names. Also keep an eye out for files with similar types of names, like "ApplicationWork" and "DisplayUpdate". if you're not sure, just look up online the name of the file. Delete these files.
You may need to quit SystemSpot first. Bring up the Force Quit Applications dialog by holding the Command, Option, and Escape buttons together.
After deleting SystemSpot's files, restart your Mac. You should be able to remove the SystemSpot application and browser extension now. Check if your proxy settings (Enter proxy server settings on Mac) are good with you (System Preferences -> Network -> Advanced -> Proxies).
Automatic Malware removal tools
Reove SystemSpot extension
TopRemoving SystemSpot Malware from Safari (Mac OS X)
Click on the Safari menu.
Choose Preferences.

Click on the Extensions Tab.
Click on the Uninstall button near the SystemSpot. Remove all other unknown or suspicious entries too. If you are not sure whether you need the extension or not, you can simply uncheck the Enable check-box to disable the extension temporarily.

Restart Safari.
(Optional) Reset your browser's settings
If you are still experiencing any issues related to SystemSpot Malware, reset the settings of your browser to its default settings.
Click on the Safari menu on the top left corner of the screen. Select Reset Safari.

Select which options you want to reset (usually all of them come preselected) and click on the Reset button.

If you cannot reset your browser settings and the problem persists, scan your system with an anti-malware program.
TopRemoving SystemSpot from Chrome
Click on the menu button on the top right corner of a Google Chrome window. Select "Settings".

Click "Extensions" on the left menu bar.
Go through the extensions list and remove programs you do not need, especially similar to SystemSpot Malware. Click on the trash bin icon next to SystemSpot or other add-ons you want to remove.

Press on the "Remove" button on the Confirmation window.

If unsure, you can disable them temporarily.

Restart Chrome.
(Optional) Reset your browser's settings
If you are still experiencing any issues related to SystemSpot Malware, reset the settings of your browser to its default settings.
Click on Chrome's menu button (three horizontal lines) and select Settings.

Scroll to the end of the page and click on the Reset settings button.

Click on the Reset button on the confirmation box.

If you cannot reset your browser settings and the problem persists, scan your system with an anti-malware program.