Solid Savings Adware - How To Remove?
Solid Savings adware is a browser add-on that's main purpose is to display various coupons, special deals and offers that are supposed to save your money while shopping on line. It states it works with such companies like Expedia, kmart, Toysrus, Zales and thousands of other. The company that owes it is 215Apps (Innovative Apps), known to be a developer of Deals Plugin, Savings Vault, Instant Savings App and many other browser extensions.
Although one can download Solid Savings from its official web page, this is almost never done. Usually adware like this one is distributed employing unfair methods, such as bundling it together with other software. For example, you want to download a free video file converter. After you install it automatically, you end up having Solid Savings altering the web pages you visit and flooding you with advertisements. Please note, this is a legal way of distributing unwanted applications. The only way to avoid your computer getting infected is to select a manual installation option of any freeware and read all the instructions carefully. If you see any other applications listed as to be installed by default, remove check boxes. If the installation wizard is written in the language other than you understand, do not install this software at all.
Having Solid Savings adware installed will not only force you watching advertisements. It might also slow your computer down. The adware collects data about your Internet browsing habits some of which might be personally identifiable (e.g. information from social networks) therefore protection of your privacy is another reason to remove this adware from your computer. Moreover, if you read its Terms of Use, it states that other applications, most often search engine tools, can be installed to your computer together with Solid Savings. It means that your default search engine, home page and New Tab page will be changed to the address you do not wish to use. Those having this application installed should also know that it increases a risk of virus infections, e.g. you might click on a malicious add or go to a corrupted web site promoted by Solid Savings and by this way get malware. Due to all of these reasons the add-on is blocked from installation by popular Internet browsers, such as Mozilla Firefox:
Solid Savings has been blocked for your protection.
Why was it blocked?
This add-on is silently installed, bypassing our third-party opt-in screen, in violation of our Add-on Guidelines.
There is no doubt Solid Savings adware should be removed from computer as soon as it is detected. Alas it is not as easy to do as it might seem. Usually the uninstall wizards are either unavailable or not complete. As a rule of thumb manual removal is complicated and time consuming. You may wish to check if you see the program listed in Control Panel Add and Remove Programs list. If you see it there, uninstall it. You should also check browser extensions and remove anything related to Solid Savings. If this does not help, you may have to remove all of unfamiliar browser extensions from all the Internet browsers. We recommend using automated Solid Savings removal method. For this you will have to download Spyhunter. It will not only detect this adware but also any other unwanted applications installed together with it. Moreover, if any viruses attacked your computer system, it will find and eliminate them as well.
Automatic Solid Savings Adware removal tools
We might be affiliated with some of these programs. Full information is available in disclosure
Manual removal
Important Note: Although it is possible to manually remove Solid Savings Adware, such activity can permanently damage your system if any mistakes are made in the process, as advanced spyware parasites are able to automatically repair themselves if not completely removed. Thus, manual spyware removal is recommended for experienced users only, such as IT specialists or highly qualified system administrators. For other users, we recommend using Reimage or other tools found on 2-viruses.com.
Processes:
Files:
Solid Savings Adware screenshots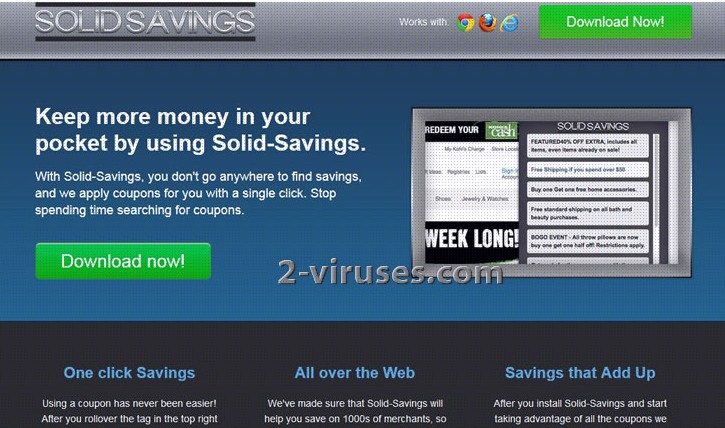 About the author