SkullLocker Screenlocker is not actually a ransomware, yet this category of malware is the closest to it. This virus can either be funny or tearful, it all depends on your ability to deal with it. So as you can guess, screenlocker aims to lock your screen and prevent you from using your computer. If you are a victim of this virus and your computer is already infected, you are going to see this picture instead of your desktop: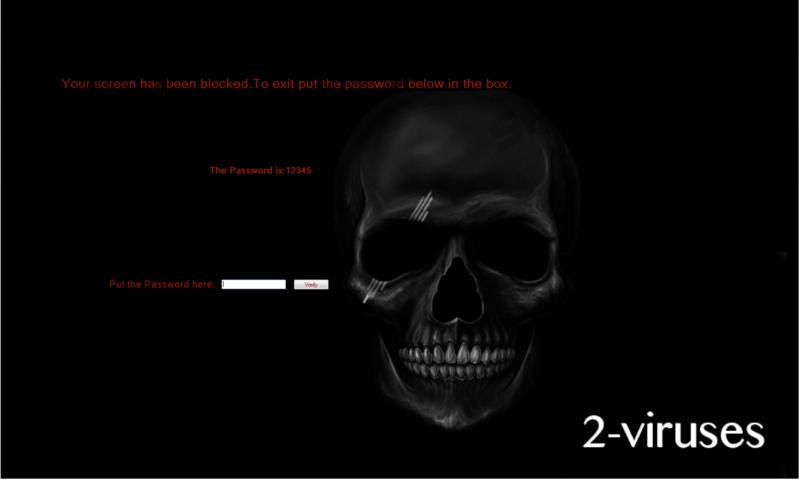 As you can see, the message on the screen states that your computer have been locked and you need to put the password in the box. What's even more strange, that they provide you with the password as well. However, if you try to submit given password, you will be shown another screen that says "YOUR SCREEN IS LOCKED YOU CANNOT GET OUT!". As funny as it is strange, this infection does not ask you for a ransom and can be removed really easily. Usually when ransomware hits a system, it locks the files inside of it or the access to the computer and demand ransom to be paid in order to unlock it. In this case it seems that SkullLocker Screenlocker virus is only locking computer for a sake of locking. It might be some kind of an experiment or 'educational' project.
However, even SkullLocker Screenlocker virus is not dangerous itself, it indicates that your system is vulnerable and various infections can take advantage of it. It is most likely that this virus came bundled with other software that can be downloaded from the Internet. Bundling is the most common method of malware distribution. When you install some free software, other additional one comes as a free bonus. However, it often happens to be malware like this. So if your computer is infected with SkullLocker Screenlocker virus, there is a chance that other malware is already circulating inside of it. That's why we recommend to scan your computer with reliable anti-malware application, such as SpyHunter Simply download one of them and run a scan of all files stored on your hard drive, Either one of them should be able to detect and remove all unwanted programs from your computer, including SkullLocker Screenlocker virus.
Currently we have no information where it came from and who is responsible for SkullLocker Screenlocker virus, but we have a really simple solution to remove this infection and continue to use your computer. This screenlocker can be closed as most of applications on Windows OS, simply press ALT+F4 keys at the same time and it will be closed. However, it is not enough to simply close the window because the next time you boot your computer, SkullLocker Screenlocker virus will be displayed again. That's why you need to get rid of it completely. We already mentioned that it can be done automatically with anti-malware tools, but it can also be performed manually, just follow these steps:
Close the screenlocker (ALT+F4);
Oper registry (press Win+R keys and type in regedit in the box);
Navigate to HKCU\Software\Microsoft\Windows\CurrentVersion\Run and find value named Application;
In the value data find .exe file that match the file name of infection stored on your desktop (%USERSPROFILE%\Desktop\(random name).exe);
Select Application with the right mouse click and select option Delete;
Now close Registry Editor and click Win+E keys at the same time;
Enter the same name to the box (%USERSPROFILE%\Desktop\(random name).exe) and press Enter;
Delete executable (right-click with the mouse and select option Delete);
Finally, empty your recycle bin.
Automatic Malware removal tools
Manual removal