ShopperPremium is a browser add-on that can be added to all most popular web browsers, such as Google Chrome, Mozilla Firefox and Internet Explorer. It is available only on computers running Windows operating system. Even though it is listed as a useful application that will help you to save both your time and money when shopping online by displaying various coupons and offers, this is not quite true. It's correct that this application will display various deals and coupons right on your web browser but they will not help you to save your time or money. First of all, they appear randomly, from time to time, which is really annoying and disturbing, so this won't save your time, vice versa – it will waste your time. They usually appear on e-commerce websites, such as eBay or Amazon and offer you to purchase some particular goods at a very attractive price rate. Those deals can be displayed in all kinds of forms, such as in-text, pop-up, pop-under or banner advertisements. A new tab or browser window can be opened as well. Due to this attribute ShopperPremium is listed as an adware and a PUP (potentially unwanted program). Even though those advertisements look really appealing, you should think twice before clicking on them. As you have already noticed, ShopperPremium is completely free for users, that means its owners get paid from other sources. The tool is sponsored by various third parties for displaying advertisements. And it is not a secret that this advertising network is widely used by various cyber criminals, such as hackers and scammers. That means they can reach you right on your web browser, on a daily basis. Those ads look nice but most of the time they are fake. It's just a trick to get your attention and make you click on one of those ads. If you do so, you will be immediately redirected to third parties' websites, that may be infected and cause harm to your computer or you can even get scammed if you attempt to purchase something on one of those websites.
Another unwanted attribute of this application is data collection. If you have some spare time, pay a visit to the adware's official website at http://shopperpremium.info/index.html and take a look at its privacy policy. Pay attention to "Data Collection" and "Data Usage" columns:
Data Collection

1.We may collect certain information about your web usage and websites you have visited, which may be shared with third parties and used for advertising.

NOTE:-The plugin and other services collect and stores information concerning the web pages you visit and your activity on those pages, such as impressions, clicks and search terms. In some cases, information collected by the plugin and other services may be personally identifiable, and in some cases information (including information from or about pages of social media websites you visit) may be used or shared with third parties for purposes of displaying targeted advertisements promotional and marketing material to you.

Data Usage

Information we collect from you may be used in any of the following ways:

1.To personalize your experience (your information helps us to better respond to your individual needs).

2.To improve our Plugin and other Services (we continually strive to improve our application offerings based on the information and feedback we receive from you).

3.To improve customer service (your information helps us to more effectively respond to your customer service requests and support your needs).

4.To process transactions.

5.To administer a contest, promotion, survey or other Site features.

6.To send periodic emails (the email address you provide for order processing, may be used to send you information and updates pertaining to your order, in addition to receiving occasional company news, updates, related product or service information, etc.).
In a nutshell, this means that your private information, such as browsing history, search queries, Top visited websites, your email and IP addresses or even your geographic location is monitored and recorded. Later on this data is handed to the mentioned third parties. They adjust their ads according to the given data, make them more relevant and attractive to your browsing habits and interests this way. So the possibility that you will click on one of those ads rises. And it's the main goal of ShopperPremium malware, because they get paid for every click you make on those ads. Some of this collected information can be sold to the third parties and this puts you into an actual risk of getting infected or scammed by misusing your personal data. It's much easier for cyber criminals to make an attack pointed at you when they have a lot of information about you.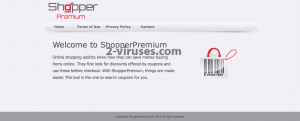 Another thing that you may notice on ShopperPremium website, that there is no valid contact information. In case something unwanted happens due to this application, no one will hold responsibility for it. Even though it is not a dangerous computer virus that can cause you big problems, it can lead you to some serious cyber security damage if you don't remove it in time, therefore it needs to be removed as soon as possible. If you have noticed that ShopperPremium is operating on your computer, wait no more and take needed actions to get rid of it. And it is not so difficult to indicate this adware on your PC – all the ads displayed by ShopperPremium are labeled with a slogan "Ads by ShopperPremium" or "Bought to you by ShopperPremium".
If you can't remember installing this application on your computer, it's absolutely normal, because commonly it is traveling bundled with various freebies and gets installed behind users' backs, without them even being aware of it. When you download and install some PDF generator, media player, Flash update or any other similar application from a website with a questionable reputation, ShopperPremium can get installed alongside. If you want to avoid this happening, you should be very attentive during the installation of freebies (or do not download them at all). Do not skip any steps (don't just click "next" and "proceed" buttons all the time before learning the whole information first) and opt out for a custom or advanced install mode – this will allow you to see all available options. Don't rush, because some of the most important information can be displayed in a very tiny font that is barely visible. Look for various check boxes that may already be checked for you. If you notice that some additional software that you are not aware of is being installed alongside, do not allow it, as it can possibly be ShopperPremium or any other similar malware. In case it is too late and your computer is already infected, you should remove ShopperPremium right now. You can do it either manually or automatically. Unless you are an experienced computer user, we recommend to do this automatically. Download a trustworthy anti-malware, such as Spyhunter, StopZilla or Malwarebytes and scan your computer with it. It will detect and remove the threat automatically. It will also protect your system from similar infections in the future. If for some reasons you don't want to download any anti-malware software, you can do it manually as well. Simply follow our step-by-step ShopperPremium removal guide given below.
Manual removal of ShopperPremium ads
How to remove ShopperPremium using Windows Control Panel
Many hijackers and adware like
ShopperPremium
install some of their components as regular Windows programs as well as additional software. This part of malware can be uninstalled from the Control Panel. To access it, do the following.
Start→Control Panel (older Windows) or press Windows Key→Search and enter Control Panel and then press Enter (Windows 8, Windows 10).
Choose Uninstall Program (if you don't see it, click in the upper right next to "View by" and select Category).
Go through the list of programs and select entries related to ShopperPremium . You can click on "Name" or "Installed On" to reorder your programs and make ShopperPremium easier to find.
Click the Uninstall button. If you're asked if you really want to remove the program, click Yes.
In many cases anti-malware programs are better at detecting related parasites, thus I recommend installing Spyhunter to identify other programs that might be a part of this infection.
TopRemove malicious extensions from Internet Explorer
Press on the Gear icon→Manage Add-ons.

Go through Toolbars and extensions. Remove everything related to ShopperPremium and items you do not know that are made not by Google, Microsoft, Yahoo, Oracle or Adobe.

Close the Options.
(Optional) Reset your browser's settings
If you are still experiencing any issues related to ShopperPremium, reset the settings of your browser to its default settings.
Press on the Gear icon->Internet Options.

Choose the Advanced tab and click on the Reset button.

Select a "Delete personal settings" checkbox and click on the Reset button.

Click on the Close button on the confirmation box, then close your browser.

If you cannot reset your browser settings and the problem persists, scan your system with an anti-malware program.
TopRemoving ShopperPremium from Chrome
Click on the menu button on the top right corner of a Google Chrome window. Select "Settings".

Click "Extensions" on the left menu bar.
Go through the extensions list and remove programs you do not need, especially similar to ShopperPremium. Click on the trash bin icon next to ShopperPremium or other add-ons you want to remove.

Press on the "Remove" button on the Confirmation window.

If unsure, you can disable them temporarily.

Restart Chrome.
(Optional) Reset your browser's settings
If you are still experiencing any issues related to ShopperPremium, reset the settings of your browser to its default settings.
Click on Chrome's menu button (three horizontal lines) and select Settings.

Scroll to the end of the page and click on the Reset settings button.

Click on the Reset button on the confirmation box.

If you cannot reset your browser settings and the problem persists, scan your system with an anti-malware program.
Automatic Malware removal tools