Sepsis ransomware is a kind of virus that will encrypt your personal files and then force you to pay a certain amount of money in order to get them back. While some of the computer viruses like browser hijackers or adware just infect computers and then monetize them by displaying advertisements or redirecting users to various affiliated websites. So basically, no direct harm is done. In this case, Sepsis malware is looking to steal money from you by tacking your personal data as a hostage.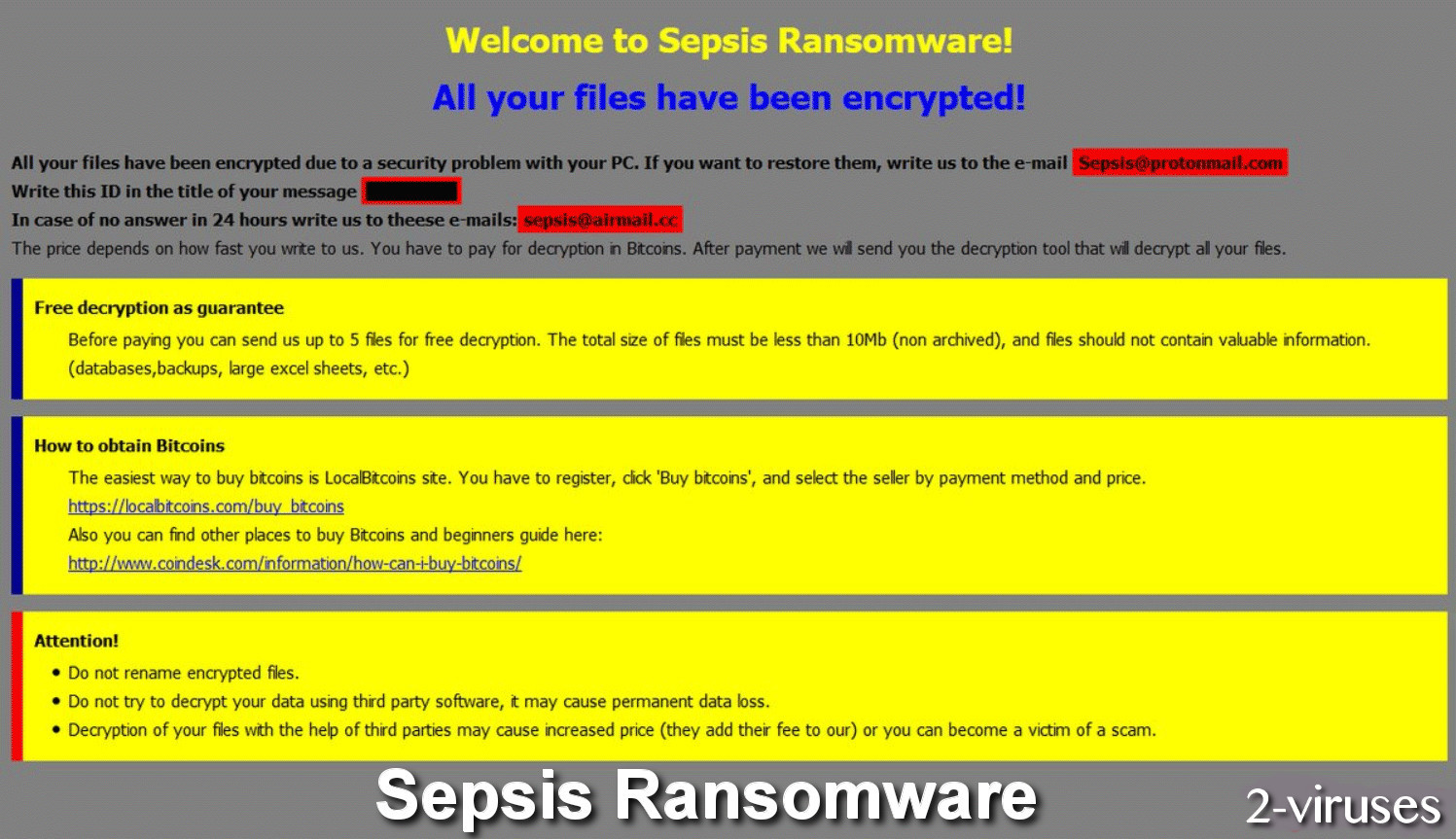 If you are suffering from this virus right now, please continue reading the article. We will teach you how to remove Sepsis Ransomware quickly and easily, as well as give the best shot at restoring your locked files.
You might already be aware of the fact that encrypting is the process when a specific cryptography algorithm is applied to the file. During this process, ransomware viruses usually add a specific extension to the end of every encrypted file. In this case, Sepsis ransomware is adding .[[email protected]].SEPSIS extension. But let's talk about everything from the beginning.
The virus itself is distributed using spam emails. The scheme is rather simple – they launch a special spam emails campaign when millions of emails are sent to various addresses. Obviously, most of them end up on spam folders, but that doesn't stop some users from opening them. You won't get infected just by opening such email, but usually, there is an attachment that contains all malicious files of the virus. Once the attachment is opened, files are automatically uploaded to your computer and then there is no way back.
So if the virus is already on your computer, it will automatically scan your hard drive for files that can be encrypted. During the encryption process, Sepsis will employ a specific cryptography to lock your files. It will also add .[[email protected]].SEPSIS extension to the end of those files and from that moment you won't be able to open them.
Immediately after that, it will automatically open a pop-up message that informs you about the infection and what you should do to restore your files:
Welcome to Sepsis Ransomware!
All your files have been encrypted!
All your files have been encrypted due to a security problem with your PC. If you want to restore them, write us to the e-mail [email protected]
Write this ID in the title of your message 16E734E0
In case of no answer in 24 hours write us to theese e-mails:[email protected]
The price depends on how fast you write to us. You have to pay for decryption in Bitcoins. After payment we will send you the decryption tool that will decrypt all your files.
Free decryption as guarantee
Before paying you can send us up to 5 files for free decryption. The total size of files must be less than 10Mb (non archived), and files should not contain valuable information. (databases,backups, large excel sheets, etc.)
How to obtain Bitcoins
The easiest way to buy bitcoins is LocalBitcoins site. You have to register, click 'Buy bitcoins', and select the seller by payment method and price.
hxxps://localbitcoins.com/buy_bitcoins
Also you can find other places to buy Bitcoins and beginners guide here:
hxxp://www.coindesk.com/information/how-can-i-buy-bitcoins/
Attention!
Do not rename encrypted files.
Do not try to decrypt your data using third party software, it may cause permanent data loss.
Decryption of your files with the help of third parties may cause increased price (they add their fee to our) or you can become a victim of a scam.
Cybercriminals behind Sepsis ransomware do not disclose the information of how much you will have to pay as a ransom. Instead of that, they encourage you to contact them via email [email protected] or [email protected]
What is clear that you will have to pay the ransom in Bitcoins. Average ransom is around $500-$1500, so you can expect numbers similar to this one. Regardless of the size of the ransom, you should not pay it. In fact, you should not even attempt contacting cybercriminals.
Instead of that, you should focus on removing the virus itself and restoring your files. Arguably the best way to eliminate such virus is to scan your computer with reliable anti-malware application, like Spyhunter. This practice can be proved by actual examples – AutoTron infection or StalinLocker can be successfully removed by these programs.
Unfortunately, removing Sepsis ransomware from the computer is not enough – your files will still remain locked. It's a pity that there are no free decryptors for this specific extension at the moment, but you can try to restore your files from a backup. Perform system restore, try to restore your files from a backup (if you have one) or use one of many free file recovery tools online.
Automatic Malware removal tools