eAnswers.com company has released another analogue of its previous browser hijackers Search.myappzcenter.com and Search.theappzworld.com, named Search.searchtheweb.today. It has identical look to the previous browser versions and targets same web browsers such as Google Chrome, Mozilla Firefox and Internet Explorer.
The browser itself has an inviting, eye-pleasing look to it, offering several nature backgrounds, as well as easy to use net-browsing functions like Web/Images/Video or News tabs and "Private Search mode". However behind this nice looking facade lies malicious virus aiming to fully take over the control of your browser and track sensitive personal data, which will be shared with third-parties.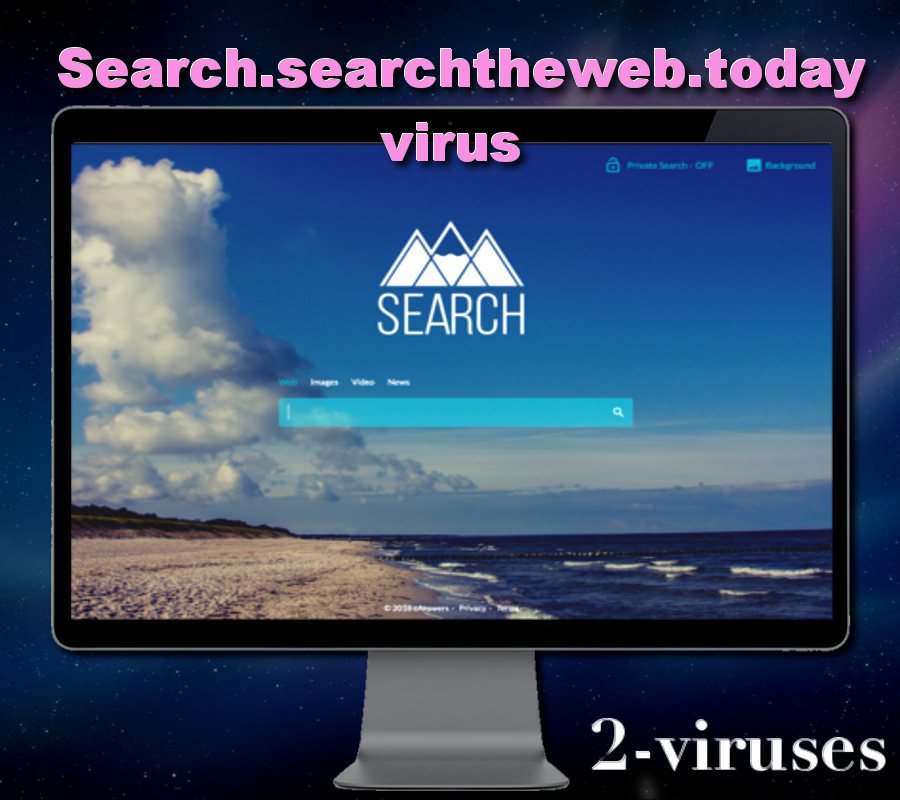 If you have noticed that your current browser's homepage and search engine has changed to Search.searchtheweb.today, your system is almost for sure is infected and further removal actions should be taken immediately to remove searchtheweb.today browser hijacker.
Search.searchtheweb.today controls users' browsers without permission
Search.searchtheweb.today virus like any other browser hijacker will try to get victims to install it as an attachment with an add-on/extension to their browsers. Once the browser installs the add-on, the default homepage, new tabs, and search engines get changed to Search.searchtheweb.today.
It's not surprising that this eAnswers created search engine is not an original browser but just a redirect to search.yahoo.com engine. Whenever you try to browse search.searchtheweb.today displays search results from Yahoo and event then they are not very good.
The most absurd function of this browser hijacker is a " Private Search Mode" which suppose to encrypt your browsing data to search anonymously, but in reality it does not provide any anonymity and instead records each and every word you search and URL you visit.
In their Privacy policy eAnswers claim not to be collecting personal information like names, e-mails, location, yet in the next paragraph mention:
eAnswers.com may automatically receive and record certain non-personally identifiable information on its server logs from your browser, including your IP address, browser type, internet service provider (ISP), cookie information, and the webpage that a user visits. eAnswers.com collects non-personally identifiable information for general purposes, including but not limited to analyzing trends, administering the site, tracking user movements, conducting research, and providing anonymous reporting to internal and external clients.
Whatever search.searchtheweb.today's policies and terms are, knowing that this is just another typical browser hijacker, it is clear that this is a threat for your privacy and online safety. Not only it can track and collect your personal data, but it can also open the path to other malicious malware creations to your system. Furthermore, like its earlier versions, search.searchtheweb.today redirects users to infected websites and ads, leading to more serious virus infections.
Easy search.searchtheweb.today virus removal
Since search.searchtheweb.today is known to be spreading as an add-on the removal of it should be fairly simple. For that you should go to the browser's settings/tools and search in Add-ons/Extensions for "search.searchtheweb.today", then simply remove it. Or you can follow our more detailed removal guide.
After that you can if you still feel uneasy about your cyber safety and any leftovers from search.searchtheweb.today browser you can use automatic malware removal tools like Spyhunter or others of your choice that detect and remove harmful related files.
No matter what method you choose it is important to get rid of search.searchtheweb.today browser hijacker because of its malicious activities.
Automatic Malware removal tools