Search.pitchofcase.com is officially listed as browser hijacker because of a multiple reasons:
distributed using deceptive methods;
changing settings of your web browser;
displaying advertisements and sponsored content;
tracking your search queries;
collecting personal data.
That's a lot of reasons why this extension is categorised as malware. So if one day your homepage or new tab page was changed to www.search.pitchofcase.com, your browser is definitely hijacked and you should do something about it.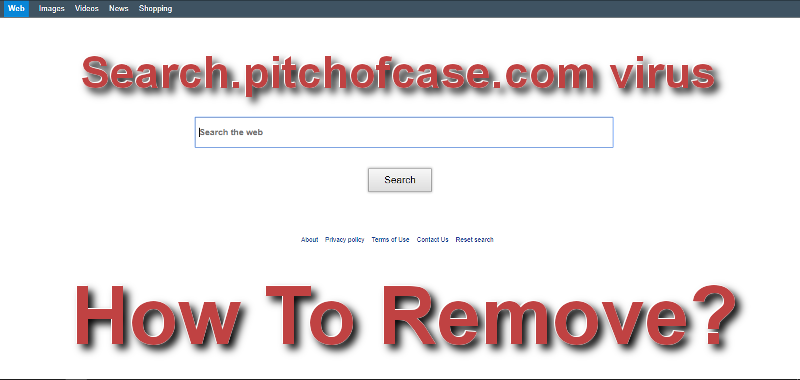 Please continue reading this article and learn how to eliminate Search.pitchofcase.com fast and efficiently.
Most popular distribution methods of Search.pitchofcase.com
Search.pitchofcase.com can be distributed in various ways, but there are a few most popular ones. Obviously, most common method to install unwanted extensions on computers is to bundle them with other free software that can be easily downloaded for free. This method works just fine, because users just want to download some reliable, well-known free tool and they trust it. That leads to careless installation and most of the time they fail to notice that additional software is going to be installed alongside.
Just to be clear, Search.pitchofcase.com is not the only malware that is distributed this way – Journal-all.org, Joomborio.com and hundreds of other similar viruses are traveling around the Internet in the same manner.
However, that's not the only way you can get infected. Malware like this can also be advertised on websites of questionable quality or it can come as a consequence of other viruses that are already operating on your computer. Either way, this indicated that the security level of your system is very low and in order to avoid similar viruse in the future, you should get yourself anti-malware software. In case you have no clue what program to get – feel free to take a look at our reviews section and pick the one that fits your needs the best. There are plenty of free tools that will definitely help you to protect your computer.
If Search.pitchofcase.com website appears as your homepage or new tab page out of a sudden, it means that the web browser you are currently using was infected with malicious add-on. That is the way most of browser hijackers work. Even though this website is promoted as effective and improved way to search the web, we genuinely doubt it. And we have facts to back it up.
First of all, it won't deliver you search results that are better in any way. Vice versa, your search experience will be worse, as you will get lots of sponsored links to websites that are not even relevant to your search queries. In addition to that, it might be dangerous to visit website promoted by Search.pitchofcase.com because malicious and questionable websites tend to be promoted on advertising networks like this.
Also, you will definitely notice additional portion of advertisements right on search results page – they can be very irritating. If that's not enough, Search.pitchofcase.com will also track your behavior online and even record your search queries. That being said, if some of your private information (such as your name, home address, phone number, etc.) is used in search, it can also be collected and leaked to third parties later on.
The worst about this virus is that it can be difficult to get rid of it. We have mentioned that Search.pitchofcase.com is operating as browser add-on so you might eventually think that it is as easy as removing extension from extensions list, but it is not. Since it is not just a regular add-on, it can also put some files directly on your computer and they can be used to restore the extension after you disable it.
Regardless of what web browser you are using, the first thing you need to do is to navigate to the extensions list, detect the add-on that is responsible for the Search.pitchofcase.com website and remove it. This malware is compatible with all most common web browsers, so it can affect Mozilla Firefox, Google Chrome, Internet Explorer, Microsoft Edge or even Safari.
After you done that, the next step is to detect all files on your computer that are related to Search.pitchofcase.com. It can be challenging to do that manually, thus we suggest to scan your system with Spyhunter. Just in a couple of minutes all malicious or possibly dangerous files will be detected and removed automatically. Also, get yourself some reliable utility tool like CCleaner to remove all junk files that can be left by the virus.
Automatic Malware removal tools