An extremely severe computer virus dubbed "Robin Hood And Family" is categorized as a ransomware for some obvious reasons. However, it can't completely fit the description of typical ransomware infection because usually ransomware viruses just encrypt personal data and then force users to pay for it, while in this case,  Robin Hood and Family ransomware shows no mercy and simply deletes the files. For this reason, the subcategory of this virus should be wiper ransomware.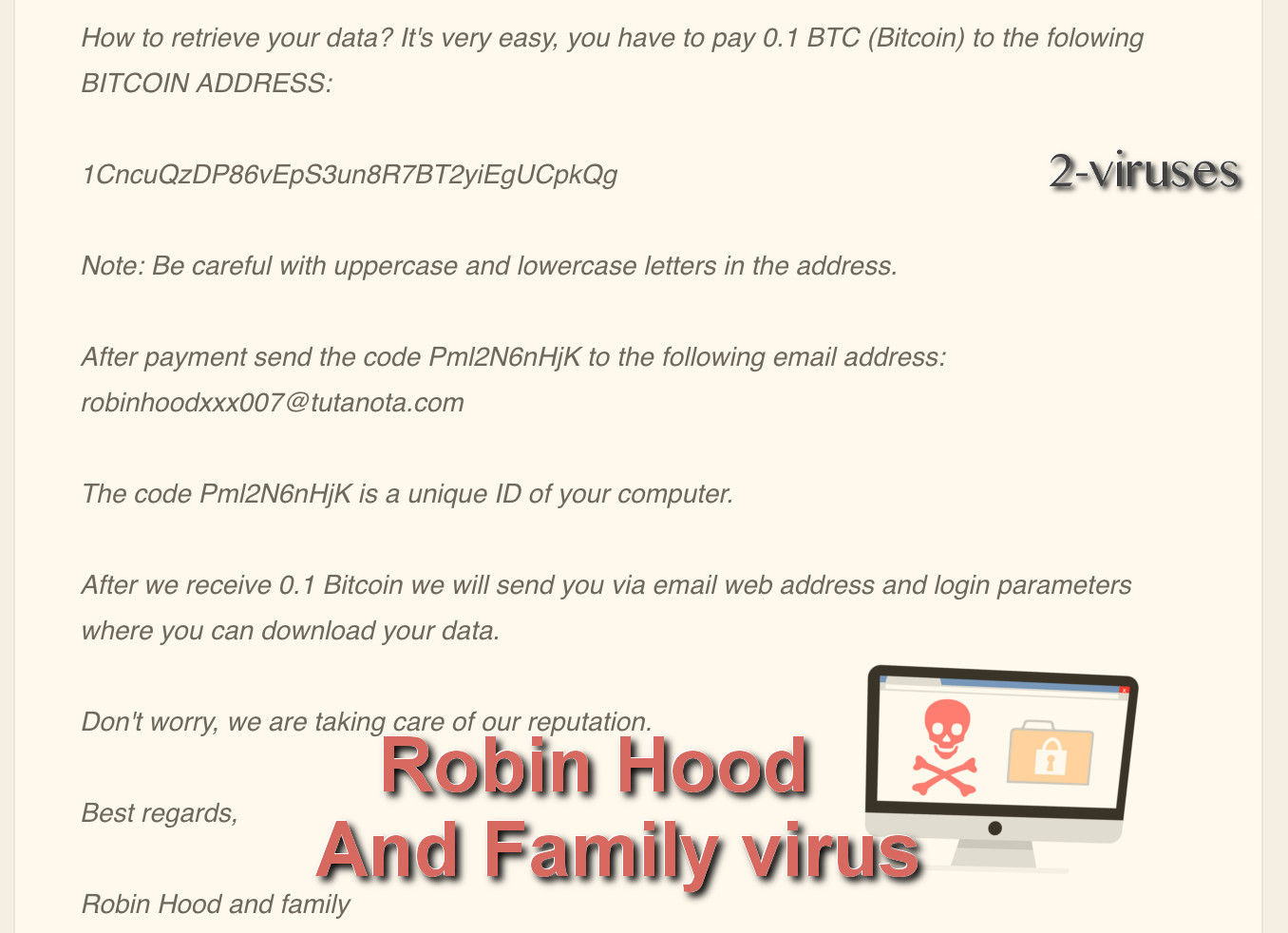 If your computer is infected with this virus and you are already panicking that all your files are gone for good, just hold for a moment – they still exist, just not on your computer, but on a remote server owned by these crooks. Actually, it is a really smart thing to do, since casual ransomware viruses just lock files on the infected computer and users can restore them using one of several methods, without paying the ransomware. In this case, this method is impossible because there is nothing to be restored. However, there are other ways you can deal with this virus, so just continue reading the article.
Ransom of 0.1 Bitcoin
This infection is distributed the same way as other viruses of this kind – usually spam emails are included in this process. We have seen ransomware like Assembly or TripleM traveling as attachments to emails and it is believed that Robin Hood And Family virus is also distributed this way.
Once inside of your computer, it will immediately delete all files that might be important to you. Yes, before doing that, they will create a copy of those files and place it on their remote server, so it can be sent back to you after the ransom is paid. Well, at least that's what they claim to do.
After this process is over, a file named "YOU ARE HACKED – READ ME.txt" will be placed on your desktop. It consists of a message to you, as an owner of the infected computer, for cybercriminals:
So, what the f*ck just happened!!!???

You are hacked! In the past few hours, days, weeks or even monts (who knows how long) we have backed up all data from your computer. After that, well, we permanently deleted all your files. And no, you can't restore data from recycle bin.

How to retrieve your data? It's very easy, you have to pay 0.1 BTC (Bitcoin) to the folowing BITCOIN ADDRESS:

1CncuQzDP86vEpS3un8R7BT2yiEgUCpkQg

Note: Be careful with uppercase and lowercase letters in the address.

After payment send the code Pml2N6nHjK to the following email address: [email protected]

The code Pml2N6nHjK is a unique ID of your computer.

After we receive 0.1 Bitcoin we will send you via email web address and login parameters where you can download your data.

Don't worry, we are taking care of our reputation.

Best regards,

Robin Hood and family
Hackers behind this virus refer to themselves as a "Robin Hood and Family", that's why this virus was dubbed this way. You are asked to pay 0.1 BTC (that's around $900 at the moment) and send your unique computer ID that was generated by them. As a result, they should unlock your computer and send you the files you once had.
Even though a thousand dollars looks like a reasonable price to pay for your private files, we do not recommend to do that. First of all, you can't be guaranteed that they will actually send those files back and secondly, paying the ransom equal supporting cyber criminals – not a very good thing to do.
Instead of that, you should use alternatives. There is no question that the virus itself has to be removed from the computer and it can be done by scanning your system with either Spyhunter. Either one of those programs should detect and remove Robin Hood And Family virus.
Just to be clear – this won't restore your files. You can try to perform a system restore – this should restore your systemic files so you could use your operating system once again. Now, if you want your personal files back, you can try to use one of many recovery tools offered online, yet we can't guarantee that they will work. Nonetheless, it's worth a try. Also, if by some chance you have your personal files stored somewhere else than your computer (external hard drive, cloud, etc.), now you can upload them back to your computer from there.
Automatic Malware removal tools