RightCoupon Ads - How To Remove?
RightCoupon is a browser extension that displays numerous ads when you browse the Internet and interrupts your browsing sessions. Although it is not a virus, it is quite an intrusive program. Most of the times, RightCoupon is added to the browser when users are installing free software that does not clearly mention about this bundle.
That is why most of the users have no idea why they see these ads and even blame viruses for that. In cases we tested, Right Coupon Ads were named SaveClicker in the bundles and the plugin name was the same. So, you might have no idea which plugin shows ads.
Update of RightCoupon Ads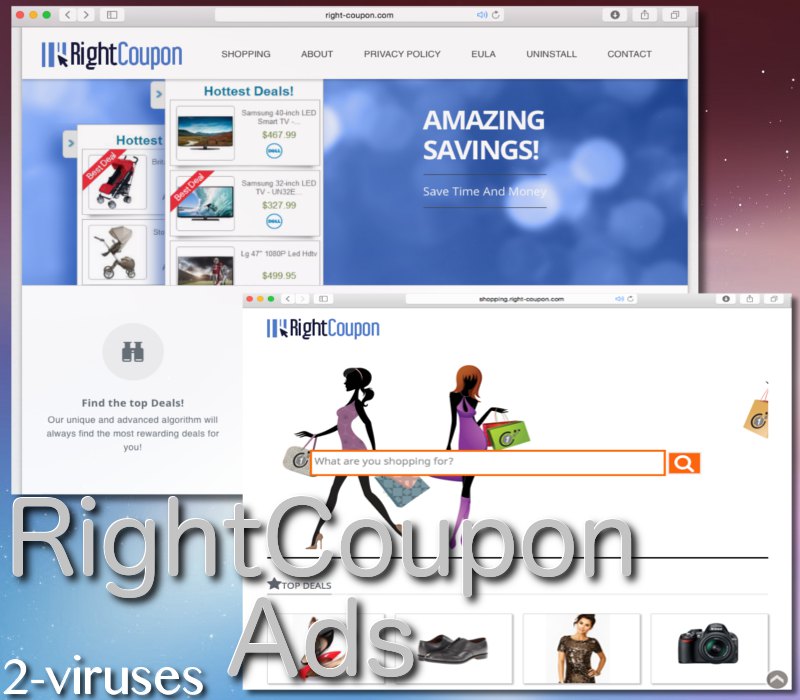 RightCoupon service for online-shopping assistance has been around since February of 2014. It is meant to serve hottest deals around the Internet in blocks, presumably shown in online-shopping websites. However, the service was not considered a respectable choice as it was categorized in the group of adware parasites (Spyware, Malware, Adware, or Virus Interfering with Steam), meaning that most of the online material was transmitted to random users or was malicious/fraudulent. We have encountered dozens of similar infection like Coupon Ahoy and My Coupon Storm.
Currently, the RightCoupon adware is not as popular as it used to be, but still receives some attention from people in Poland. Even though it promises to find the best deals with an advanced algorithm, it might display products from unreliable vendors. In addition to this, adware parasites like Price Master and PriceItDown have additional capabilities that might be considered as similar to RightCoupon.
During installation of RightCoupon potentially unwanted program (PUP) (What is a potentially unwanted application or potentially unwanted content?), users will be informed that this ad-funded software will show coupons in users' browsers while they surf the web. Futhermore, this browser extension is probably created by the same developers that have introduced such threats like BestDealWiz and TopDealMaster. Shopper For Torch is also generated by the same company.
Best Price Ninja is also an adware, related to RightCoupon, together with another adware parasite called Dealbarium. We figured these associations because of these official websites of these services are hosted on the same server. It also appears that the web server located at 192.254.235.179 may be hosting one or more web sites with explicit content which might be blocked by filtering software.
Other information about this malware
As RightCoupon promises the best deals and coupons, those users who like shopping online may think that they are indeed very useful. However, you should know that the creators of this program are in fact making money from every click on the ads. This is called affiliate marketing and although it is a legal way of promoting things, having in mind that RightCoupon is installed without a users' consent, it makes it a potentially unwanted program.
Another goal of this adware is to spy on users' browsing habits, like your browsing history and search queries. This information is used to improve the relevance of ads by RightCoupon and for other marketing related purposes. Finally, it is a very annoying application that wastes a lot of your time and interrupts your browsing.
This application is created and distributed by Linkular LLC.
You are highly recommended to remove RightCoupon from your computer as soon as you detect its ads on your browser. Fist of all you have to uninstall it from Programs list on Control Panel and then restore your browser settings. Below you can find detailed instructions how to remove RightCoupon. Depending on which browser was affected, choose the ones suitable for you.
Manual removal instructions of RightCoupon Ads
Using Control Panel to remove the main RightCoupon Ads components and installers
Go to Control Panel. On Windows XP/Vista/7 open Start -> Control Panel , Add/Remove Programs or Uninstall . On Windows 8 enter Control Panel in the search box, then look for Uninstall a program. You may need to confirm that you are the administrator on this PC, in both cases.
Look for RightCoupon and /or similar looking items on the list of programs. By default, I recommend removing Yontoo, WebCake, anything "savings" or "coupon" related. Scanning with Anti-Malware programs like Spyhunter or Stopzilla might give a good idea of what programs you should remove from there as well.
Close Control Panel.
Removing RightCoupon Ads from Internet Explorer
Press on the Wench icon->Manage Add-ons.
Go through Toolbars and extensions. Remove everything related to RightCoupon, SaveClicker and items you do not know that are made not by Google, Microsoft, Yahoo, Oracle or Adobe.
Close the Options.
Removing RightCoupon Ads from Firefox
Enter about:addons in URL field.
Go through Extensions and Addons list, remove everything RightCoupon and SaveClicker related and items you do not recognise. If you do not know the extension and it is not made by Mozilla, Google, Microsoft, Oracle or Adobe probably you do not need it.
Optionally, reset Firefox: go to Firefox ->Help (Help in menu for OSX users) -> Troubleshooting Information. Then Reset Firefox.
Removing RightCoupon Ads from Chrome
Enter chrome://extensions in URL field.
Go through extensions list and remove programs you do not need, especially similar to RightCoupon or SaveClicker. If unsure, you can disable them temporarily.
Restart Chrome.
Optionally, you can enter chrome://settings in URL bar, press Advanced settings, scroll to the bottom of the list and press Reset browser settings.
NOTE:
If you found an extension that can't be removed from the browser, it has either to be removed from Control Panel or with antimalware programs (like Spyhunter, malwarebytes) or program uninstallers (like RevoUninstaller).
Automatic RightCoupon Ads removal tools
We might be affiliated with some of these programs. Full information is available in disclosure
About the author