PC Registry Shield is a system optimizer that can be installed to computers using deceptive methods. It was noticed to come bundled with various free programs from the Internet and users don't always detect it until the software settles down in their computers. PC Registry Shield is often found on a computer after downloading free music players, video recording programs, PDF creators and similar tools. It can also be bundled with installers on many download websites.
Update of PC Registry Shield
PC Registry Shield potentially unwanted program is a product by ShieldApps Software Innovations. This company was founded in February of 2011. However, this PC Registry Shield product is a rogue system optimizer which will serve its clients poorly and show false positives (System optimizers turning to tech support scams). The same tactics are adopted by such newer programs like Driver Navigator and Master PC Cleaner that also try to convince users to purchase their full-priced versions. We downloaded the PCRegistryShieldSetup.exe and ran it through a number of legit scanners. The analysis revealed (VirusTotal analysis) that the installer was a PUA/ShieldApps.EL.1, Program.Unwanted1712, Riskware, Artemis or other infection.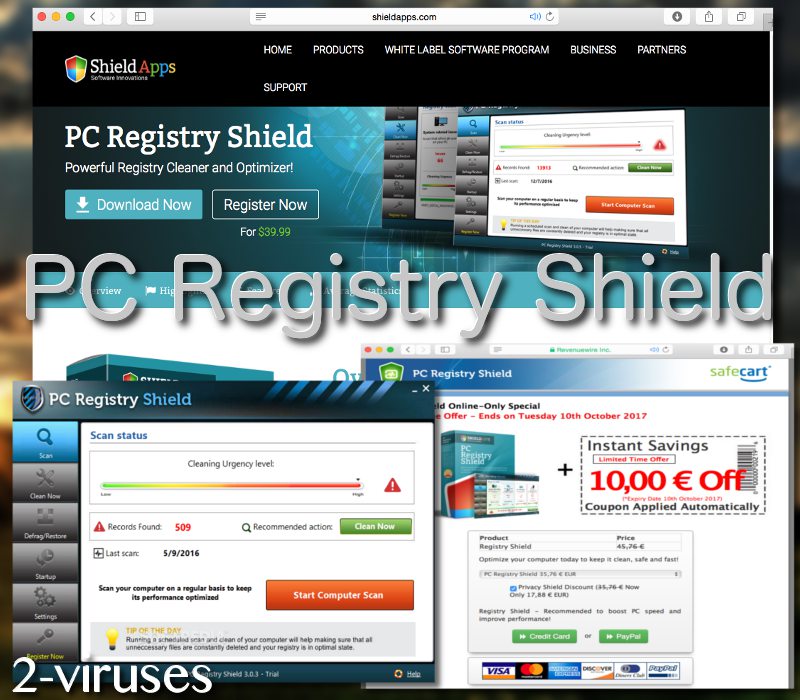 Currently, the full version of this tool is 35,76 euros and it promises to keep computers clean, safe and fast. However, reliable security researchers clearly emphasize that that system optimizers are close to being useless. They are not powerful enough to protect operating systems from malware or other threats that might be lurking on the World Wide Web. We have found reviews that find other products by ShieldApps to be very close to scareware (PC Privacy Shield review). Its features are not considered be worthy of paying for them, just like for programs like SPC Optimizer and Speed Optimizer Pro.
In order to find out more about this tool, we decided to take a look at the behavioral information of the installer file (Hybrid analysis). The setup extracts two specific files that are considered to be suspicious: InstAct.exe and Splash.exe. Also, analysis found an indicator for a scheduled task trigger.
More details about this potentially unwanted tool
Once inside, PC Registry Shield runs a system scan. The program claims it can detect various system errors, registry problems and other security related issues. In fact it scans your registry for various outdated entries that are not even harmful. Every computer may have such entries that probably have remained after you uninstalled unused programs from your system. It can also detect file extensions with no associated application, etc.
As you may already guess, by the end of the scan PC Registry Shield recommends upgrading it to a full version which is paid. It promises to fix all existing registry issues and to ensure a faster PC performance, increase startup speed and keep your PC running like new. You should know that these are only promises, and the tool is completely useless.
Some users consider it to be a virus because of regular automatic scans and pop-up warnings, but it is not one and does not cause a direct harm to your system. However, since the software uses deceptive techniques to enter computers and interrupts ones work with scans as well as false pop-up notices, PC Registry Shield is categorized as a potentially unwanted program.
You should remove PC Registry Shield from your machine if you haven't installed it by yourself. Run a full system scan with a reputable antispyware program, for example,  Spyhunter. It will eliminate this application automatically. Make sure you avoid such programs in the future. Always follow the installation steps of freeware you are downloading from the Internet. If you see that they offer to install additional applications, refuse that unless you know you will get a useful program.
Look through your Control panel to try to find this piece of rogue software. Remove it immediately. It is easy to notice these malicious tools because they usually run in the background. For this purpose, Windows Registry is modified.
How to remove PC Registry Shield using Windows Control Panel
Many hijackers and adware like
PC Registry Shield
install some of their components as regular Windows programs as well as additional software. This part of malware can be uninstalled from the Control Panel. To access it, do the following.
Start→Control Panel (older Windows) or press Windows Key→Search and enter Control Panel and then press Enter (Windows 8, Windows 10).
Choose Uninstall Program (if you don't see it, click in the upper right next to "View by" and select Category).
Go through the list of programs and select entries related to PC Registry Shield . You can click on "Name" or "Installed On" to reorder your programs and make PC Registry Shield easier to find.
Click the Uninstall button. If you're asked if you really want to remove the program, click Yes.
In many cases anti-malware programs are better at detecting related parasites, thus I recommend installing Spyhunter to identify other programs that might be a part of this infection.
Automatic Malware removal tools
Manual removal