Mywebsearch Virus is an infection that gets inside a PC in a form of a toolbar. It can be installed to most of Internet browsers, e.g. Internet Explorer, Mozilla Firefox or Google Chrome. Most of the time a computer user does not even know about the virus before it starts acting. The most prominent features of Mywebsearch Virus are changing an infected PC's Home page, Start page, New Tab page and search engine to home.mywebsearch.com.
Mywebsearch has a simple interface with shortcuts to your favourite sites such as gmail, yahoo!, Facebook, youtube, Twitter, etc. Although the latter search engine has a Google logo (you will see it after you make a search), it is not a well known search engine itself. Mywebsearch uses Google search and gets paid for every click/search performed. The money comes from paid advertisements and generating of traffic to promoted sites.
Mindspark Interactive Network, Inc., collectivelly Mindspark is the owner of Mywebsearch. The company is a well known one in its field and has more than 1.5 thousand sites of all sorts. The Mywebsearch webpage was created in 2001 and runs untill recently. Although the tool is free of charge for the end users, the company gets paid from the advertisements displayed and the traffic generated to the sites it promotes. It is not surprising that Mindspark wants its product to be as much popular as possible and increase the number of its users in any ways sometimes balancing on the thin line between legal and illegal.
Just like many similar applications and toolbars, Mywebsearch Virus can be installed together with downloads of shareware, freeware, e.g. it is known to be distributed with avatar program Zwinkyand an emotion program called Smiley Central. You may also get infected with it after browsing though malicious websites that have Trojan horses. A computer user does not usually know when a malicious program was installed because it does not need any consent to run on a machine. In order to follow the legal requirements thoretically one has an option to refuse installing Mywebsearch Virus. There is a checkbox marked stating that you agree with the installation of this application and if you read the installation wizard carefully you have an option to remove this checkbox. The reality is that many of us selec an automatic installing this way allowing all the bundles to be added to our PCs.
What irritate the most with Mywebsearch Virus are constant redirections and pop-up advertisements whenever Internet connection is on. Some PC users complain that their browsers start working slower. Moreover, if you did not install the toolbar yourself and do not know how it got into your browser, it is very likely that this redirecting virus has been brought in by another malware.
Once you noticed any signs of Mywebsearch Virus acting on your computer, it is recommended to remove it. It may not be that easy even though you can find uninstall instructions on Mywebsearch website. This is only a trick for the site to look more trustworthy. Alas, Mywebsearch Virus has no intention to loose its user. Note that a usual uninstall will not be enough because the virus might come back after it. This is due to the reason that an uninstall wizard is corrupted and does not restore all of browser setting to the original ones. For Mywebsearch Virus to be removed and all of the settings restored automatically we recommend using antimalware programs, for example, reimage or hitman. If you decide to remove this redirect virus manually, do not forget to change your search providers in all of the Internet browsers you use. You should also perform a full system scan to make sure no other viruses were left.
How to remove Mywebsearch virus from Internet Explorer (older versions):
Click on the arrow on the right of the search box;
Do the following: on IE8-9 choose Manage Search providers, on IE7 click on Change search defaults;
Remove home.mywebsearch.com and similar pages from the list.
How to remove Mywebsearch Virus from IE 11:
Click on the Settings icon (top right)->Manage Addons;
Select Search Providers;
Change the default search engine to Bing or Google;
If any of these search providers is not available, follow "Find more search providers" in the bottom of the screen and install Google.
How to remove Mywebsearch Virus from Firefox:
Enter "about:config" in url bar. This will open settings page;
Type "Keyword.url" in the search box. Right click and reset it;
Type "browser.search.defaultengine" in the search box. Right click it and reset it;
Type "browser.search.selectedengine" in the search box. Right click it and reset it;
Type "browser.startup.homepage" in the search box. Right click it and reset;
Search for "browser.newtab.url". Right-click and reset. This will make sure that the search page won't launch on every new tab;
If the settings revert and scan with anti-malware programs are clean: close Firefox, open file explorer and enter %AppData% in the address bar. Enter user.js in the search box. If this file exists, rename it and start Firefox again. You will have to repeat the steps above.
How to remove Mywebsearch Virus from Google Chrome:
Click on the 3 horizontal lines icon on the browser toolbar;
Select Settings;
Select Basics ->Manage Search engines;
Remove unnecessary search engines from the list;
Go back to Settings. On Startup choose 'Open blank page' (you can remove undesired pages from the set pages link too);
If your New Tab page is hijacked, you will have to scan with anti-malware program or use New Tab Redirect extension from Chrome Store.
Remove shortcut hijack (all browsers) (optional):
If your browser opens home.mywebsearch.com page on startup only, try this:
Right click on your browser icon. Choose Properties;
Open Short cut tab;
Delete home.mywebsearch.com part from target field.

On behalf of developers of Mywebsearch Virus we were asked to remove this article due to false information on it. However, we feel like this post is correct and helpful to our readers. Mywebsearch Virus and other software developed by Mindspark Interactive Network, Inc. can be detected and recognised as viruses or potentially unwanted software by various anti-malware tools. Toolbars developed by Mindspark share same EULA (End User License Agreement) that is mislieding. It claims that this software is not an adware or malware, while there are statements that toolbars might display advertisements from 3rd parties or monetise toolbars in other ways. By definition such software is considered as an adware. All articles posted on www.2-viruses.com regarding products of Mindspark are correct.

Please notice that we are affiliated with several trustworthy anti-malware tools and information about our affiliates can be found in disclosure (see the link at the bottom of this page). Some of those tools are paid while other ones can be used for free. We provide free manual removal guides as well.
Automatic Mywebsearch Virus removal tools
We might be affiliated with some of these programs. Full information is available in disclosure
Mywebsearch Virus screenshots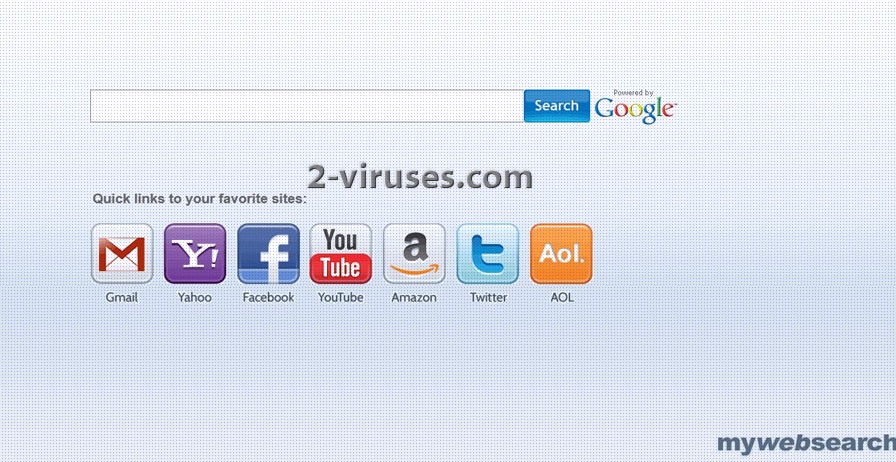 About the author