mBytes Clean Pro is a potentially unwanted program (PUP). It is promoted as a system optimization utility that helps to identify malware/PUP threats, enhance system performance and optimize available software. The developers of mBytes Clean Pro promise that by installing the program the startup time of your programs will be minimized and that you will have more free space on your hard drive.

Automatic Malware removal tools
Unfortunately, the capabilities of mBytes Clean Pro are considerably overestimated by its authors. The application is not able to identify real malware on your computer. Neither will it help you to find threats like adware,
browser hijackers
or other potentially unwanted software. Instead, mBytes Clean Pro uses a lot of false positives to make users think their computers have errors that need to be fixed. These false positives are mentioned to persuade users to buy the so-called full version of the program supposedly for repairing the aforesaid bugs.
Is mBytes Clean Pro worth trying
We attempted to download mBytes Clean Pro through its official website, however, the download link was not active. This means that mBytes Clean Pro is most commonly distributed through bundling with other free applications. The research made by several reputable anti-virus programs gives all the grounds to report mBytes Clean Pro at least as the tool that does not represent any value. The detection of mBytes Clean Pro as a PUP is confirmed according to the scan results of its installer on VirusTotal. Instead of improving your PC, the PUP causes a lot of system problems, such as high CPU usage, continuous freezing resulting in possible system crashes.
Once installed, mBytes Clean Pro begins its malicious activity whenever you start your computer. It introduces appropriate amendments to be launched as soon as the Windows operating system is loaded. It starts imitating the system scan lasting for just a couple seconds. It is absolutely clear that the proper analysis of any computer should take a much longer time, but mBytes Clean Pro almost immediately provides you with fictitious scan report mentioning that you immediately need to get a lot of system problems fixed. However, to make it possible, mBytes Clean Pro mentions that you should first buy its full version (registered copy). There is no doubt that the sole purpose of this program is to make people waste their money for nothing.
While mBytes Clean Pro is running, it causes a lot of other problems for users, such as:
ongoing pop-ups reporting fake system errors;
redirecting your browser to the websites promoting other rogue security utilities;
preventing you from using legitimate applications;
displaying pop-ups instructing you to obtain the registered copy of mBytes Clean Pro.
mBytes Clean Pro distribution channels
It is quite unlikely that people will make their personal decision to install mBytes Clean Pro. This is why its developers refer to the practice of bundling the installer of mBytes Clean Pro with other free programs. The freeware installer might not fully mention that there are some other extra utilities in the bundle. This information may be provided with small print letters, so it might be really difficult to clearly find it. Thus, people may click on "I Agree" or "Next" buttons during the setup process. This results in a drive-by installation of mBytes Clean Pro, even though users did not intend to use this program.
mBytes Clean Pro may also be promoted through some adware already enabled within your system. The browser hijacked by the adware may lead you to the multitude of pop-ups involved in online scam reporting fake threats and instructing you to download the specific tool to get these threats removed. When people agree with such proposals they automatically install mBytes Clean Pro. It is clear that the ways through which this application is installed are absolutely illegal. Based on the summary about the ability of the program to fix real computer problems, the only right decision is to uninstall mBytes Clean Pro right away.
How to get rid of mBytes Clean Pro
mBytes Clean Pro provides you with the uninstaller. Access the Control Panel, check the list of all available programs. Find mBytes Clean Pro and remove it just as you get rid of other programs you do not need. Even though this manual removal method should work, it is important that you additionally check the safety of your computer with reliable anti-malware software. Remember that mBytes Clean Pro could be injected by means of some adware already running in your computer. However, sometimes it is hard to find out the exact place where the adware is located. The list of available applications might not show any suspicious items, whereas your browser will keep causing numerous pop-ups redirecting you to malicious websites. We recommend scanning your PC with Spyhunter to identify other infections or PUPs that can't be discovered manually. This method will not only remove the infections but additionally will secure your PC from malware infiltration in the future.

Mbytes Clean Pro Fake Optimizer quicklinks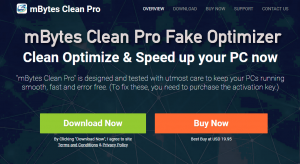 How to remove mBytes Clean Pro Fake Optimizer using Windows Control Panel
Many hijackers and adware like
mBytes Clean Pro Fake Optimizer
install some of their components as regular Windows programs as well as additional software. This part of malware can be uninstalled from the Control Panel. To access it, do the following.
Start→Control Panel (older Windows) or press Windows Key→Search and enter Control Panel and then press Enter (Windows 8, Windows 10).
Choose Uninstall Program (if you don't see it, click in the upper right next to "View by" and select Category).
Go through the list of programs and select entries related to mBytes Clean Pro Fake Optimizer . You can click on "Name" or "Installed On" to reorder your programs and make mBytes Clean Pro Fake Optimizer easier to find.
Click the Uninstall button. If you're asked if you really want to remove the program, click Yes.
In many cases anti-malware programs are better at detecting related parasites, thus I recommend installing Spyhunter to identify other programs that might be a part of this infection.