MapsFox is a browser extension for Mozilla, which promotes itself as a quick and free tool to get directions and maps for more efficient and fun traveling, as well as bus directions and flight tracker. Even though it seems like a useful program, unfortunately, it contains a lot of advertisements, which interrupt your online surfing, moreover, does not provide any unique features that cannot be easily found on the internet in a matter of seconds and a few clicks.
Mapsfox Adware quicklinks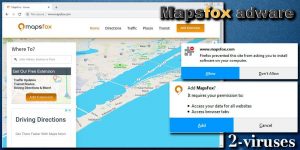 The reason why a lot of people fall for this program's deceitful lies is that it looks professional and claims to have all the features for traveling in one spot. Yet there are plenty of cases when MapsFox adware just appeared on someone's browser out of nowhere, proving that it indeed does have a shady side, which we will tell you all about in this article.
Despite MapsFox virus not being the most notorious threats out there, just like others of its kind, for example, Video Chimp, BestMapFinder, Maxi Buy, it is crucial to begin the removal processes as early as possible because the innocent revenue building from ads can easily turn into malvertising and bring you more virtual parasites, which for sure can end up compromising the system badly. Therefore, without further ado let's get to the point.
What does Mapsfox adware do
Mapsfox application falls into the category of an adware virus, which unlike other threats does not cause many problems or malicious changes in the system except for displaying an excessive amount of online marketing content, which allows developers to profit from clicks, views, and installs of sponsored products/services, also affiliate links and rerouted traffic. That is pretty much what you will be experiencing after Mapsfox adware will get into your Mozilla. Although the website does not specify, this malicious application works only on Firefox browsers and if used on other search providers it simply does not install.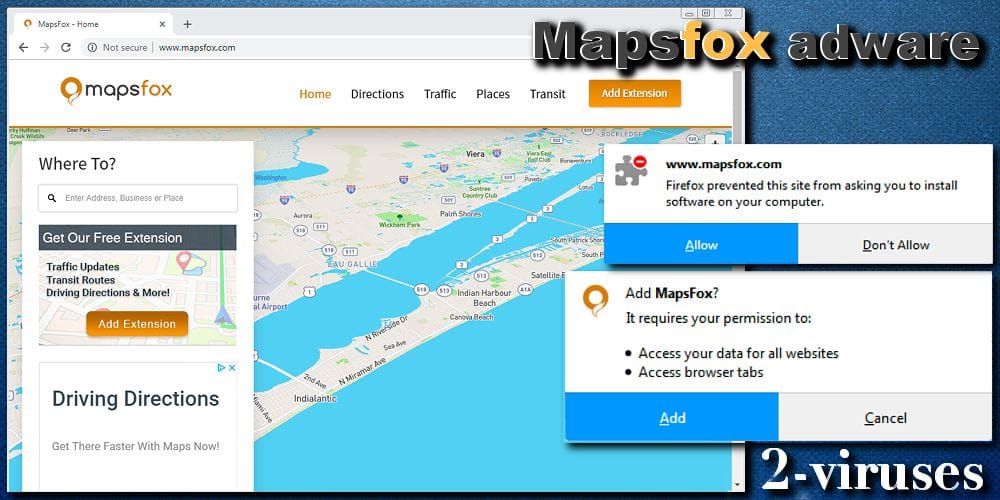 If you land on the main Mapsfox page and try downloading the plugin, there are a few warnings that alert you about the upcoming dangers. First of all, Firefox tries to block the malicious extension, but if you proceed with it, you get notified that the addon wants to get your consent to access data from all websites, moreover, access browser tabs. And if these intrusive requests don't raise red flags for you, then the occurrences, that are going to take place after adding Mapsfox plugin, will. 
This application will not be extremely symptomatic and won't change your search engine, homepage or tabs, and you will only see it if you click on it, but all this requested authorization is going to be used in order to post e-commerce deals. Very likely you will be seeing them even if you have an ad-block. Various promotions to purchase/order something, visit a site, read eye-catching news and etc. will follow you everywhere every single time you will go online and browse through your compromised Mozilla. Mind you, these ads are coming from the Third-parties and they are not monitored by Mapsfox adware developers at all, so very easily some hackers can pay the plugin to distribute their ad, which can be a malicious link to some virus installer and you won't know about it. 
Even though Virustotal.com scanner doesn't indicate that Mapsfox adware website is harmful, Sitecheck.sucuri.net clearly shows that this page is definitely dangerous and needs to be avoided at all costs. At the moment the most affected users are from the US, while European World Wide Web surfers are protected from installing Mapsfox extension because of the GDPR regulations. Though that does not ensure safety for anyone, especially if the virus is spreading questionably with the help of other malware, which should urge you not only delete this threat immediately but learn how to prevent it. 
How does Mapsfox virus spread
Right now, our researchers have discovered two main ways how Mapsfox adware is proliferating in the virtual world. The obvious method is the self-promotion online, deceiving users with the pleasant-looking design and another subdomain to distribute even more efficient (tt.mapsfox(.)com). But that is not the main source of traffic. Mapsfox virus also gets inside computers, by sneaking in as a recommended application which is added to some other programs installer (Bundling). It is typically preselected to install at the same time as the main software if the user does not opt-out. That is only possible if you run a Setup Wizard in the Advanced/Custom mode and uncheck each unwanted application, Mapsfox adware included.
How to get rid of Mapsfox adware
Mapfox adware is not a difficult kind of malware to get rid of. Typically its enough to simply remove the plugin from the browser and settings fall back into the place. The manual removal of add-ons from Mozilla is explained in the step-by-step instructions below, which you will find useful if you never had a chance to do that before or you'll get stuck midway dealing with Mapsfox adware. Yet in sometimes no matter what you do, it seems that it is impossible to eliminate Mapsfox virus, and it keeps coming back. Then you will have to get a specific anti-spyware tool in order to solve this issue.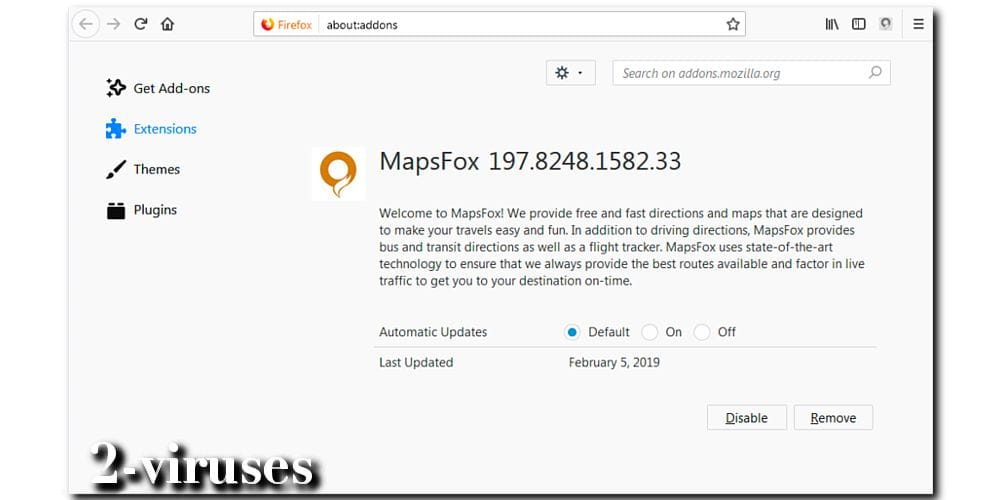 For Mapsfox adware infection we suggest Spyhunter malware removal tools. These security applications have the abilities to scan all the directories in the system and discover malevolent files even if they are using confident obfuscation techniques. Furthermore, they save lots of time, are easy to use and ensure full removal of Mapsfox adware. 
Automatic Malware removal tools
TopRemoving MapsFox adware from Firefox
Click on the menu button on the top right corner of a Mozilla window and select the "Add-ons" icon (or press Ctrl+Shift+A on your keyboard).

Go through Extensions and Addons list, remove everything MapsFox adware related and items you do not recognise. If you do not know the extension and it is not made by Mozilla, Google, Microsoft, Oracle or Adobe then you probably do not need it.

(Optional)
Reset your browser's settings
If you are still experiencing any issues related to MapsFox adware, reset the settings of your browser to its default settings.
Click on the menu button on the top right corner of a Mozilla Firefox window. Click on the Help button.

Choose Troubleshooting Information on the Help menu.

Click on the Reset Firefox button.

Click on the Reset Firefox button on the confirmation box. Mozilla Firefox will close and change the settings to default.

If you cannot reset your browser settings and the problem persists, scan your system with an anti-malware program.