Malware Defender 2015 is a rogue antivirus program that uses false scan results and fake security alerts to scare computer users and make them purchase its full version saying that it will solve all your security related issues. Do not pay for this bogus program. This is nothing but a scam. Instead you should remove Malware Defender 2015 from your system straight after its detection. Delaying that will only make the situation worse and you can end up getting your system infected with even more malware. Run a full system scan with a reputable anti-malware program, like StopZilla or Spyhunter and eliminate it as soon as possible.
About Malware Defender 2015
Once inside, Malware Defender 2015 is started automatically every time a computer reboots. It looks like a regular antivirus program. At first, the application loads a scanner and simulates performing a system check for infections. Then, the program generates a list of threats, unfortunately, a fake one. Usually the files listed are not even harmful. These are just random or non-existent entries used to mimic that you computer is at risk. If you try to remove any of them, you can even have some issues later, as you may delete important files.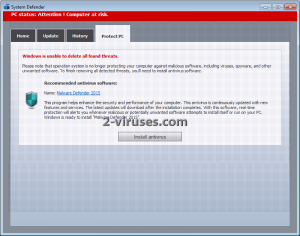 If you continue with the steps of the scan results and follow what Malware Defender 2015 tells you to complete the scan, the program will attempt to gain your money. Basically, it will offer you to purchase its license and activate a full version of Malware Defender 2015. This is supposed to enable the tool not only to detect but also to remove infected files. Unfortunately, this is not true and you will only lose your money if you do that. Neither Malware Defender 2015 can detect any real infections nor it can remove anything.
If your system was infected, you may also receive notifications warning that there's a potentially harmful software detected on your computer or something similar to that. Such warnings can be displayed when you try to open any of your regular programs or just randomly when you browser the internet. Here is what you may see:
Process Alert
Review harmful or potentially unwanted software
Your computer might be infected with:
Downloader_Win32_Agent.nmi
Windows has detected potential threat that might compromise your privacy or damage your computer. This trojan is dangerous and executes commands from an attacker
Distribution Methods of Malware Defender 2015
Malware Defender 2015 is installed to the system with a help of Trojan viruses. The infiltration is completely secret and doesn't require to be authorized by a user. During this process, the Trojan also may create some files in the system, which are later reported as malware infections. Additionally, the program is configured to start automatically when a computer starts.
If you are one of the users who got infected, make sure you remove Malware Defender 2015 as soon as possible.
Automatic Malware removal tools