Locker virus is yet another ransomware that enters computers secretly, encrypts files stored on the hard drive and asks for the ransom in order to decrypt files. The ransom itself is not very big (it's 1 BTC and at current rate it's about $240) so if you have lost some very important files, you might want to think about paying this ransom and decrypting your files.
However, there are no guarantees that your files will be decrypted when you pay the ransom, so think twice before giving away your money. Sometimes Locker virus fail to encrypt files, so all you have to do is to remove the infection from your computer and you are good to go. If this is your case, you have come to the right place. In this article we will provide you with a solution how to deal with Locker virus.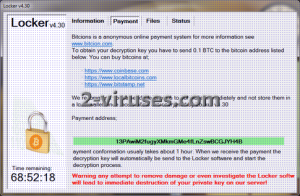 This ransomware is very similar to other ransomware like Alpha Crypt or Tox Ransomware. However, it's unlikely that all those viruses were created by the same developers. The biggest problem about ransomware like Locker virus is file decryption. This means that, if your personal files were encrypted, it's not enough to remove the infection from your computer – this way your files will remain encrypted and you will be not able to access them. As a matter of fact, if you are going to pay the ransom and receive the decrypter to decrypt your files, do not remove the Locker virus from your system before this happens. If you do so, you might be not able to get back your files ever. After you pay the ransom and decrypt your files is the right time to eliminate the virus from your computer.
If you are wondering how this ransomware have reached you or how to avoid this happening, please continue reading this article. Usually Locker virus gets infiltrated into computers via spam emails. That's why it's not recommended to open any letters from your Spam inbox. Another way how ransomware like Locker virus can be distributed is via unreliable websites. If you visit some websites that looks fishy, try not to click on any of advertisements display there and do not download any files from there. The best way to avoid this happening is to keep your system secured with trustworthy anti-malware, such as Spyhunter or Malwarebytes. You can use other anti-malware of your choice as well.
In case your computer is infected with Locker virus, perhaps the only known and effective way to get rid of it is to perform a system restore. You can find detailed instructions how to do that here: System restore for Mac and System restore for Windows.
Automatic Malware removal tools