LaFlurla is an adware program that claims it provides the best tools to enhance your browsing experience, from searching the web to comparing online deals in order to find the best prices. It is a free program that is compatible with Windows Vista, XP, Windows 7 and Windows 8. The problem about this application is that it is often installed to computers without users' consent and it displays an excessive amount of ads.
LaFlurla can be added to a bunch of free downloads and even to the main installers on several popular download websites. Basically, when you download a free player, video recorder, PDF creator or other free tool, you can also install LaFlurla without a separate notification about it. Although you can refuse installing it, many users tend to rush with the installation steps and do not pay much attention to what exactly they are agreeing to download. This way they end up installing unwanted programs.
Once inside LaFlurla starts displaying continuos popup ads, especially when you visit shopping websites, such as Ebay, Amazon, etc. Every ad contains some deal or offer to purchase various products or get services cheaper. Surprisingly, the offers match with your interests. That is because LaFlurla can track your browsing habits and then generate ads according to this information. The problem about these ads is that they are displayed whether you like it or not and there is no option to stop them. Moreover, if you click on them, you will be taken to various commercial websites, which is not only time consuming but also can expose your computer to a greater risk of getting infected. You never know if they will not redirect you to an unsafe page.
To remove LaFlurla ads, follow the instructions provided below:
Manual removal instructions of LaFlurla
Using Control Panel to remove the main LaFlurla components and installers
Go to Control Panel. On Windows XP/Vista/7 open Start -> Control Panel , Add/Remove Programs or Uninstall . On Windows 8 enter Control Panel in the search box, then look for Uninstall a program. You may need to confirm that you are the administrator on this PC, in both cases.
Look for LaFlurla and /or similar looking items on the list of programs. By default, I recommend removing Yontoo, WebCake, anything "savings" or "coupon" related. Scanning with Anti-Malware programs like Spyhunter or Stopzilla might give a good idea of what programs you should remove from there as well.
Close Control Panel.
Removing LaFlurla from Internet Explorer
Press Wench icon->Manage Add-ons.
Go through Toolbars and extensions. Remove everything related to LaFlurla and items you do not know that are made not by Google, Microsoft, Yahoo, Oracle or Adobe.
Close the Options.
Removing LaFlurla from Firefox
Enter about:addons in URL field.
Go through Extensions and Addons list, remove everything LaFlurla related and items you do not recognise. If you do not know the extension and it is not made by Mozilla, Google, Microsoft, Oracle or Adobe probably you do not need it.
Optionally, reset Firefox: go to Firefox ->Help (Help in menu for OSX users) -> Troubleshooting Information. Then Reset Firefox.
Removing LaFlurla from Chrome
Enter chrome://extensions in url field.
Go through extensions list and remove programs you do not need, especially similar to LaFlurla. If unsure, you can disable them temporarily.
Restart Chrome.
Optionally, you can enter chrome://settings in URL bar , press Advanced settings, scroll to the bottom of the list and press Reset browser settings.
NOTE:
If you found an extension that can't be removed from the browser, it has either to be removed from Control Panel or with antimalware programs (like Spyhunter, malwarebytes) or program uninstallers  (like RevoUninstaller).
Automatic LaFlurla removal tools
We might be affiliated with some of these programs. Full information is available in disclosure
Manual removal
Important Note: Although it is possible to manually remove LaFlurla, such activity can permanently damage your system if any mistakes are made in the process, as advanced spyware parasites are able to automatically repair themselves if not completely removed. Thus, manual spyware removal is recommended for experienced users only, such as IT specialists or highly qualified system administrators. For other users, we recommend using Reimage or other tools found on 2-viruses.com.
Registers:
LaFlurla screenshots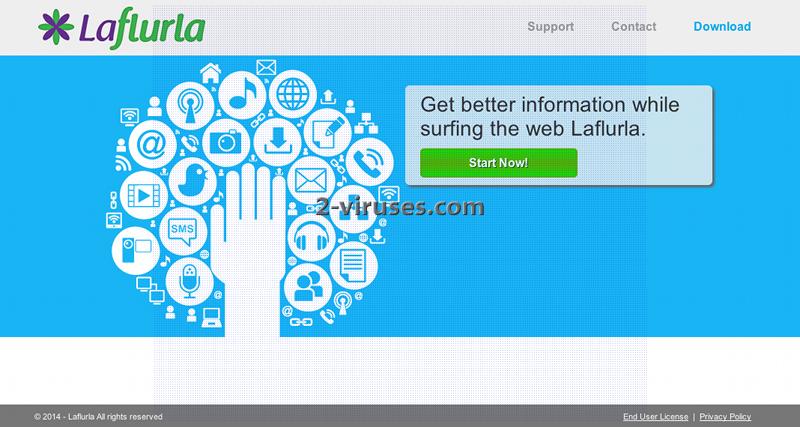 About the author