IMVU Toolbar is a browser hijacker that can attack Internet Explorer, Mozilla Firefox, Google Chrome and Safari. Although you can download this toolbar from its official website, most of the times it comes to computers uninvited, bundled with a variety of free software. Once inside the program modifies some of your browser settings. IMVU Toolbar adds a search bar and replaces your search provider. It also claims to provide free credits for you to play games and adds some other features, like quick Facebook or email access.
The problem about this toolbar is that it can spy on your activities online, like your search queries or the websites that you visit. This information can be later used to display targeted advertisements on your system. Moreover, if you make a search using IMVU Toolbar, it will provide numerous sponsored websites in your search results instead of listing pages that are relevant to your search. This way, the application seeks to make you visit commercial websites, which bring money for its creators.
IMVU Toolbar can be installed without your permission, show rogue ads and cause other disturbances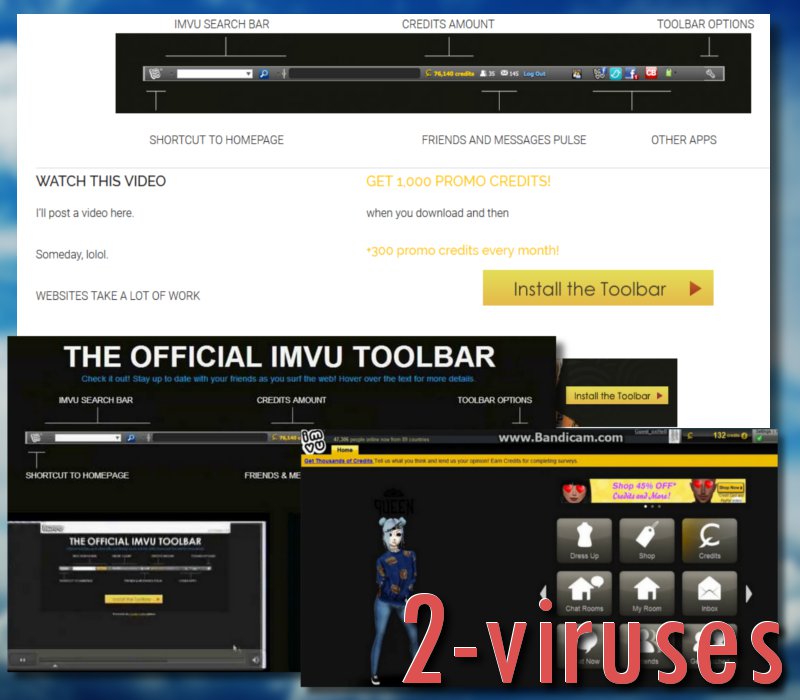 IMVU is a 3D instant-messaging community in which users can create their own avatars. The IMVU toolbar is expected to stretch across your browser and provide several shortcut buttons that link you to various IMVU services, mostly to chat with other users and to shop for accessories for your avatar. The IMVU is a legitimate program, and its toolbar should not be considered a virus (Is IMVU a virus?). However, IMVU Toolbar makes money by permitting advertisers to place ads within the application. Therefore, users might become infected with viruses through malware-laden ads. Nevertheless, security researchers from Sophos do categorize IMVU in a group of viruses and spyware (IMVU).
This is also confusing because many people suggest that the IMVU Toolbar was installed without their permission. Due to the advertising strategies of IMVU, the unexpected arrival of this program can mean that you will be exposed third-party advertisements. Some of the ads might be distributing malicious content (Beware of malicious ads that can harm computers without a click). Some researchers have also stated that fake versions of IMVU Toolbar can also be distributed. Therefore, please do not install this browser extension from unknown sources.
To avoid installation of IMVU Toolbar, pay attention to the programs that you are downloading from the Internet. Alway read Terms and Agreements to be sure what you are agreeing on. Also it is advised to choose Custom installation and follow the steps very carefully. In case you see any preselected options, make sure you don't allow to install any unknown application and deselect unnecessary check boxes.
Remove IMVU Toolbar from your computer, if you have noticed it on any of your browsers. Go to Control Panel and uninstall it from there. Then scan your PC with Spyhunter other reputable antispyware program. Don't forget to reset your browser settings. Below you can find how to do it.
Manual removal instructions of IMVU Toolbar
Using Control Panel to remove the main IMVU Toolbar components and installers
Go to Control Panel. On Windows XP/Vista/7 select Start -> Control Panel, Add/Remove Programs. On Windows 8 enter Control Panel in the search box. You may need to confirm that you are the administrator on this PC, in both cases.
Look for IMVU Toolbar and /or other related programs on the list of programs. By default, I recommend removing Yontoo, WebCake, anything "savings" or "coupon" related. Scanning with Anti-Malware programs like Spyhunter or Stopzilla might give a good idea of what programs you should remove from there as well.
Close Control Panel.
Removing IMVU Toolbar from Internet Explorer
Click on gear icon->Manage Add-ons.
Check Toolbars and extensions. Remove everything related to IMVU Toolbar and other plugins you do not know that are made not by Google, Microsoft, Yahoo, Oracle or Adobe.
Close The options.
Removing IMVU Toolbar from Firefox
Enter about:addons in URL field.
Go through Extensions and Addons list, remove everything related to IMVU Toolbar and the ones you do not recognise. If the extension is not familiar to you and it is not made by Mozilla, Google, Microsoft, Oracle or Adobe probably you do not need it.
Optionally, reset Firefox: go to Firefox ->Help (Help in menu for OSX users) ->Troubleshooting Information. Then Reset Firefox.
Removing IMVU Toolbar from Chrome
Enter chrome://extensions in url field.
Go through extensions list and remove programs related to IMVU Toolbar. If unsure, you can disable them temporally.
Restart Chrome.
Optionally, you can go to chrome://settings, press Advanced settings, scroll to the bottom of the list and press Reset browser settings.
Automatic Malware removal tools