Friendlyappz.com pop-up is going to be mostly presented to people whose computer devices have become infected with malware parasites. This domain promotes two suspicious browser extensions called moviesFriendly Search and musicFriendly Search for Google Chrome. They are related with other browser hijackers we have investigated in the past: Gomovix.com domains is one of the web pages, promoted through the latter Chrome extensions.
Friendlyappz.com redirect promotes two rogue Chrome extensions: moviesFriendly Search and musicFriendly Search
It also appears that applications from Friendlyappz.com pop-up are going to be importing promotional content from advertising networks like PopCash and Adf.ly. In our thorough articles about these companies, we have explained the dangers of clicking on online adverts from these ad-servers (Malvertising, Online Ad Networks a Dangerous Duo).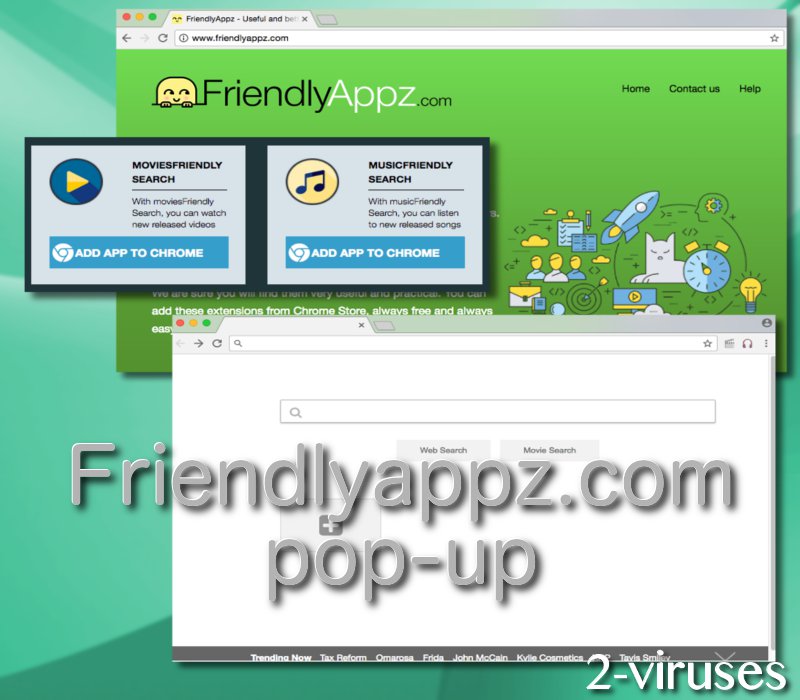 Ever since September of 2017, the web traffic to Friendlyappz.com suspicious website has been steadily growing. It has increased so much that the domain is considered to be the 2,403th most visited website in the United States. Worldwide, its position is also continuously improving: currently, it is in the 3,842th place. Knowing that the latter website is meant to advertise potentially suspicious Google Chrome extensions, it is devastating that such a domain has managed to obtain such global popularity.
Friendlyappz.com pop-up appears to initiate redirection to products like Theappjunkies.com. We have wrote about the browser hijacker called GamesJunkie Start. Be careful not to accidentally install unwanted toolbars into your browser. During installation of moviesFriendly or musicFriendly rogue apps, you are going to be "asked to log into your account (Google or Facebook) in order to generate your user identifier and to personalize your experience while playing FriendlyAppz". This statement is found in the Privacy Policy document. The text also explains that the active toolbars are allowed to collect your name, email address, country of origin, telephone number and etc.
The Friendlyappz.com pop-up has also been noticed to be displayed to people from India, Indonesia, United Kingdom and Brazil. If your system is indeed infected with an adware parasite, you will be exposed to various third-party content. Among technical support scams, fake surveys, phishing scams and other hoaxes, you might also be introduced to Friendlyappz.com pop-up (Website pop-up scams hit nearly two million Brits a year as internet fraud rockets). Do not install extensions from this source.
It might sound confusing, but moviesFriendly Search and musicFriendly Search are available in the Chrome Web Store. How can suspicious toolbars be promoted in source which is considered highly-respectable? Well, Google is constantly fighting off malicious software from its stores, and Chrome Web store is no exception. Just this week we wrote two (first and second) articles about dangerous apps in Google Play Store. We hope you won't install random apps and browser plugins. It is very easy to compromise your privacy and security simply by downloading the wrong tool.
How to stop these Friendlyappz.com pop-ups from appearing on your screen?
As we have mentioned, the re-appearing Friendlyappz.com pop-up can be caused by an adware parasite. If this is the case, it is important to run a scan with a reliable anti-malware tool to prevent further damage to your system. Select Spyhunter for the purpose of cleaning your device from malware. They will present you with all of the necessary functions that are essential to keeping your operating system virus-free. Run regular scans to make sure that no malicious software is going to be allowed in your system. You can also try to find the suspicious adware parasite and remove it from Control Panel.
In other cases, suspicious pop-ups can be caused by certain websites. If you are a regular visitor in online streaming websites or other potentially unreliable domains, we hope you will stop visiting them immediately. If you continue on doing this, it is only the matter of time when you will be introduced to a pop-up which will be capable of installing a Trojan or a ransomware into your computer device.
How to remove Friendlyappz.com pop-up using Windows Control Panel
Many hijackers and adware like
Friendlyappz.com pop-up
install some of their components as regular Windows programs as well as additional software. This part of malware can be uninstalled from the Control Panel. To access it, do the following.
Start→Control Panel (older Windows) or press Windows Key→Search and enter Control Panel and then press Enter (Windows 8, Windows 10).
Choose Uninstall Program (if you don't see it, click in the upper right next to "View by" and select Category).
Go through the list of programs and select entries related to Friendlyappz.com pop-up . You can click on "Name" or "Installed On" to reorder your programs and make Friendlyappz.com pop-up easier to find.
Click the Uninstall button. If you're asked if you really want to remove the program, click Yes.
In many cases anti-malware programs are better at detecting related parasites, thus I recommend installing Spyhunter to identify other programs that might be a part of this infection.
Automatic Malware removal tools