EpicScale is listed as a PUP (potentially unwanted program). It enters users' computers in a malicious way and illegally uses them for commercial purposes.
You can visit its official website at www.epicscale.com and take a closer look at this application. It's presented as a useful tool that is supposed to employ the power of computers and use it for generous goals. To be exact – EpicScale employ calculating power of computers and uses it to mine bit coins. It's a profitable activity because bit coins can be easily converted into other currencies, such as dollars or euros. The application's creators state that a major part of mined bit coins will be donated to various charity organisations all over the world and they will take their cut for the work.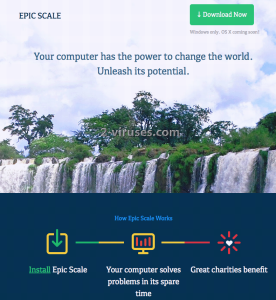 Even though this description sounds nice, reality is a little bit different. There are numbers of reports lately that EpicScale is traveling bundled with Utorrent updates and a program itself. Let's put it this way: if you have downloaded, installed and decided that EpicScale is a useful application which you would like to use by yourself, it's completely ok – you have the right to do this, whether it makes sense or not. However, if you can't recall installing EpicScale on your computer and you just figured out that it's somehow already operating on your system – remove it immediately.
The easiest way to do this is to download a reliable anti-malware application, such as Spyhunter, Malwarebytes or StopZilla and scan your computer with it. It will automatically detect and eliminate the threat for good just in a few second. Moreover, it will also protect your computer from similar infections in the future, so it's worth keeping it installed. You can use other anti-malware applications of your choice as well.
Automatic Malware removal tools