dllhost.exe*32 COM Surrogate virus, also referred to as dllhost.exe*32 infection, appears to be using a very large portion of CPU resources. Computer users are complaining that their activity is disrupted by a COM Surrogate table, indicating that a variety of processes cannot be implemented due to fact that COM Surrogate has stopped working. If a rogue version of dllhost.exe*32 COM Surrogate is noticed in the Windows Task Manager, then the malicious version can disrupt the activity of infected systems and connect to hosts, belonging to the attackers that generated COM Surrogate infection. Read the full article to find out how to recognize a fake COM Surrogate process.
How to identify a rogue COM Surrogate process?
COM Surrogate is actually a useful process that helps different applications on your device to do their job. However, there is a chance that a rogue COM Surrogate will be featured in the Task Manager, but you won't be able to tell them apart. In other words, your manager should feature this process as it is essential, so its mere existence does not necessarily signal an infection with malware. Users that have received the 'COM Surrogate has stopped working' table or other peculiar activity from this process are recommended to check whether it is trustworthy.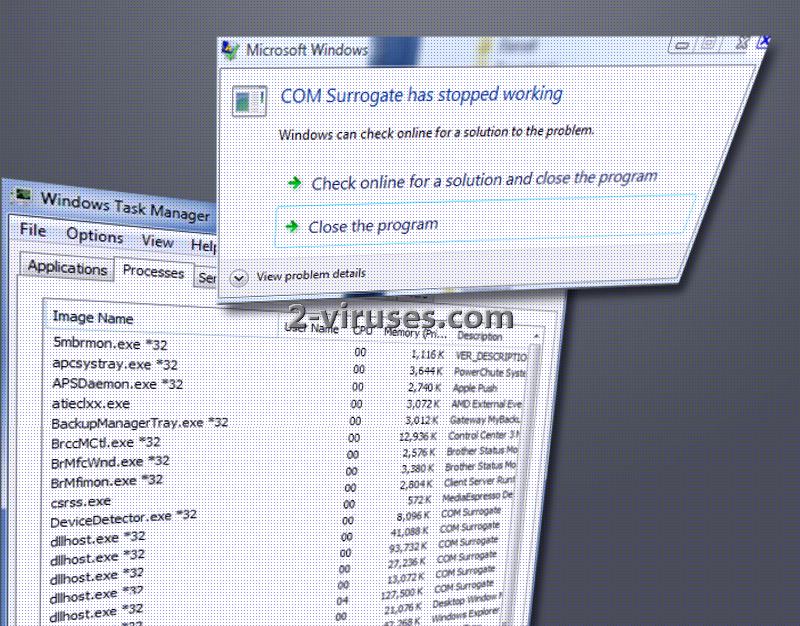 In order to pursue this goal, people should open their Task Manager and check the location of dllhost.exe *32 COM Surrogate. The respectable version is supposed to be kept in a the C disc, Windows→System32 folder. If the process you check leads to another location: the process is very likely to be malicious. If, unfortunately, this turns out to be true, then the malware was able to gain access to your device, make modifications to Windows Registry Keys and obtain a permanent position of running in the background.
What is this malware capable of doing? First of all, it might negatively influence the way you use your device. One of the other possible effects is that it will act as a spy for hackers and intend to collect information about the user or his/her device. Additionally, the malware appears to be capable of infecting devices with even more malicious applications because this process might receive commands from its creators. As a consequence, more malware can start influencing your computer system. Of course, not in a positive way.
Poweliks Trojan has been associated with rogue dllhost.exe *32 COM Surrogate process. If the process is present in your Windows operating system, then this Trojan could be the one the culprits. Detecting this malware might not be as difficult, but getting rid of it is a little more complicated. Since this is a secretive infection, you should use appropriate tools. ESET has released a remover of Poweliks Trojan if it is the reason that COM Surrogate virus is experienced. On the other hand, you could use other anti-malware tools in case this infection is triggered by a different malware. Spyhunter, Plumbytes or Hitman will help you detect and get rid of this infection without breaking a sweat.
Ways of getting compromised by a dllhost.exe *32 COM Surrogate virus
dllhost.exe *32 COM Surrogate infection can start jeopardizing your security if you invite it into your device without your knowledge. If you visit unknown or vulnerable websites, it would not surprise us that the malware would be able to initiate a drive-by download. Variety of Trojans can be inserted into computer systems secretively, without informing users of this action. Trojans have an additional way of distribution: to spread themselves while being concealed under false names. You might be thinking that a certain download will bring you an exciting piece of software or a movie, but in reality, you can end up with a Trojan.
Automatic Malware removal tools