Cyberspc.com is a site that allows users to download cracks for various programs. Unfortunately, it also downloads malware.
While Cyberspc.com does appear high in Google search results, that does not indicate that the site is safe or high quality. In fact, it's common for malicious sites show up high in Google search results.
It's recommended to avoid Cyberspc.com and other pirating sites. It's also important to check your computer for malware.
Cyberspc Com Malware quicklinks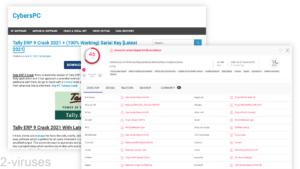 About Cyberspc.com:
Threat type
Trojan.
Problems with Cyberspc.com
It spreads malware, including trojans and ransomware,

it's not trustworthy or reputable,

How to avoid dangerous and fake pirating sites
Stick to a community,

don't trust sites that you find in web search results.

How to protect yourself from Cyberspc.com malware
Use security programs (Spyhunter and Malwarebytes) to protect your computer,

avoid pirating when you can.
Is Cyberspc.com safe?
Cyberspc.com downloads cracks and malware
Cyberspc.com is a website for pirating programs. I first found out about it when a victim of Djvu ransomware talked about it. It's not surprising – Djvu has always been known to spread with pirated software.
If you want to download a commercial program but don't want to pay for its premium features, you might search for a crack online. They can be used to unlock programs without paying for their licenses.
According to web analytics sites, people often find Cyberspc.com when they search for cracks for legitimate security programs, such as Malwarebytes. Indeed, a link to Cyberspc.com appears high in search results.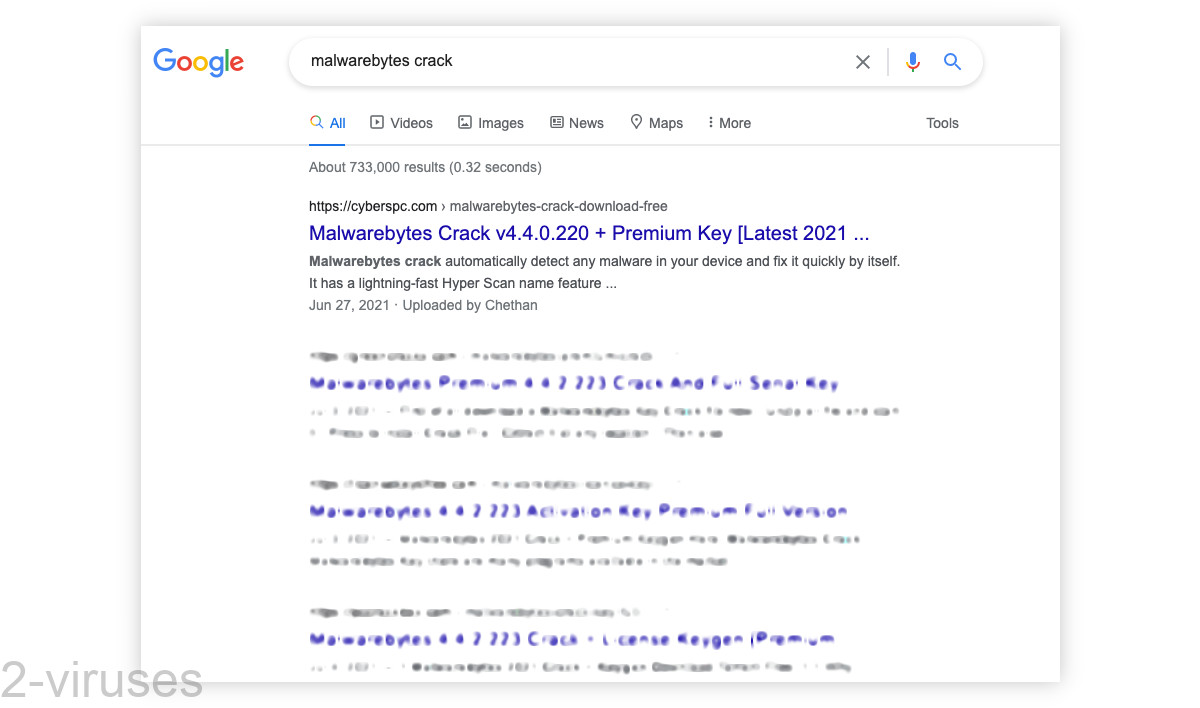 In addition, Cyberspc.com has all sorts of cracks, including other security programs, image editing software, even a few games.
The real problem with Cyberspc.com isn't that it helps people use software illegally, but that it sometimes downloads malware.
Yes, cracking tools get flagged by antivirus scanners even when they're not dangerous. But that's not the real problem. Sometimes, the files downloaded from Cyberspc.com carry real malware, including trojans and ransomware. For example, this trojan or this ransomware.
Such malicious programs can cause a lot of problems, for example:
Encrypt (basically destroy) all the user files, including documents, images, videos, etc.
Steal private information, such as login credentials for various accounts and crypto wallet data.
Turn the computer into a bot by forcing it to send out spam, commit ad fraud, etc.
Install a miner.
Problems with Cyberspc.com
Pirating sites are always a little dangerous. But some are more harmful than others. There are a few things about Cyberspc.com that are very suspicious, even compared to other pirating sites.
The websites that Cyberspc.com opens to download files are flagged by multiple antivirus scanners. Here are a couple of examples: Virustotal.com, Virustotal.com.
The descriptions of the items on Cyberspc.com are either poorly translated or stolen and paraphrased to the point where it's impossible to understand. Regular pirating sites don't have this problem.
For whatever reason, Cyberspc.com's posts have many obviously fake comments. Again, normal pirating sites never do this. Comments help pirates anticipate technical difficulties and avoid infected or broken files.
Websites need money to stay up. But it's unclear how Cyberspc.com makes money as there are no ads and no donation links. This is very suspicious.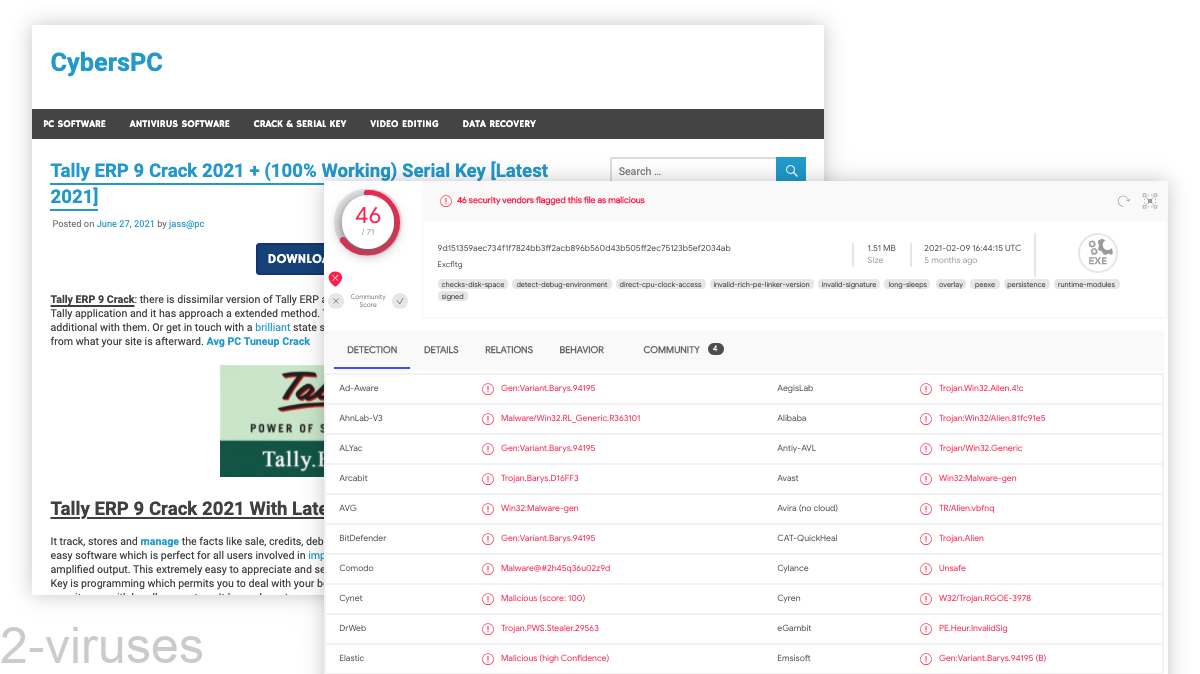 How to protect your computer from Cyberspc.com malware
Even among pirating sites, Cyberspc.com is terrible. It spreads malware and is overall a low-quality site.
The best thing to do to avoid infected software is to avoid pirating. For example, when possible, use free and open-source programs. Instead of Microsoft Office, use Libre Office. Instead of CorelDraw, try Inkscape.
If you must pirate, make sure to only visit reputable sites. Never ever use search engines like Google to find cracks – you're very likely to end up on a fake site this way. Instead, look for a community and use their curated list of trusted sites.
It's also very important to protect your PC with antivirus programs, such as Spyhunter and Malwarebytes. And remember – if you disable your antivirus programs to avoid "false positives", you're making your PC vulnerable to malware.
Finally, it's important to know that antivirus programs can't be pirated safely.
Automatic Malware removal tools