Apple.com-fixing.live pop-up alerts specifically attack Mac computers and their browsers, which is pretty logical from the name of the website. When you suddenly see these pop-ups, pay attention to the fact that this will not be happening just once. There might be several consequent notifications originating from the malicious website attempting to scare you with many pretty deceitful statements. This tutorial explains the origin of apple.com-fixing.live and provides you with the ways to fix your hijacked browser.

Com Fixing Alert On Mac quicklinks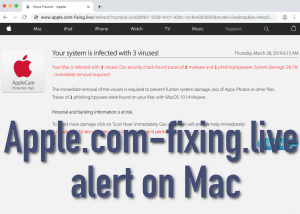 Apple.com-fixing.live alerts report numerous frustrating statements regarding the condition of your Mac. For example, you may be told about leakages in the security of your Mac OS X, the availability of malware, trojan horses and other threats. The real intention of this scary campaign is to persuade you into downloading and installing rogue security applications. To persuade you to do that, apple.com-fixing.live offers you to click on the integrated "Scanning Now" button supposedly to perform a system check. This is a fake scanning, of course, however, once it is completed, fake scan results will be similarly displayed by the alert. This is all done to force you into downloading and installing Mac Tweak Pro or other examples of rogue applications. The alert says that this application aims to fix these reported issues and delete reported malware. It is quite sad to recognize that all such scan reports are totally fabricated, but the worst part of the story is that some Mac owners were scared into downloading these "recommended" rogue applications, which may be the result of more essential troubles to happen with their computers in the future.
Apple.com-fixing.live faulty notifications normally contain this scary text, no matter what Mac browser was used to display it:
Your system is infected with 3 viruses!
Your Mac is infected with 3 viruses. Our security check found traces of 2 malware and 1 phishing/spyware. System damage: 28.1% – Immediate removal required!
The immediate removal of the viruses is required to prevent further system damage, loss of Apps, Photos or other files. 
Traces of 1 phishing/spyware were found on your Mac with MacOS 10.14 Mojave. 
Personal and banking information is at risk.
To avoid more damage click on 'Scan Now' immediately. Our deep scan will provide help immediately!
4 minute and 25 seconds remaining before damage is permanent.
Source of apple.com-fixing.live online scam
Apple.com-fixing.live fake alerts are produced by adware in your Mac. It is recommended that you scan your device properly in order to identify and eliminate malicious utilities, aware or PUPs that are now in control of your Mac and its browsers.
How could adware install itself on your Mac
Many adware programs, including the one causing apple.com-fixing.live pop-ups could be installed during the installation of free software through different freeware download resources. Sometimes users do not pay enough attention to important detailed provided by freeware installers. So, they skip reading detailed information regarding the free software and simply click on "Next" or "I agree" buttons. This way they permit a lot of other software to be easily injected into their Macs. In many instances with Mac computers adware can be also installed by means of fake Adobe Flash Player update alerts. Finally, it is sad to admit that sometimes the security software installed on Mac computers does not really perform its function quite well and might miss such unauthorized installation of PUPs.
How to remove apple.com-fixing.live pop-ups
Most of the suspicious programs that could cause such problems for your Mac may be found in the list of Mac applications. So, the first thing you do to remove apple.com-fixing.live alerts manually are to access the list of your Mac applications. You may sort these applications by date of their installation. If you locate the latest programs and do not remember installing them directly, then you may freely trash these applications.
Fixing your browser is another step you should accomplish. You need to check the list of your browser add-ons (extensions) and clean the items that could similarly produce such pop-ups randomly. For a thorough checkup of your system, we strongly advise you to scan your Mac with the Spyhunter to fully fix all your security issues automatically.

Automatic Malware removal tools
TopRemoving Apple.com-fixing.live alert on Mac from Safari (Mac OS X)
Click on the Safari menu.
Choose Preferences.

Click on the Extensions Tab.
Click on the Uninstall button near the com-fixing alert on Mac. Remove all other unknown or suspicious entries too. If you are not sure whether you need the extension or not, you can simply uncheck the Enable check-box to disable the extension temporarily.

Restart Safari.
(Optional) Reset your browser's settings
If you are still experiencing any issues related to Apple.com-fixing.live alert on Mac, reset the settings of your browser to its default settings.
Click on the Safari menu on the top left corner of the screen. Select Reset Safari.

Select which options you want to reset (usually all of them come preselected) and click on the Reset button.

If you cannot reset your browser settings and the problem persists, scan your system with an anti-malware program.