It seems like there is a new outbreak of ransomware infections – earlier this week we have reported that a new version of Dharma ransomware, called Arrow virus is out and now we are facing another ransomware infection that belongs to the same family of ransomware viruses.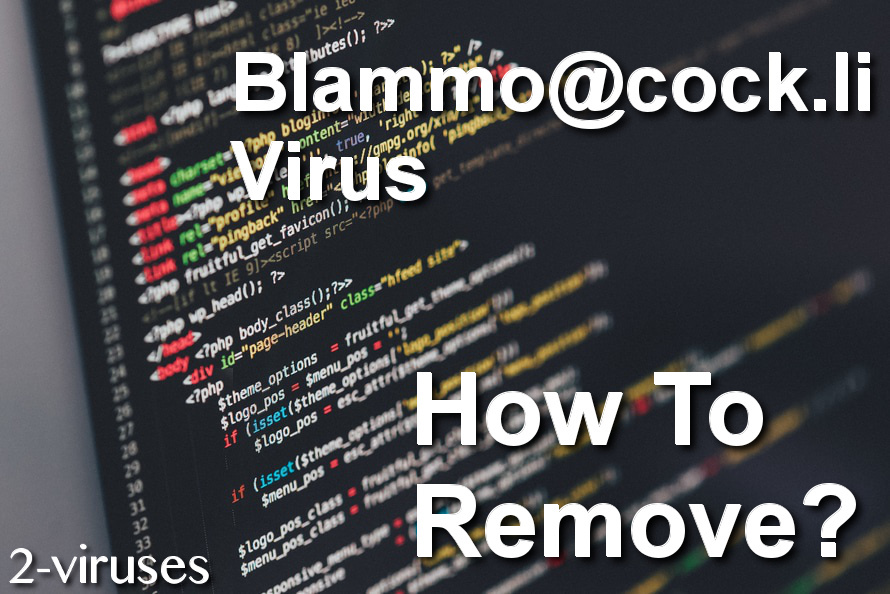 This virus is not less dangerous whatsoever – it might completely tangle your system, encrypt your files and then ask for a ransom to be paid in order to solve this problem. Our main goal is to provide readers with valuable information about [email protected] ransomware and suggest the most effective methods to remove it. So if you are interested or if your computer is infected, please proceed reading.
Encrypting personal files with strong cryptography
Most of the time ransomware infections are delivered as attachments to spam emails and this case is not different – most probably it came to you this way. That means you can simply avoid ransomware, just don't open emails from spam folder, especially if you have no clue who the sender is. Cyber criminals behind [email protected] ransomware send millions of such emails with ransomware attached to random email addresses and obviously some users fail to recognise dangers ahead of them.
In case it is too late for prevention and your computer is already infected, you will have to deal with  a lot of problems. There is a chance that you won't be able to retrieve your personal files at all.
Once inside of the computer, [email protected] will immediately start to scan your hard drive, looking for files that can be locked. In general, this infection is capable of encrypting most of the files – here is a list of file types that can be encrypted (please notice that the list might be extended):
.3dm, .3g2, .3gp, .7zip, .aaf, .accdb, .aep, .aepx, .aet, .ai, .aif, .as, .as3, .asf, .asp, .asx, .avi, .bmp, .c, .class, .cpp, .cs, .csv, .dat, .db, .dbf, .doc, .docb, .docm, .docx, .dot, .dotm, .dotx, .dwg, .dxf, .efx, .eps, .fla, .flv, .gif, .h, .idml, .iff, .indb, .indd, .indl, .indt, .inx, .jar, .java, .jpeg, .jpg, .js, .m3u, .m3u8, .m4u, .max, .mdb, .mid, .mkv, .mov, .mp3, .mp4, .mpa, .mpeg, .mpg, .msg, .pdb, .pdf, .php, .plb, .pmd, .png, .pot, .potm, .potx, .ppam, .ppj, .pps, .ppsm, .ppsx, .ppt, .pptm, .pptx, .prel, .prproj, .ps, .psd, .py, .ra, .rar, .raw, .rb, .rtf, .sdf, .sdf, .ses, .sldm, .sldx, .sql, .svg, .swf, .tif, .txt, .vcf, .vob, .wav, .wma, .wmv, .wpd, .wps, .xla, .xlam, .xll, .xlm, .xls, .xlsb, .xlsm, .xlsx, .xlt, .xltm, .xltx, .xlw, .xml, .xqx, .xqx, .zip.
After that, [email protected] virus will apply strong AES 256 encryption algorithm and mark encrypted files with additional extension. Usually ransomware viruses feature just one extension, but in this case, it can vary. Encryption extension of [email protected] features unique ID that is generated for infected computer and email address. There are 4 email addresses that can be used in extension – [email protected], [email protected], [email protected] and [email protected]
When extension is added, you won't be able to open or use those files in any other way. Infection will automatically provide you with the instructions how to pay the ransom and receive decryption. However, we do not recommend to follow those instructions – it can lead you to even more cyber security problems.
Instead of that, you should remove [email protected] virus from your computer and apply alternative methods to restore your files. First of all, download reliable anti-malware program, such as Spyhunter and scan your computer with it. It should automatically detect and remove malicious files of [email protected] virus automatically.
Now, when the virus itself is removed from your computer, take care of the encrypted files. Unfortunately, you will only be able to do that if you have a valid backup copy of your hard drive. In this case, follow our system restore guide, turn your system back in time before it was infected and restore your personal files.
Automatic Malware removal tools