BIOSAgentPlus is a PC optimizer that's so full of problems that it might be considered malware. BIOSAgentPlus's website gets blocked by browsers and its installer gets detected by anti-malware scanners as potentially dangerous. Its scan results lack clarity, its purchasing process is deceptively designed, and the company behind this optimizer has a bad reputation. It's not recommended to use.
Biosagentplus Malware quicklinks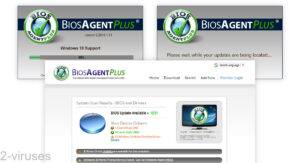 BIOSAgentPlus in short:
Threat type
Potentially unwanted program,

trojan.

How it gets installed
It's downloaded from the Biosagentplus.com website,

it's a product by Esupport.com.

Potential harm caused by BIOSAgentPlus
It might cause unnecessary stress,

it can trick users into buying unwanted programs,

it's very unnecessary, considering that Windows installs the same updates for free.

How to remove BIOSAgentPlus
Uninstall it manually and use anti-malware apps (Spyhunter, others) to check for other problems.
Problems with BIOSAgentPlus
PC optimizer
BIOSAgentPlus, downloaded from Biosagentplus.com, is a Windows program that promises to diagnose your personal computer and help you make it run better.
BIOSAgentPlus is by Esupport.com, same as DriverAgent Plus – another potentially unwanted program.
Once it's installedBIOSAgentPlus checks for updates, new drivers, and a new BIOS. Then, it recommends those updates to you.
BIOSAgentPlus appears to be a very old type of program and it's surprising that it's as popular as it is. It offers updates – but nowadays, Windows is perfectly able to install updates and new drivers on its own. Like so many other PC optimizers, this one seems to be very unnecessary and offer redundant features. And still, BIOSAgentPlus offers a version even for Windows 10.
It scans your computer, then opens its webpage to display the results. Then, it asks you to buy the full version before giving you the updates that it says you are missing. You're then told to buy the full program to get those updates.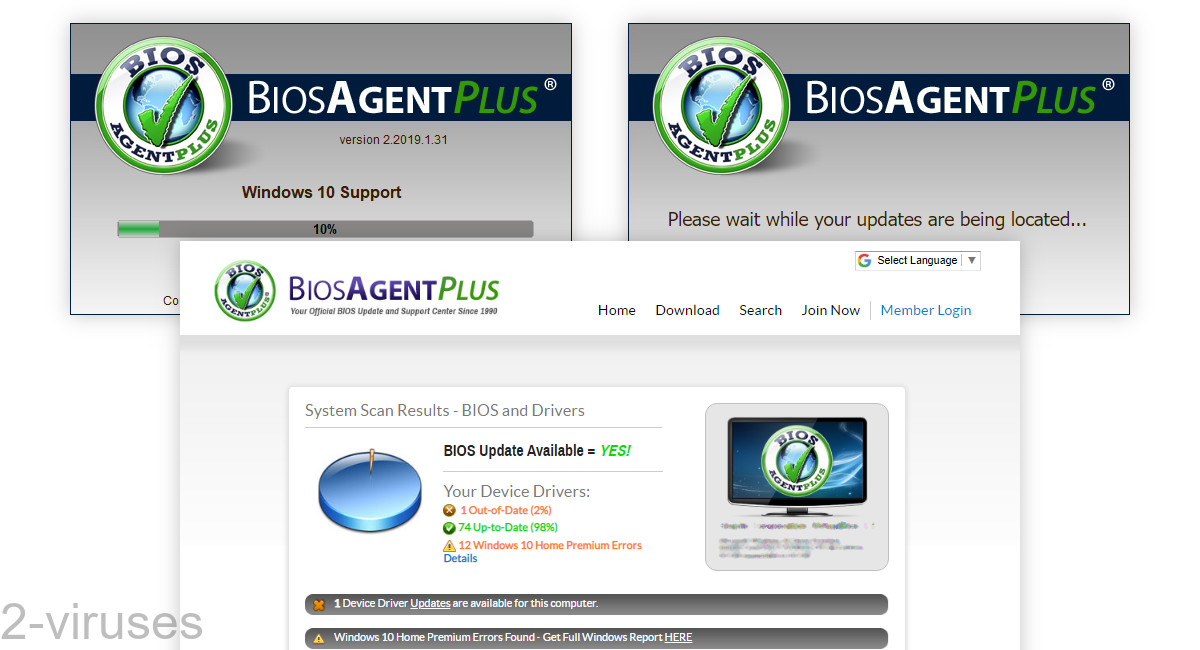 Deceptive program
The reason that optimizers like BIOSAgentPlus are so often considered to be potentially unwanted is that many of them use deception to trick people into using them. They offer nothing new or unique to users, so they can't rely on honest advertising to get enough users.
Indeed, antivirus scanners detect BIOSAgentPlus as dangerous and potentially unwanted. The installer is flagged with labels like Deceptor, Unwanted, Malicious, Riskware, and Trojan: Virustotal.com.
The installed app is flagged very similarly: Virustotal.com.
Some web browsers also detect anything to do with Biosagentplus.com as potentially harmful and block its webpages.
There are a lot of reasons for these detections:
Not enough details given with the scan results.
Overstated seriousness of the results.
Misleading purchasing process.
Once BIOSAgentPlus showed me the scan results (or the descriptions of the scan results), it encouraged me to buy the program. Its price at the beginning of the purchasing process is displayed as lower than at the end (though that might have something to do with the inconsistent currency). Also, Registry Wizard, a new and unwanted program was added to the cart unexpectedly on the last page, which helped balloon the price.
According to the few reviews on TrustPilot that were left by unhappy customers, you might not even get your money back if you are unhappy with the program.
There's also a potential privacy problem with BIOSAgentPlus' online scans –  it appears that people's scan results (or at least some of them) are visible publically.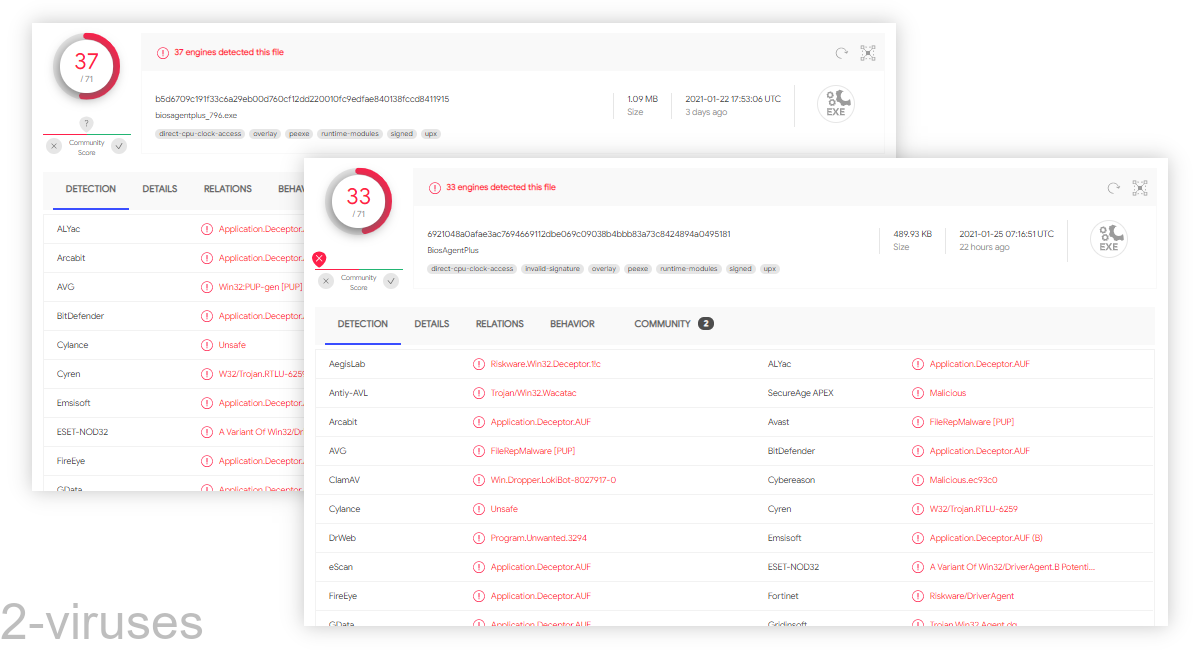 How to remove BIOSAgentPlus
You can uninstall it manually. You can do it from your settings (Windows key -> Settings -> Apps and features) – select BIOSAgentPlus, click Uninstall, and agree to let it make changes to your computer.
But it's recommended to follow that up with an antivirus scan (Spyhunter, others) to check for other potentially unwanted programs, such as those that Esupport.com might bundle with BIOSAgentPlus.
You can also manually go through your C drive and delete those empty folders that were left behind by BIOSAgentPlus.
Overall, it's best to just allow Windows to install updates automatically and to manually take care of those driver updates that are the most important (The Only Safe Way to Update Your Hardware Drivers on Windows). It only comes up once every few weeks, so downloading a new driver is not a waste of time – certainly no more than using a program like BIOSAgentPlus.
Automatic Malware removal tools
How to remove BIOSAgentPlus Malware using Windows Control Panel
Many hijackers and adware like
BIOSAgentPlus
install some of their components as regular Windows programs as well as additional software. This part of malware can be uninstalled from the Control Panel. To access it, do the following.
Start→Control Panel (older Windows) or press Windows Key→Search and enter Control Panel and then press Enter (Windows 8, Windows 10).
Choose Uninstall Program (if you don't see it, click in the upper right next to "View by" and select Category).
Go through the list of programs and select entries related to BIOSAgentPlus Malware . You can click on "Name" or "Installed On" to reorder your programs and make BIOSAgentPlus easier to find.
Click the Uninstall button. If you're asked if you really want to remove the program, click Yes.
In many cases anti-malware programs are better at detecting related parasites, thus I recommend installing Spyhunter to identify other programs that might be a part of this infection.